I'm getting more and more enthused about Reddit and am wondering if there's an easy way to cross-post my commentary from Reddit to Facebook and Twitter. Is that possible? If so, how do I set it up?
Unfortunately, Facebook doesn't generally like to play well with others and offers no simple integration with Reddit at this time. You might be able to jury-rig something with If This Then That (IFTTT), but you're on your own trying to figure that out. While Reddit and Facebook might not be particularly friendly, however, you'll be glad to know that Reddit has a very simple channel that lets you cross-post your Reddit content onto your Twitter channel with a single additional click. Not only that but setting it up is pretty easy too.
The bigger question is: do you really want to do that? The general problem with cross-posting the same content across multiple channels in an automated fashion is that a post that works well on one platform might be an awkward or even terrible fit for another. Imagine if every Tweet or TikTok you posted also showed up on your LinkedIn account too, as a dramatic example? You'd soon lose all your connections on LinkedIn and end up destroying your reputation on the platform. I'm not saying you shouldn't cross-post from Reddit to Twitter, but I am saying it'll be smart to ask "does this fit on my Twitter channel too?" each time before you check that box.
But let's get this all set up and you can see how cross-posts look and decide how to proceed based on data!
SET UP REDDIT TO CROSS-POST ON TWITTER
The first step is to go to your User Settings, easily accessible from the icon menu on the top right of your Reddit account (through the Web interface):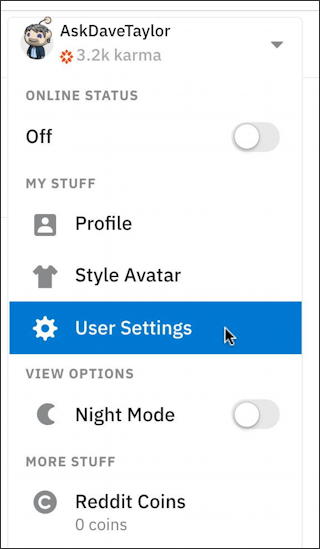 While you're viewing this menu, note that you can enable or disable "Night Mode" (aka "dark mode") and try that too. It's particularly useful when you want a bit less of the white glow of your screen…
Choose "User Settings" and you'll get to a big, complex page of options and preferences: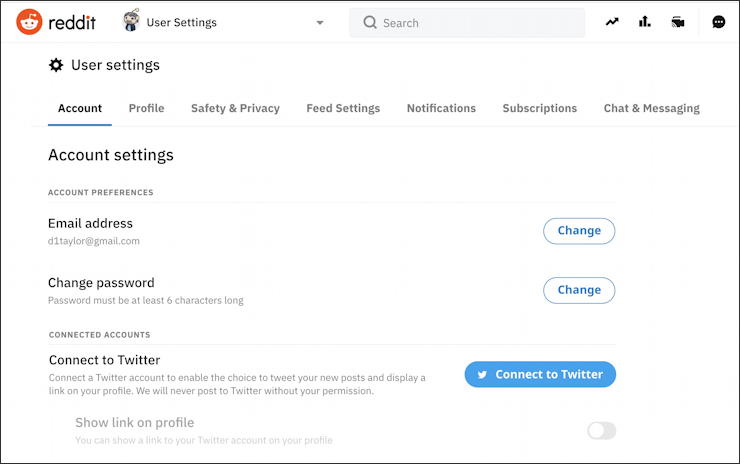 Make sure you're on the "Account" tab along the top and you can see that there's an entire section labelled "Connected Accounts". Darn handy, really! One of these options is… Connect to Twitter. Click on the big blue Connect to Twitter button and a window pops up: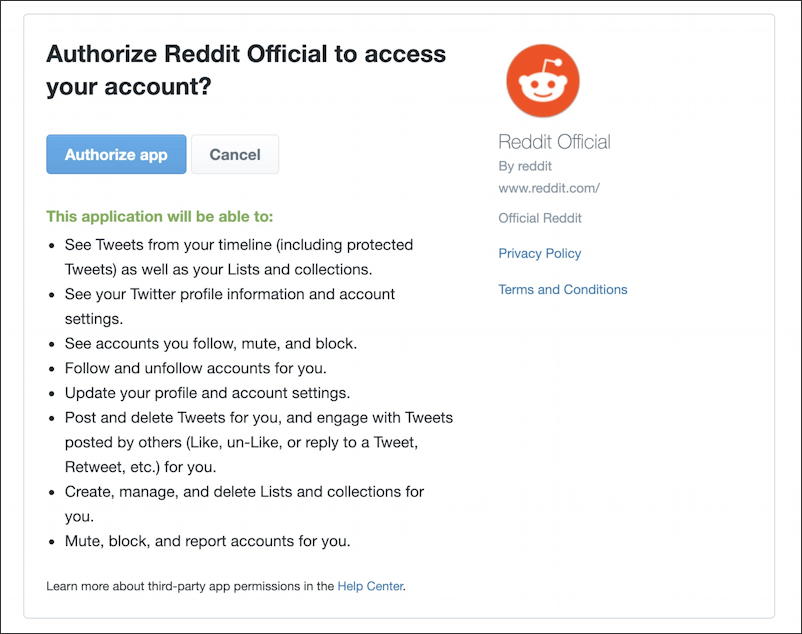 For obvious reasons, you want to double-check that the app is listed as "Reddit Official" as shown: If it's not, do not authorize the app. It also lists everything that Reddit could do with access to your Twitter account, but I trust the Reddit team not to abuse the connection. Click on "Authorize App" if you also trust 'em with access to your Twitter account.
Note: Keep in mind you can revoke that access at any point, as I demonstrate in How to Revoke App Access to your Twitter Account if you change your mind or decide you don't trust them.
Once you've granted authorization, you'll see a message flash past for a moment or two:

Then you'll see this:
If it's paired up with the wrong Twitter account, click "(disconnect)", open a new tab in your browser, go to Twitter.com, and log in to the account you desire hooked up with your Reddit account and go through these steps again.
If you want, you can show your Twitter handle information as part of your Reddit profile by clicking on the on/off switch adjacent to the logically labeled "You can show a link to your Twitter account on your profile" text. Here's how it appears: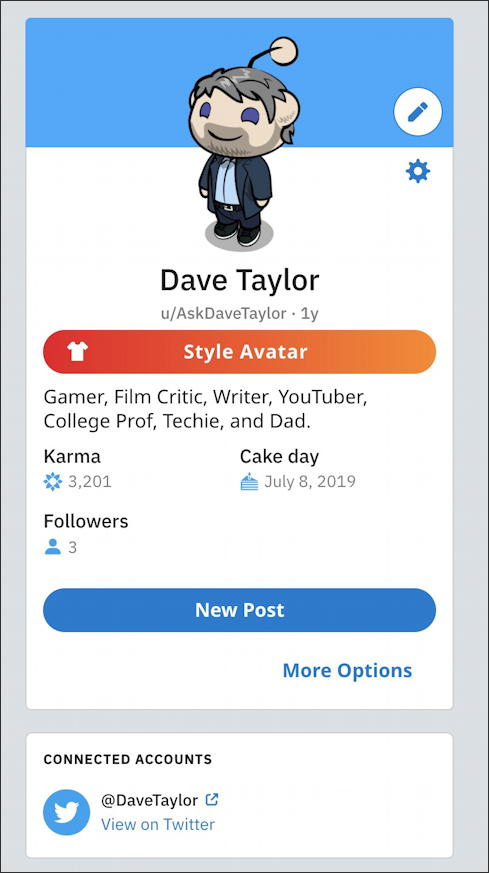 See it at the very bottom? "Connected Accounts". Easy enough, and a nice way for fellow Redditors to jump to my Twitter account @DaveTaylor, as they might desire.
HOW TO CROSSPOST FROM REDDIT TO TWITTER
With that all set up, what changes now on your Reddit experience? Turns out very little, there's just a new checkbox at the bottom of the post composition window. Can you spot it?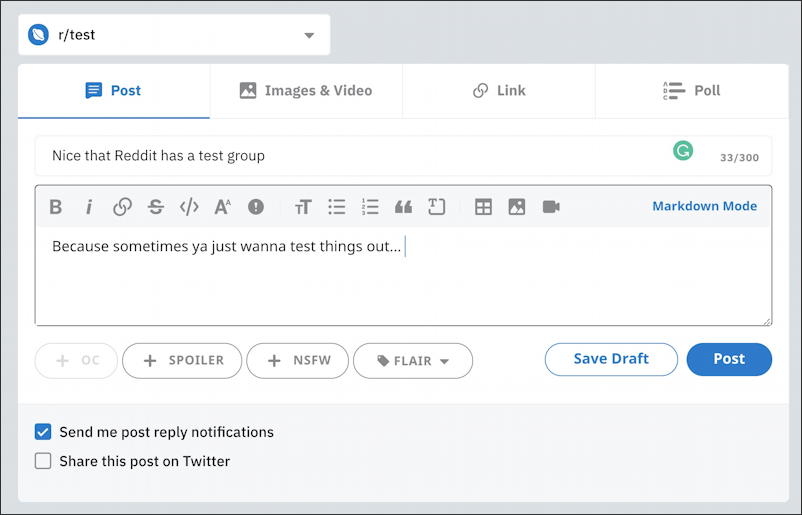 Yes, at the very bottom, the checkbox labeled "Share this post on Twitter". It doesn't remind you which Twitter account you've set up, so be careful if you have lots. But it's sure easy, and in this case, the post I'm making to r/test can easily be then cross-posted to my Twitter account. it shows up looking like this:
Nicely done and a visually interesting presentation with the Reddit logo too. What do you think?
Pro Tip: Just getting started with Reddit? Check out my Reddit help library for other helpful tutorial articles to get you up to speed while you're visiting the site. And do feel free to follow me – /u/askdavetaylor – on Reddit too. Thanks!