Not sure why, but every time I go to send an email message in Outlook, the font is too big. My default is now 13 point Courier, but everyone else is using a smaller, more attractive typeface. How can I change this with Outlook online?
I expect that Microsoft's Outlook engineers really enjoy the Spider-Man movie series. Why? Because the entire Office suite is an example of "with great flexibility comes great complexity". Okay, maybe that's not exactly what Peter Parker would say in the Spider-Man films, but Outlook.com is remarkably complicated. It's no surprise that most users have a setting or two that they haven't updated, along with some additional features worth trying that are hidden in the sprawling settings and configuration area.
But getting your defaults correct for entering a new email message is pretty darn important. You can change messages before you send them, but email after email gets tedious. So let's fix it!
IDENTIFYING YOUR DEFAULT OUTLOOK FONT
The easiest way to see what your defaults are is to type in a few words into a new message composition window, then click to select an individual word. A small toolbar pops up that shows you the default font and font size:
You can see that the pop-up indicates I'm using Calibri at 11 points. I can apply bold, italics, underline, change the background color, and change font color, all from that toolbar.
At the bottom of the window, it also shows the default on its separate toolbar, adding a few extra icons, notably the paintbrush (to copy and paste styles), a link for a clickable URL, and even more. Not enough icons? You can also add additional elements too, attachments with the paperclip icon, images with the photo icon, emoji with the smiley icon, and more!
I imagine that your defaults are not 11pt Calibri, so let's fix it.
CHANGING THE DEFAULT FONT IN OUTLOOK.COM
To change your settings and preferences, find the gear icon on the top right. It's part of that toolbar (sure are a lot of toolbars, aren't there?)…

It's the icon approximately in the middle of those shown above. A click, then you'll want to go to "Mail" on the left, then "Compose and reply" in the center list. You'll see the following once you get to that spot:
You can see my default signature – since it's my University of Denver account – but notice you can have more than one signature too: Just click "+ New signature" and you can go from there. You can also tweak your signature, including font, style, color, and even add a picture if you want. My suggestion: Keep it brief and functional.
But that's not what we want to fix! Scroll down in the Compose and reply window and you'll move to the correct spot: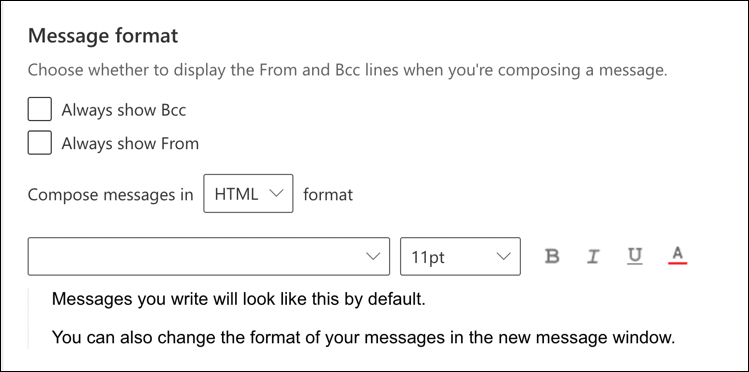 Here's where you can choose a favorite font – mine shows as blank right now since I haven't chosen one – and a default size – mine is 11pt – for new messages. There are a lot of fonts (more accurately "typefaces", but that's another discussion) from which to choose too, including the curiously named Iskoola Pota:
Notice I've also chosen bold and purple as my defaults too, as the example text demonstrates. Curious about that "Iskoola Pota"? Turns out it's a Sinhala font, which means it's intended for the Sinhala language, as used in Sri Lanka. It just turns out to have all the standard Latin-8 (English) characters too. Probably not a great long-term solution, but quite interesting and if you happen to speak Sinhala? It's great!
More realistically, I'll change back to Calibri, 11pt, no bold, no purple. A click on "Save" on the bottom of the window and my new default font settings are ready to go with the very next email I compose.
BEFORE WE LEAVE THIS WINDOW
While you're on this settings window, however, do scroll around and read about some of the other settings. It's where you'll find one of the best named settings in any program on any platform: Joyful animations…
Enable it. Why wouldn't you want joyful animations when you get positive email messages from friends and colleagues??
Pro Tip: I've been using and writing about Microsoft's Office Suite for many years. Please check out my Outlook help library for plenty of useful tutorials, as well as additional Office 365 help pages! Thanks.