Hi Dave! I use Comcast email through my Web browser and it works well, but it's so boring! Is there a way to change the layout or even change the color or theme? Or can I just access it through another email program? Thanks!
Quite a few people use the Web-based email provided by Internet Service Providers like Comcast (aka Xfinity) and it works perfectly well. After all, Google's Gmail email program, the most popular email service in the world with over a billion active users, is also Web-based. But Gmail makes it easy to integrate your email into any third-party email program too, if you prefer Outlook, Apple Mail, Thunderbird, or similar. What few people realize is that Comcast email offers this feature too!
To start, however, let's have a look at the interface itself because you can indeed change the theme of your Comcast email and there are quite a few cheery color options from which to choose too. Later in this tutorial, I'll also show you how to enable remote access so you can access your Comcast email from any email program you prefer!
FIXING THE COMCAST WEB MAIL LAYOUT
At it's most basic, without anything tweaked or changed, Comcast's Web email interface is pretty darn dull, as you say:
What's not at all obvious is that the faint gray background on the left can be changed! Before we do that, though, two things to learn. First, in the very middle of the message area is a link "Show images" with the descriptive text adjacent: "External images have been blocked to protect you against potential spam." Since they have a good spam filter, I recommend that you go ahead and click "Show images". If nothing else, the broken "Xfinity" logo in this message will be resolved properly instead.
What you're seeing is the "Horizontal" layout. Click on "View" near the top right and you'll get a menu that lets you switch to "Vertical" instead:
What does that look like? It's pretty nice, actually: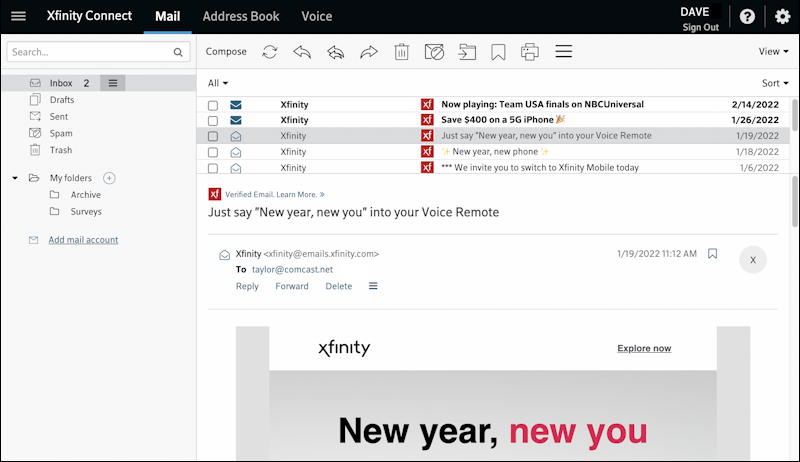 This allows for a wider display of your folder and, more importantly, a wider view of your actual email. Notice that the "Xfinity" logo has appeared in this message too. You can also turn off the Folder view on the left if you'd prefer to have even more real estate for the message itself; just chose that option in the "View" menu.
CHANGING COLOR THEMES IN COMCAST (XFINITY) WEBMAIL
Okay, that's layout. What about those colors? To change that, and many more advanced settings, you'll want to move up just a bit on the screen and click on the gear icon on the top right corner. A different menu appears:
From this menu choose "Email Settings" then "Basic settings" from the list on the left side. Here's what you'll see:
You can change language or date and time formats, along with your time zone, but below that is "Theme" and "Refresh interval". You can tweak the latter, but it's "Theme" that's really fun, so click on the word "Xfinity" immediately underneath that and you'll see all the many, many colors from which you can choose:
Lots of really interesting colors, actually. I like Blueberry if you want something mellow and corporate, but Cherry or Burnt Umber have a bit more pop. Choose your color, then refresh the page (typically there's a circular arrow in the Web browser's control bar or you can use View > Refresh or similar). I'll choose Burnt Umber, reload, then go to "Security". Looks MUCH better:
I wanted to show this page partially to demonstrate the new color, but also to highlight that the "Third Party Access Security" setting must be checked if you want to access your Comcast/Xfinity webmail from another email program, as it notes. If you do want to integrate it into Apple Mail, Outlook, or similar, this is where you start.
And, finally, Burnt Umber offers a much more visually interesting home page too:
What do you think? Worth exploring? I think so!
Pro Tip: I have quite a few tutorials and articles on computer basics, from Comcast to your GPS or Smart TV. Please check out my computer basics help library to check it all out while you're visiting. Thanks!