I haven't used eBay in a long time and now that I did just buy something from a seller, I'd like to do the nice thing and leave them feedback. A great seller! How do I most easily do that on the new eBay design?
What's our mantra here at AskDaveTaylor? Nothing's as constant as change in the online world? Something like that. And you're right, eBay has changed its user interface quite a few times since it launched all those years ago, and probably sold a boatload of Pez dispensers too! (creating a marketplace for Pez dispenser collectors was the original motivation for Pierre Omidyar creating the site)
One of the great innovations that eBay introduced to help create a safe online marketplace was not just seller ratings, but buyer ratings too. Amazon has product ratings, but eBay focuses on the people doing the transaction, rather than the thing being purchased. Of course, Amazon now also has seller ratings for its marketplace, but eBay was the innovator in this regard.
Anyway, the important thing is that for eBay to work, buyers really do need to rate sellers honestly, whether they're great, easy and friendly, or slick, confrontational and abusive, prone to misrepresent products, etc. So you're right in wanting to do your bit!
The easiest way to leave feedback is to ignore the email reminders from eBay, if you get them, and simply go to http://my.ebay.com/
Look on the left side once you're logged in and here's what you'll see: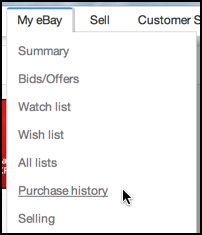 Choose "Purchase history" and look down for the transaction for which you want to leave feedback. For me, there's only one transaction in the last 60 days, so it's easy to find:

On the right side you can spot a link "Leave feedback" that's in purple on my screen capture. On yours, it'll be blue. No worries.
Click on it…

To leave a rating for an eBay seller, you'll start by choosing "Positive", "Neutral" or "Negative". I'm planning on leaving positive feedback for this particular seller as he was easy to work with, even when one of the DVDs turned out to be damaged.
To do that, I click on "Positive" and a new section opens up below it:

You can see that there's a text input box where I'm adding "Excellent seller, well packed, fast, polite communication. Recommended. A+".
In addition, there are four areas where you can rate the seller on a 0-5 star basis for accuracy, communications, shipping, and shipping charges. Sometimes you don't get to leave feedback for the latter two, when eBay manages the shipping labels, etc. Rate the other ones anyway, for sure!
Ready? Click on the "Submit" button at the bottom of the page and you're done.
The confirmation you get:

That's all there is to it. Review entered and saved on eBay.
Nice job.