I know how to drag files into the trashcan icon on my iMac, but I have no idea how to actually delete the files for real. It's a really basic question, but how do I empty my trash can?
You're asking a pretty basic question about Mac OS X functionality, but then again, sometimes the things that are obvious to some users can be quite puzzling to others. And to make it more complicated, there are multiple ways you can "empty the trash" on your iMac, MacBook or similar.
If you're a long-time Mac OS X user, you'll also note that the latest version of the operating system (10.11) has lost what use to be a really useful feature, the ability to specify a 'secure delete' that would actually ensure that the deleted file couldn't be recovered, particularly useful if you work with confidential or sensitive information or are about to give your computer to someone else. That's just not available any more, which is disappointing. Instead, just keep in mind that anything you delete might be recoverable with the right software and some enthusiasm.
But back to emptying the trash on your Mac system!
The short answer is to click and hold your cursor on the trashcan icon on the Dock. That pops up a context menu with the two choices "Open" and "Empty Trash":
But let's dig further into this, because I want to point out that dragging things into the trash doesn't delete them, they continue to take up space on your disk and over time that can be a real problem. You can restore them by opening your trash, of course, but it is important to empty the trash occasionally too!
When you do go to Empty Trash, it's likely you'll get this warning:
You can actually disable this warning if you're confident in what you're doing, but before we get there, I often see error messages about files being "in use", which can be confusing:
Sometimes this is because the file really is in use — perhaps you're editing it in Word or PhotoShop — but other times it seems related to bugs in the Mac system where a program was using the file but hasn't told the OS that it's done and no longer in use. The solution when you see these errors is to click "Continue" and delete everything you can. These files can be deleted after your next restart (or if you really want to delete them, restart and empty the trash again immediately).
Back to that warning window, though. If you do want to stop it showing up, you can change a setting in the Finder's Preferences area. Start by going to the Finder, then choosing Finder > Preferences…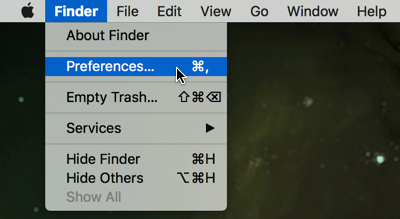 Click on the Advanced tab along the top and you'll see these options:
It's the third one you'd want to change: Show warning before emptying the Trash. Uncheck that and you won't see the warning asking you if you really want to delete the trash or not.
Done. Easy. It's pretty easy to work with the Trash on your Mac system. Just remember that you do need to empty it on occasion or you will eventually fill up your disk, which does bad things to the system.