I know how to email photos to friends by sharing them from the Photo app on my iPhone 5c, but what I can't figure out is if there's a way to actually embed one (or more?) pictures or photographs in an email message I'm writing on the iPhone.
It used to be that the only way to share photos off your iPhone was indeed to go into the Photo app and share images, either one at a time or via selecting up to five of them. If you wanted to add captions or explanation you could, but it was a lot of work because you had to navigate around all the images with your finger. Kind of a pain, actually.
With the introduction of IOS 7 Apple has made it a lot easier to embed photos in email that you're already composing, but you have to know where to find it, because if you aren't willing to tap around and try things, odds are you'll never actually find it.
Let's have a look!
To start out, here's a message I'm in the midst of composing:
Definitely ready to go.
But how to add the photo?
To find out, tap and hold your finger on the spot where you'd like the photograph included.
A small menu bar shows up: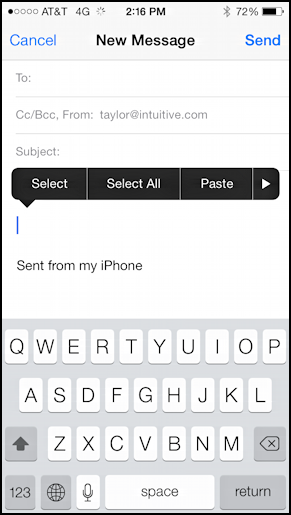 Nope, that's not it.
Most people, I think, get to this copy/paste toolbar and tap away, but in fact the triangle on the right edge is what you want to tap because – surprise! – there are other features available.
When I tap on it, here's what I see:
Ah, there it is!
Tap on "Insert Photo or Video".
Now you're looking at albums, so to get to the photos you've taken recently, tap on "Camera Roll".
For me, these images appear:
So colorful!
The image I want is the red/blue/white sunset photo, so I tap on it and get a bigger version to verify it's the specific image I desire:
Looks good!
A tap on "Choose" and that's all that's needed.
Instantly I'm back at the email message, with the sunset photo included:
That's all there is to the process.
The trick, then, is to notice the ">" triangle on the copy/paste toolbar and go from there. Oh, and if you have a misspelled word in a message, you'll also find suggestions for correct spellings on the toolbar too. Just be willing to tap on the triangle to see what happens.