I heard that Instagram has added support for QR codes that will let people jump directly to your Insta profile. Nice. How do I generate one of these and share it with my friends?
It was only a couple of years ago that Instagram (a Facebook company) launched what it called NameTags and I wrote about how to generate your Instagram NameTag here on the site. Apparently the team realized that having its own graphical code that required the Instagram app was less appealing and less useful than the more standardized quick response code, aka qr code. So NameTags are out and InstaQR is in! It does make sense because most modern smartphones can automatically recognize QR codes when they show up in the camera app's view, so why not make these codes maximally accessible?
Like much with Instagram, it's also easy to create your QR Code if you know where to look. On the Apple iPhone, at least, saving it is a bit tricky because of the convoluted share > save user interface oddity of iOS, but I'll step you through that process too. Hopefully on Android phones it's easier to accomplish this one additional step.
To start out, go to your profile screen in Instagram on your mobile device. It'll look like this for my d1taylor account in Instagram:
Kind of fun to see the last few photos I posted, right? More importantly, notice the hamburger menu on the top right – the three horizontal lines. Tap on that to reveal the main menu in the app: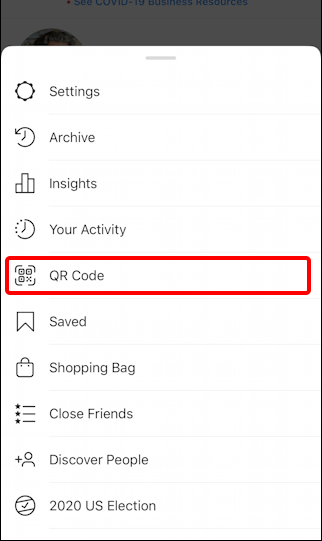 As highlighted, you'll want to tap on the QR Code link. Note the other options here too, lots to explore if your only experience prior has been looking at photos other people you follow have posted. In particular, Discover People and 2020 US Election are both interesting to check out.
But let's stay focused. Tap on QR Code. And BOOM! You have a bright, cheery QR code that links to your Instagram profile:
That QR Code works, if you're curious. Point your camera at the screen shot and you'll see what I mean. I'll get back to the scanning in a bit too, but for now, key to notice is the word "SELFIE" at the top. Turns out that there are three different variations on the QR code you can produce in Instagram. Selfie has a sort of weird you-as-an-emoji image, but a tap on SELFIE and you can see the next style, COLOR: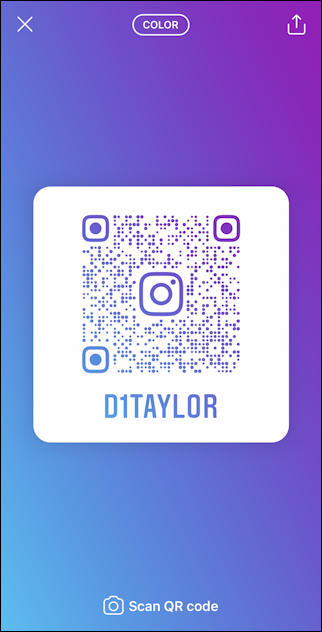 One more tap and you'll see the third possibility, EMOJI:
At some point I suspect you'll be able to choose your favorite emoji, but for now these are the three options: Selfie, Color or Emoji. Which do you prefer?
To save your Instagram Profile QR Code you can either take a screen shot with it on screen or you can use the save feature. For the latter, you'll want to tap on the "U" with the arrow pointing up in the top right, the share button. On an iPhone that brings up a list of recent sms text message recipients and various other options: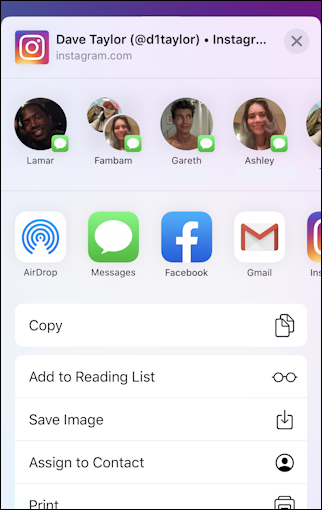 The choice you want is near the bottom: Save Image. Tap on that and the QR code will be saved to your camera roll, ready for printing, incorporation on fliers or posters, or just shared with your social media pals!
Oh, and on the iPhone at least, if you point the regular iOS camera at one of these QR codes, here's what you'll see: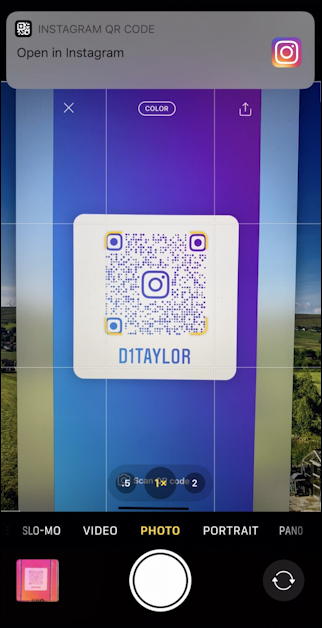 At the top you can see "Open in Instagram". A tap on that and you'll be viewing my Instagram profile. Pretty cool, actually!
Pro Tip: I've been writing about Instagram for quite a while now. Please check out my Instagram help pages for a bunch of useful tutorials while you're visiting! Thanks.