Android users who are active text message fans have always been stuck using their phone for those messages. Apple users have iMessage, which offers access to your sms text message interactions via any iOS device and MacOS X systems, but Android? Not so much. Until now and the new AT&T Messages app…
The concept certainly makes sense: If SMS Text (TXT) messaging is so much like the instant message service on Facebook, why are you stuck only being able to use it on your actual mobile device when you're surrounded by interactive computers and other devices through your day? Smart Apple users have long since enabled iMessage to work on their computer and tablet, but it's been a lot more difficult to get a multi-platform messaging system that's Android friendly. Sure, there are services like WhatsApp, but those replace your phone, not integrate with the service.
We're moving into an era of Internet Everywhere, why not have Text Messages Everywhere too? And that's exactly what the slick new AT&T Messages service does!
To learn more about it, I downloaded it and got it up and running on a Samsung Note 4. Here's how that worked out…
First launch shows an informative splash screen: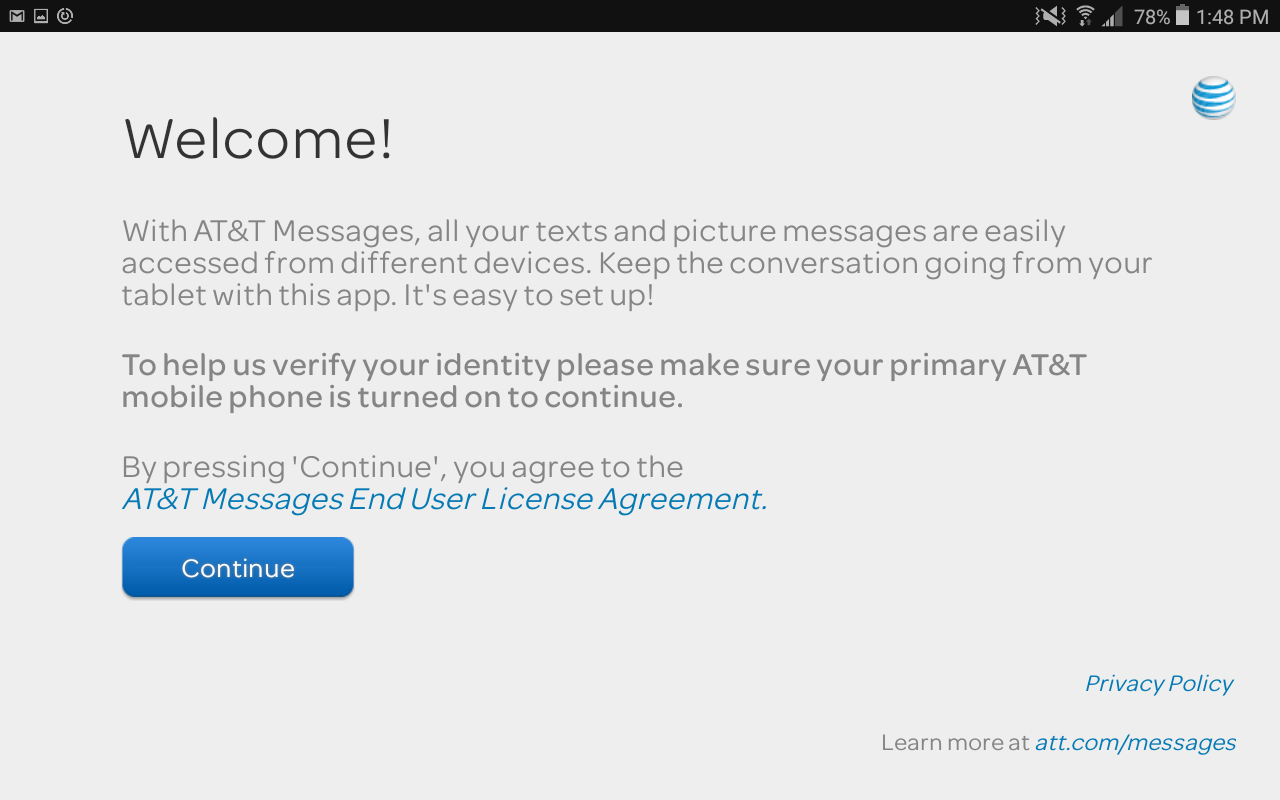 Sounds reasonable. A tap on "Continue" and the process continues…
… and once it's loaded you're ready to begin the sign in process: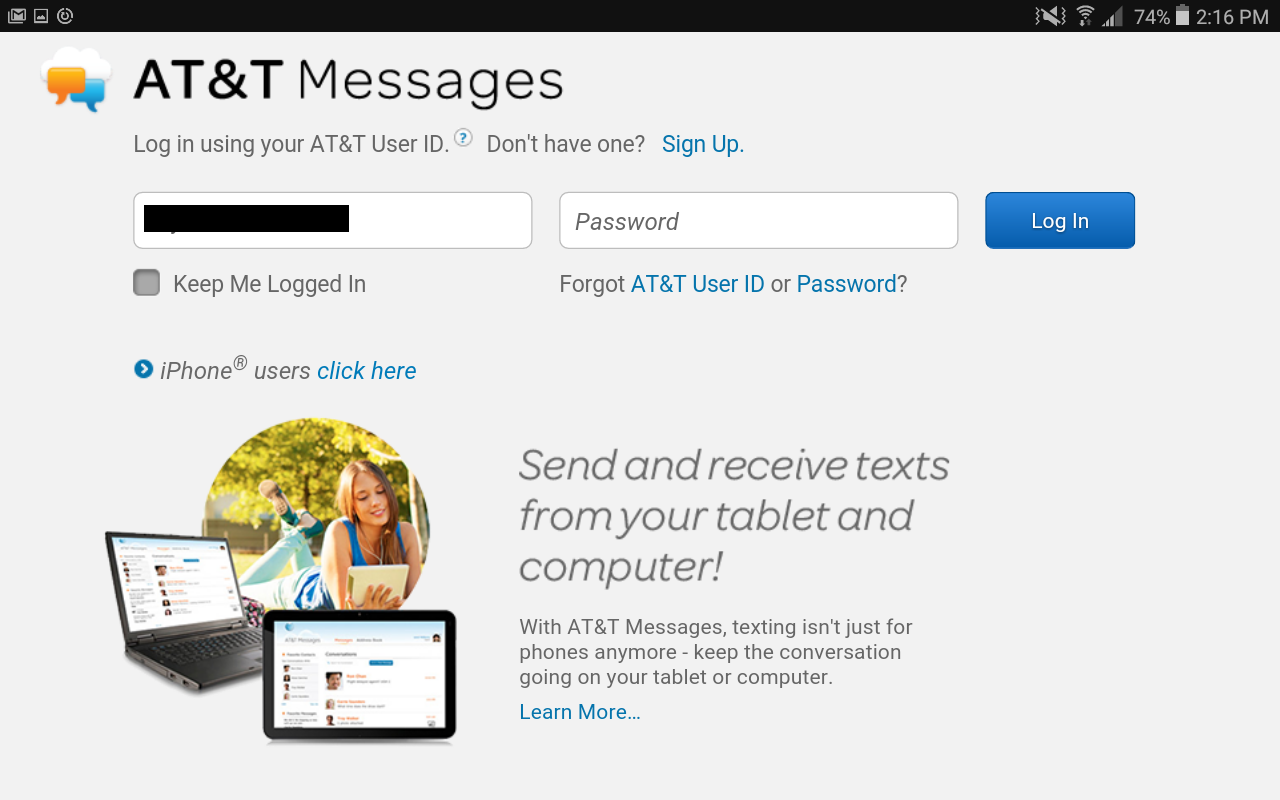 Notice the "iPhone users click here" prompt? Well, as an iPhone user I definitely wanted to know what that was about, so I tapped prior to trying to log in. Here's what I learned:
From experimentation, you can actually proceed with both AT&T Messages and iMessage, the only problem is that your iPhone-toting friends and family who message you through iMessage rather than the AT&T cellular network won't show up in AT&T Messages at all. Later when I tested it, I simply chose two friends who I know are Android users (and therefore don't have access to iMessage). More on that once we get there.
First, I had to log in.
I don't mind admitting that I found this a bit of a bear to accomplish as I had already set up an AT&T online account but didn't recall my password (because you can't use punctuation in your password rather inexplicably). So I had to get a password reminder. And to do that I needed to get a temporary login account ID. Many system emails back and forth and finally I entered all the necessary credentials and could tap on "Log In" to proceed. Hopefully your logging in process will be less eventful!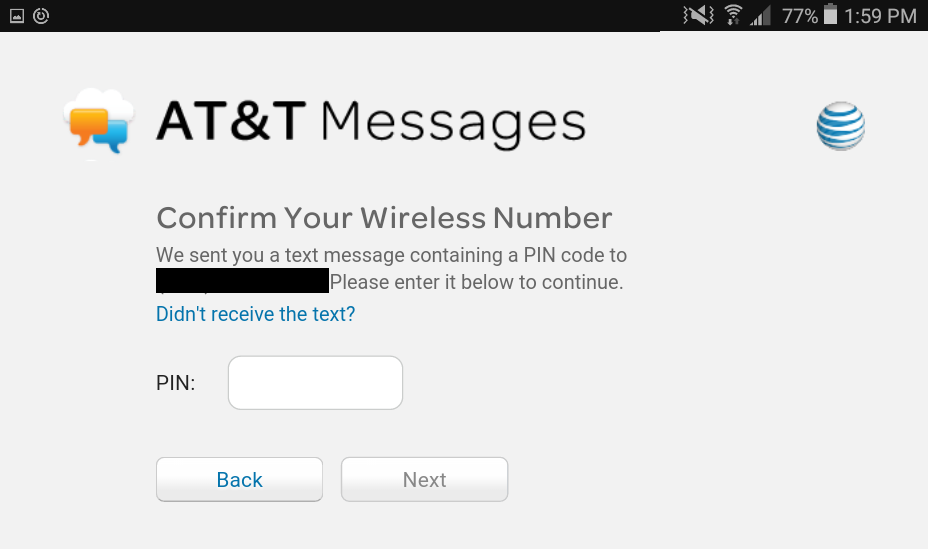 Not unreasonably, AT&T really wants to ensure that you're who you say you are and that you really do have access to this account. That's done with a two-step verification, a secret code sent as a text message to your primary phone. Enter that and you're in!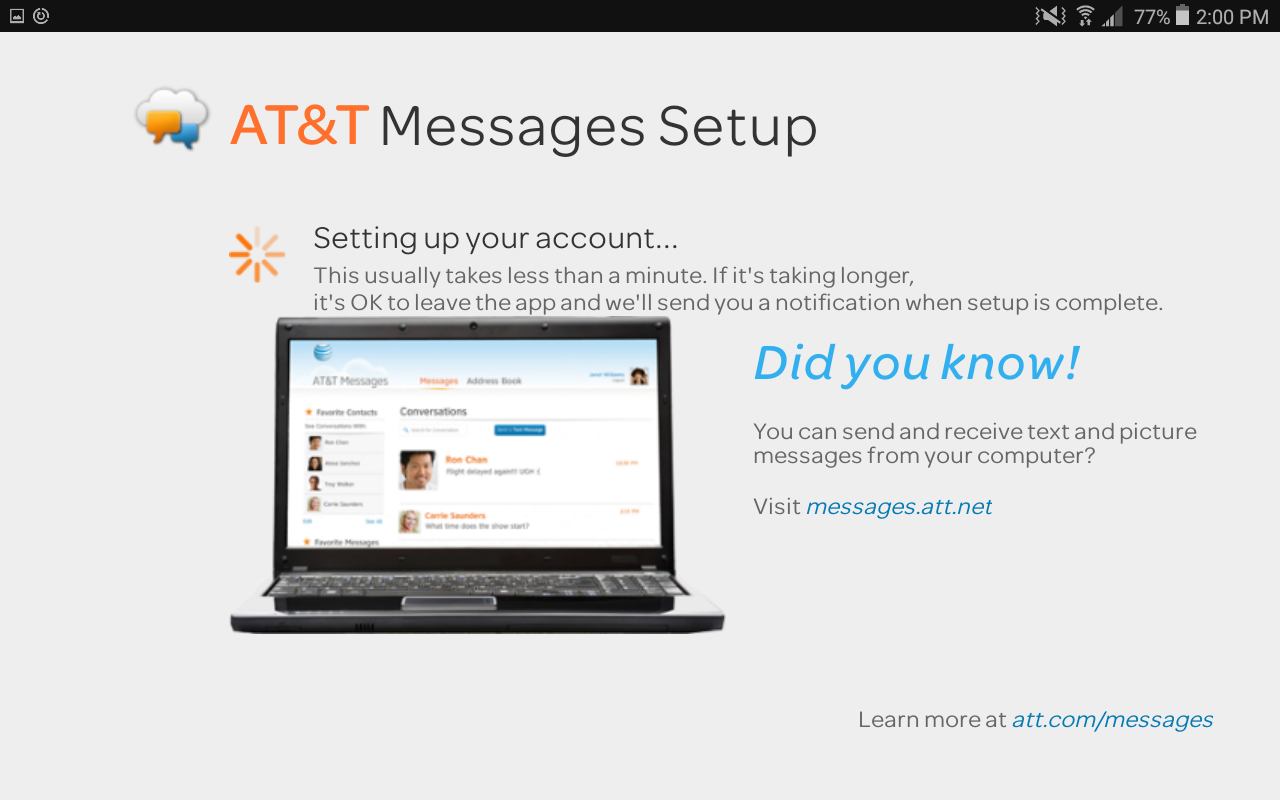 Notice the message in the middle of the screen that offers a Web-based interface to your text messages! Super helpful. You'll definitely want to bookmark that URL: messages.att.net
The program will ask if you want to have notifications pop up on your Android device when new messages arrive. I opted not to do this, but you might decide it'd be a great win for you: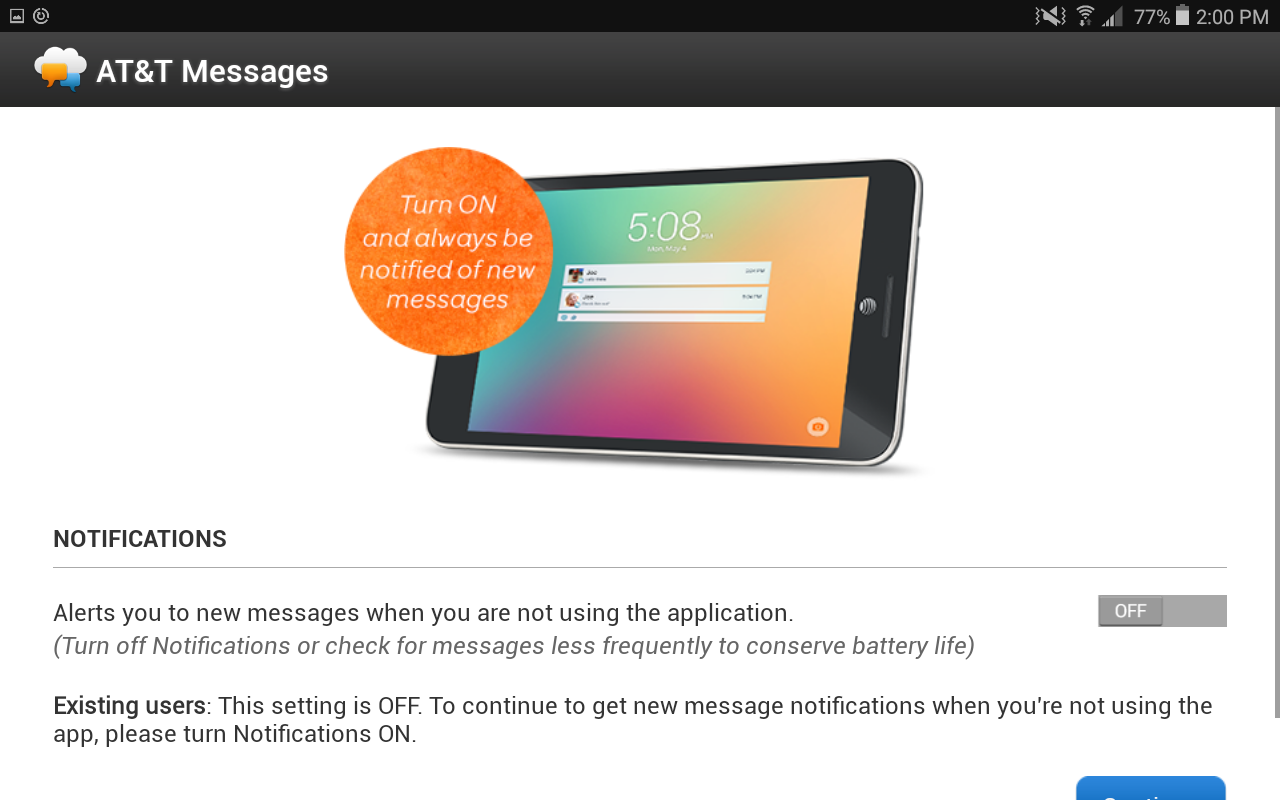 Make your choice, tap "Continue" and after a moment or two setting up, the app will ask for permission to access your contacts:
And then it'll want access to your Photos (so you can send photos to others):
All good? I thought so. Two taps on "Allow" and you're up and running!
To try it out, I started conversations with two of my friends who I know have Android phones (to sidestep the possibility that their responses would come via the Apple iMessage backchannel). Here's what that looks like:
My messages are on the right side (asking about the Pixel phone) and my friend's response is on the left side "Not even on my radar". Simple, straightforward, and I don't even need my phone in the room!
Definitely helpful. But if you don't want to stick with AT&T Messages — perhaps because it's a shared tablet or other Android device and you don't want all your messages showing up! — you can tap on the top right to bring up the menu:
Choose "Sign Out" and confirm…
That's it. Now you know how to sign in to AT&T Messages, use it, and sign out, as desired. Darn helpful and particularly so if you're the exclusive user of your Android devices. And don't forget the Web interface too!