I'm inspired by the tattoo that Angelina Jolie got recently that has the latitude and longitude of where each of her four babies was born. That's cool. How do I figure out the lat/long of the hospital where my own baby was born so I can do the same thing?
I saw an article about that a few weeks ago and also thought it was a pretty cool idea. Definitely demonstrates a level of commitment to her children (not that every other Mom doesn't also sacrifice and contribute her proverbial "pound of flesh" (and more) for her children!)
Now you could say "why bother publicizing celebrities like Jolie when there are so many regular gals who do more for people?" but my response would be that they're cool too, I just don't have pictures of their tattoos hanging around in my image archives.
There are probably a million different ways to map a specific latitude and longitude (oh, and by the way, it's not spelled "longtitude", though that's a very common misspelling) but the way I'll demonstrate is with Google Maps.
Oh, first, here are two pictures of Angelina's tattoo:


If you go to Google Maps and type in an address, you'll find that the "shortcut" link shown will actually include the lat/long of that particular address.
We didn't have our first baby at Sequoia Community Hospital in Redwood City, California, but we can still use it as a handy example. A quick Google search reveals that the hospital is located at "170 Alameda De Las Pulgas, Redwood City, CA", so that's what I'll enter into Google Maps: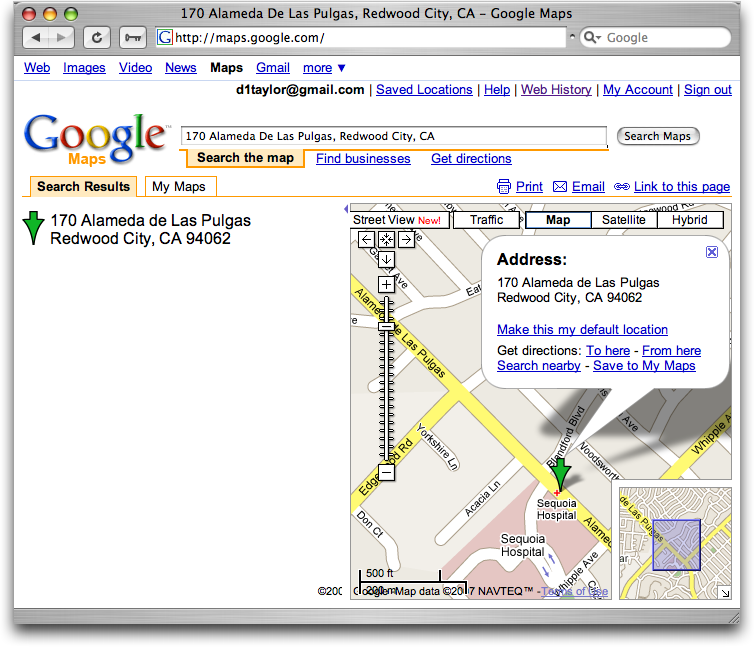 Notice the little "Link to this page" on the top right? Click on it. Now you'll be on the same page, but your displayed URL in the Address Bar will actually contain the exact lat/long of that address. It's a bit tricky to extricate, however. Here's the URL:
http://maps.google.com/maps?f=q&hl=en&q=170+Alameda+De+Las+Pulgas,+Redwood+City,+CA&
sll=37.482878,-122.258563&sspn=0.00676,0.008197&ie=UTF8&ll=37.482725,-122.253864&
spn=0.00676,0.008197&z=16&iwloc=addr&om=1
The field you want is labeled "ll", and in this case it's:
ll=37.482725,-122.253864
That's the data you want.
If you want to display it in the same manner that Angelina has on her arm, then do another search on Google Maps, but this time just enter the lat/long information it's given you and nothing else (e.g., "37.482725,-122.253864"). The results will show you the converted latitude and longitude values: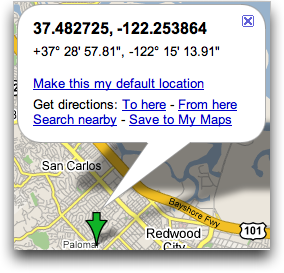 As you can see, your tattoo, if you had your baby at Sequoia Hospital, would show
N37 28′ 57″ W122 15′ 13″
(tip: positive latitude is "N" of the equator, negative is "S", and positive longitude is "E" of the Greenwich Meridian (in England) while negative is "W"). As a fun trick, try switching "N" to "S" and "W" to "E" to see what's
exactly
on the other side of the Earth. You'll find that a spot in the ocean southeast of Perth, Australia is the furthest possible point on the Earth from Sequoia Hospital in Redwood City, California!
You can also enter the lat/long information from Angelina Jolie's tattoo and find out that her babies were born in Cambodia (N11 33′ 0″ E104 51′ 00″), Addis Abeba, Ethiopia (N09 02′ 00″ E038 45′ 00″), Swakopmund, Namibia (S22 40′ 26″ E014 31′ 40″) and Vietnam (N10 40′ 00″ E106 41′ 40″). Quite a global bunch of kids she's adopted, eh? According to what I've dug up, they're Maddox, Zahara, Shiloh, and Pax Thien, in order.
Good luck with your tattoo, and please add a link to your tattoo photo here as a comment when you have it done!
Many thanks to Chuck Eglinton of
Auction Zip Code
for his handy tip on using Google Maps to find lat/long.