Some of my friends do some sort of magic that lets them identify individuals in photographs that they upload to Facebook and it's very cool. I would like to also circle and link to each of my own friends in the photos I put on Facebook. Can you show me how to do that, please?
I've been wondering about this too, actually, and especially like how when you move your cursor over the name of someone in the list below a photograph that the box around their head is highlighted, making it very easy to figure out who's who even when you don't know everyone in a picture. I wish my Nikon had this capability, actually. 🙂
Since I don't have a suitable photograph laying around for this demonstration, I'm borrowing, with permission, a terrific picture that Ayako Bingham took of my friends Brad and Jeannine Crooks:

Now, to get started, click on "Photos" from your Facebook home page:

If you already have at least one album created, you can easily upload the new picture into that album. If not, the fast shortcut is to click on "Create Album":
Time to enter a bunch of data. I'm lazy, though, so I only enter an album name: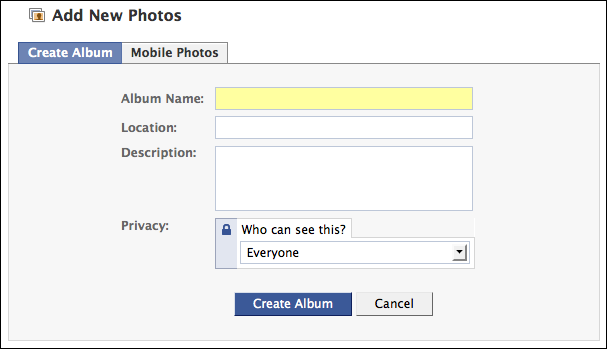 At this point Facebook wisely figures that you want to actually upload one or more photos, not just create an album so this is what you see: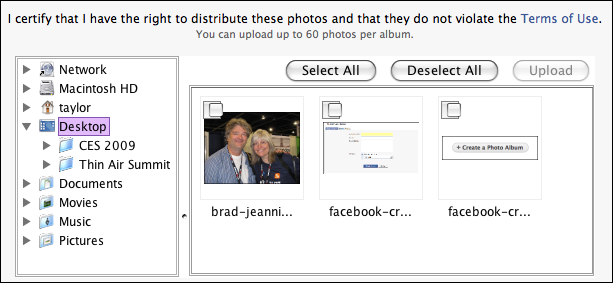 (If you already have an album, that's what you'll see when you click on the "Add More" tab when viewing your photo album)
Check one or more photos that you want to upload and click on "Upload". Time for a progress meter:
And, when it's done:
Once you're back on Facebook, it'll show you the image or images you just uploaded:
Here's where there's a secret shortcut you can use… simply click on one of the faces in the photo while viewing it in this mode and:
As you can see, I clicked on Brad's face and Facebook automatically calculated and placed the rectangular limit and popped up the list of possible friends (you can only tag people with whom you are already friends to have clickable links to their profiles). Either scroll down or start typing their name until you can select them. Click "Tag" when you're ready.
Now under the photo display will be "In this photo: Brad Crooks remove" (or whomever you've tagged). Click on another face, specify who it is, click "Tag" until you've labeled everyone in the picture.
Finally, you're done. Click on "Save Changes" and your photo is now neatly tagged like the cool kids do:
Notice here, by the way, since I'm not Facebook friends with Jeannine Crooks, that her name shows up on the "In this photo" info (and putting your cursor over her name highlights her head in the pic) but it's not clickable to her profile, while Brad's is. If you only take pics of people who are friends on Facebook this won't be an issue.
Tip: I'd also like to let you know that I have quite a bit of Facebook help here on the site and that I also have an Ask Dave Taylor Facebook Fan Page that I invite you to join.