Probably a bad habit, but I use the MacOS X "Stickies" app to track data and ideas when I'm working. When I'm done with a project, however, I need an easy way to archive it without exporting note-by-note. Doable?
You're definitely not alone in your enthusiasm for the Stickies app included with MacOS X. I've been using it for years and at any given time seem to have a half-dozen minimized Stickies on my screen. I remove 'em from screen shots, but they're definitely still there! You can keep reusing Stickies or export them as rich text files, but if you have more than a few, that's darn tedious.
Fortunately Apple knows that's an issue and Stickies includes an export all feature. Interestingly, there used to be a way to "print all" notes which you could then subvert into creating a PDF document through the printer system, but that seems to have vanished as the included app has evolved through the various versions of MacOS X. Why we can't have lots of choices is beyond me, but… maybe that's just how software evolves.
Anyway, it seems like the only real export path is to go from Stickies into the Apple Notes app, so let's have a look at that!
First off, here are some of my stickies. Yeah, some of 'em are a bit old at this point:
Click on any of them and you'll be in the Stickies app, at which point you can then click on File to reveal this menu:
As highlighted, you can "Export Text…" from an individual Stickies but to export them all you'll be using the Notes app.
Do that by choosing "Export All to Notes…" from this menu. A pop-up explains what's going to happen:

In case you can't read it, this says "Your Stickies will appear in an "Imported Notes" folder in the Notes application. Text formatting, links and pictures will be preserved. Notes will be organized into separate folders based on color."
Sounds good. Do it. Click on "Export All" and it'll launch the Notes app, which will then pop up this prompt:
Okay, so Stickies says it'll look the same, but Notes warns you that they may look different. Who to believe? Just do it and let's find out!
Click on the blue "Import Notes" button and it's basically instantaneous. Now in Notes reveal the folders and various columns of info and you'll find Imported Notes with subfolders based on Stickies colors, just as promised: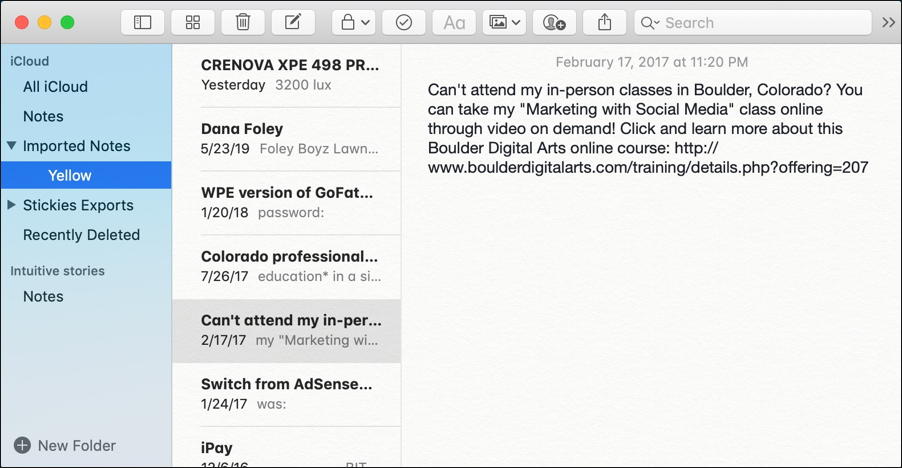 And that's how it's done. I still wish there was a simple "export all notes to a single rich text document or PDF" option, but this still lets you axe some of those Stickies so you're ready for the next project!
Pro Tip: I've been writing about the Mac since, well, a long darn time. Please check out my extensive Mac help while you're here!