I have been using CD-RW disks on my Apple MacBook Pro, and while I have figured out how to use a Burn Folder to create the disk in the first place, how do I rewrite the disk with newer content without having to buy something expensive like Roxio Toast??
I've used Toast for so long that I don't really have much experience with the built-in Mac CD burning capabilities, but some experimentation showed me what you already know: using a Burn Folder is fun and easy! I also figured out how to rewrite disks so you can wipe older content and reburn the CDROM with the newer material. But let me show you the steps involved in burning a CD first…
To create a CD-ROM disk on a Mac OS X system, simply choose File –> New Burn Folder from within Finder. Now you have a folder that looks mostly the same as any other folder, except anything you drag to it is automatically turned into an alias that points to the original content rather than the content itself.
When I've dragged on folders of photos from my recent cruise, here's what my burn folder looks like: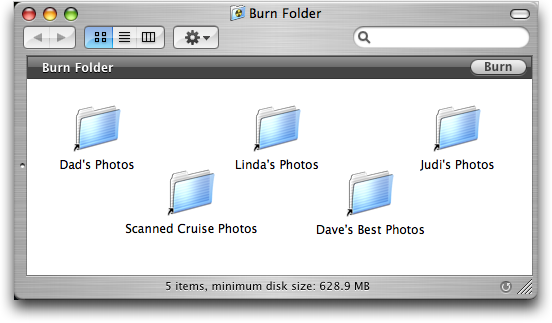 Rather than put in a blank CDRW disk, however, as it's asking for once I click on the
Burn
button on the top right:



I'll put in a previously burned CDRW which, no surprise, shows up as a mounted disk but doesn't work with the burn capability. You've probably encountered this problem when you were hoping you could just click "overwrite"!
The secret is to use Apple's
Disk Utility
to wipe or erase the disk, eject it, and then reinsert it so you can overwrite it with the content you want. Not as easy as it could be, perhaps, but quite doable nonetheless.
You'll find Disk Utility in
Applications
–>
Utilities
. Open it, click on the "erase" tab, and you should see something like this: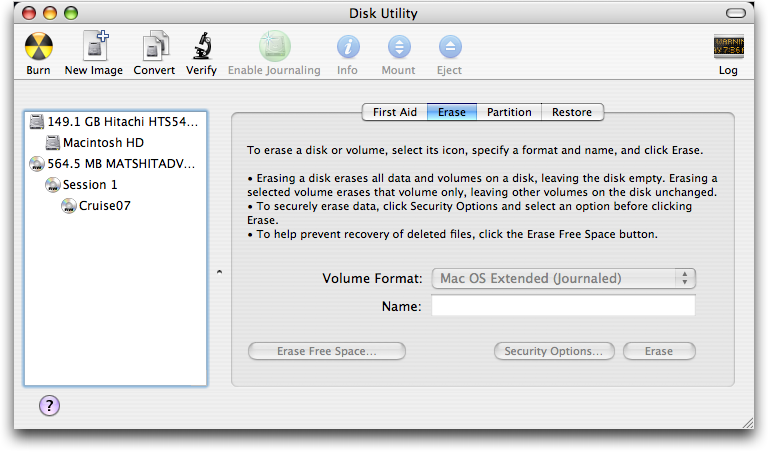 Click on the "Session" entry and the options change to: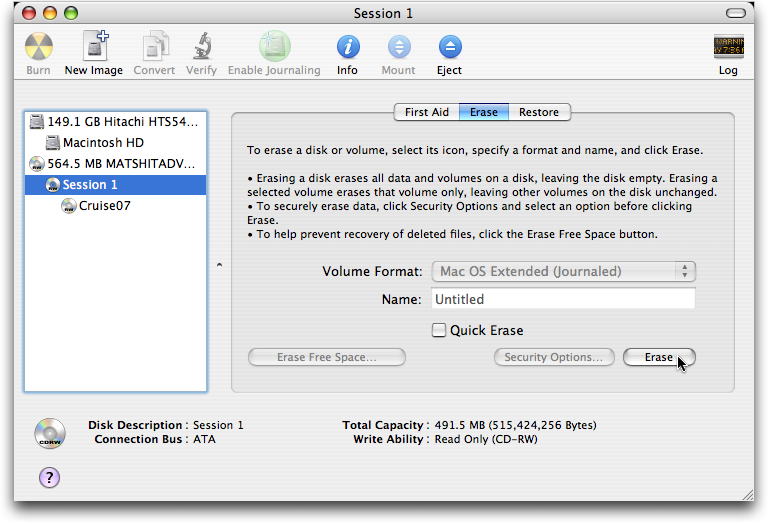 Click on
Erase
and it'll confirm that's what you really want to do:


Again, click on
Erase
and, finally, it'll go ahead and wipe all the information on the disk. It takes about five minutes to accomplish this task and when it's done, the next thing you'll see is the Mac message that you've put in a blank, empty disk: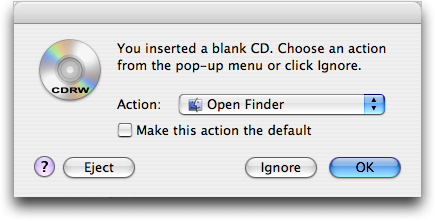 That's what we want to see! Click on
Eject
, then go back to your burn folder and click on the
Burn
button. Now, when it asks for a blank disk, you guessed it, push the newly erased CDROM disk back into the Mac: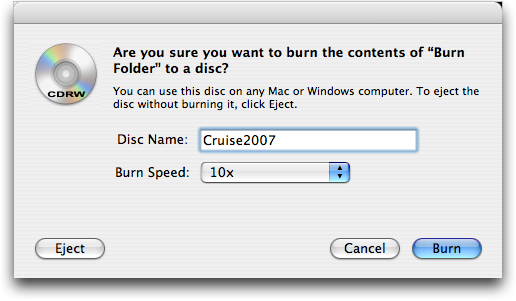 Type in a name that you'd like to have as the disk title and click
Burn
. Now you'll get to watch a thrilling progress bar as the new data is poured onto the disk and verified:



That's all there is to it. In practice, however, I found that about 20% of the time the disk didn't survive the burn / erase / burn cycle so don't be too surprised if you get a verification error (and do test the disk even if it says it's corrupt).