I've been visiting some Web sites that I don't want to let others know I frequent. Can you tell me how do i erase my Google search box memory on Mozilla Firefox??
I understand your plight. With modern SEO and adult site tricks it's not uncommon to find your browser has been hijacked, you've ended up with a pop-up from an inappropriate site, or perhaps you've been just playing around in Google to see what's out there on the periphery of the Web.
Now you need to cover your tracks and while it's not too hard to figure out how to clear the various caches on your system, when you type in a new search on Google, Firefox suddenly autocompletes with those naughty searches you did earlier. Yeah, I can see where that could be a bit of a problem!
So here's how you clean up your trails on Firefox: launch the browser, then go to Preferences –> Privacy. It looks like this: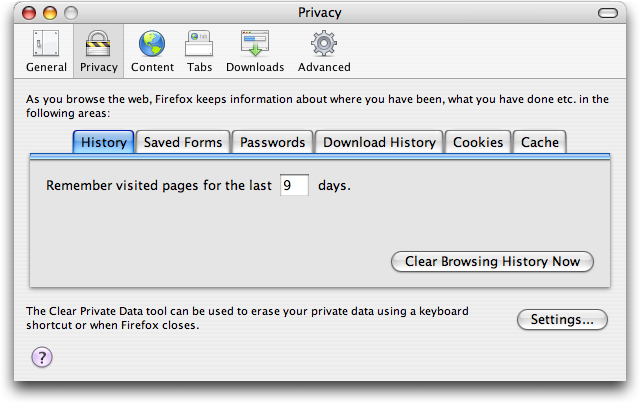 You can see from the tabs along this section that you will probably want to go to each section and erase the content to truly cover your tracks, but most importantly to stop Google suggesting searches you've done you need to realize that it's not Google doing that at all, but rather Firefox using the form autocomplete capability.
It's correct to then conclude that to zap the Google autocomplete you need to go to the "Saved Forms" area: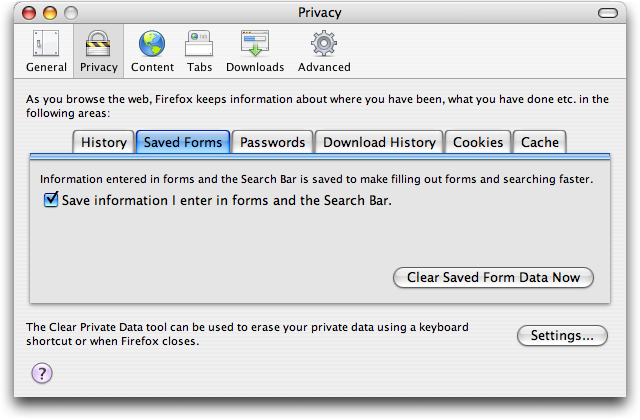 Click on "Clear Saved Form Data Now" and you'll have accomplished what you seek.
Before we go, however, I think you'll appreciate the "Clear Private Data" tool: on the lower right, click on "Settings" and you'll see: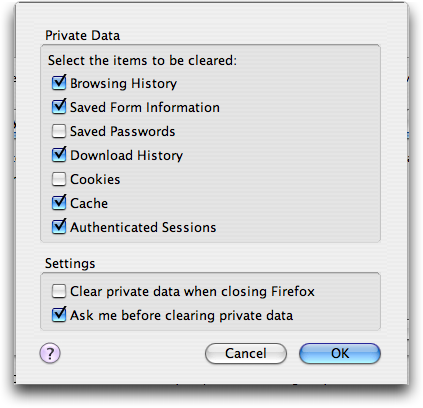 By enabling this feature (the checkbox near the bottom) you can automatically have Firefox erase its tracks each time you quit the browser. Might be more efficient for you.
Hope this helps you out!