I'm really enthused about the possibility of wireless sync on my iPhone with the release of the new version of iTunes and iOS 5 for my iPhone 4, but rather than just thrash around I am hoping you can tell me how to quickly set up this feature on my Mac?
The first step is that you need to update both iTunes on your Mac OS X system and the iOS operating system on your Apple iPhone 4. The former can be easily accomplished by going to the "Software Update…" option on the Apple menu on your Mac. It checks against the master version server and should report that you have a new version of iTunes to download and install. When you do install it, you'll need to quit your current version of iTunes first and I always quit all other running apps before applying any update since you never know what files might be shared behind the scenes…
Before you do so, however, it's a great idea to do one more sync of your iPhone before all these updates. For good luck. Then when you update iTunes, do it again before you update your iPhone system (though it's quite possible it'll simply pop up a window saying that you have an update to iOS available and should apply it)
Now, if you're here, you have iTunes 10.5 on your Mac and iOS 5 on your iPhone.
Ready?
Launch iTunes with your iPhone plugged into your computer and you'll see the usual:

Pay attention to the "Version" box. Later you'll see it changes. For now, however, scroll downward on the iTunes window…

Ooops! That's interesting. iCloud. Coming soon. Keep scrolling down…
That's the key option that you want to select: "Sync with this iPhone over Wi-Fi". Check that, click on the "Apply" button on the lower right and unplug your phone from your computer.
Really.
Now check it out: it's still shown in iTunes both on the left under "Devices" and as a specific device you can examine and tweak: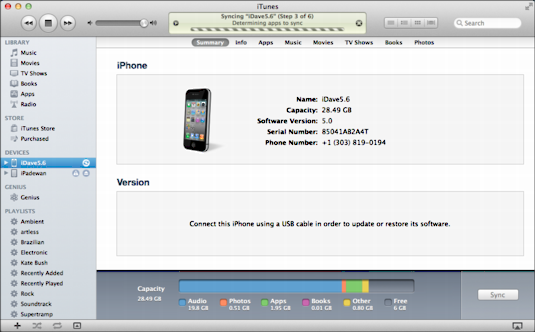 Notice what's happened to the Version information too. It won't let you update the operating system through Wi-Fi (though you can update your iPhone iOS software
directly from the phone now
, but that's a separate article) so instead it says "Connect this iPhone using a USB cable in order to update or restore its software."
What I found most curious about this addition of wifi sync is that when you unplug your iOS devices, they don't vanish from iTunes any more. Check it out:

The "iPadewan" device is my iPad, and it's not within wifi range which is why there's an error symbol next to it. Still, it's
very
cool to be able to leave your iPhone in your pocket or briefcase and with a click of the Sync button in iTunes have it get the latest version of iPhone apps, some new music and anything else you want to grab from / copy to the device. Very space age!