My Apple friends are telling me how much better game audio sounds with "spatial sound" enabled. I'm on a PC, though. Is there a way I can enable spatial sound or spatial audio on a Windows 10 PC?
While home theater systems offer all of the different speakers required for proper surround sound, most computer audio systems funnel all of the channels into the two available speakers: Left, and right. Headphones, earbuds, even the built-in speakers on your laptop, they're all just two channels. Remember, 5.1 means five speakers + 1 subwoofer, and 7.1 means the audio's encoded for 7 different speakers surrounding you, plus a low-frequency subwoofer. Hard to simulate all that with a 40mm driver sitting 3mm from your ear.
Which hasn't stopped companies from trying their darndest. The way that those multi-channel audio streams are compressed down to stereo varies, and that's what's new with spatial audio. After all, it's not like enabling this feature on a Mac or PC suddenly adds new speakers or drivers to your favorite audio reproduction system! What you'll be happy to learn is that Windows 10 and Windows 11 do include a built-in spatial audio feature, and all you need to do is enable it to enhance your audio.
If, however, the source you're listening to is actually encoded in a 5.1 or 7.1 audio format. If it's not, you'll hear exactly the same stereo that you would without the feature enabled. And YouTube, it's worth mentioning, appears to compress 5.1 and 7.1 down to a stereo sound signal [see this: Does YouTube Support Surround Sound?] so all those 5.1, 7.1 and Dolby ATMOS demos on YouTube? Yeah, they're not really doing what you'd hope.
HOW TO SET UP SPATIAL AUDIO ON WINDOWS PC
Let's set things up, then I do have a 5.1 test video you can audition to see if you can tell any difference. Start by clicking on the tiny volume control shortcut icon on the Taskbar:
Oops. No. I meant to say right-click on the speaker shortcut icon on the Taskbar. You should get this menu: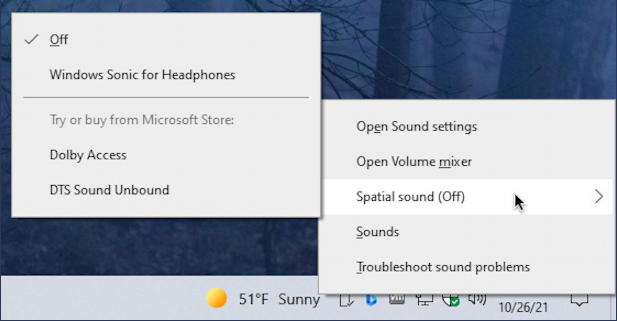 Notice I moved my cursor over "Spatial sound (Off)" and the additional submenu on the left popped up. Lots of handy shortcuts on the main Sound menu, but it's that submenu we want to examine more closely.
At its most basic, you can enable Windows spatial audio by choosing "Windows Sonic for Headphones". Not sure why it has that rather dorky name, but at least it's accurate; you're going to get the best effect if you try it with a good quality pair of headphones on your head. 🙂
Notice also that there are additional – subscription! – audio decoders you can additionally install that offer up Dolby ATMOS (simulation) and DTS:X (simulation) playback on your PC. I'm not sure why they cost so much but expect to pay $10-$15/month if you want the best possible reproduction you can. However, at that point, it might prove cheaper to plug in a proper home theater setup to your PC!and really get that 5.1 or 7.1 than simulate it!
ENABLE WINDOWS SONIC FOR HEADPHONES THROUGH SETTINGS
Of course, you don't have to use that handy Taskbar shortcut if you prefer to go old school. Open up Settings and move to "Audio"…
As highlighted, choose the rather subtle "Device properties" link from this window and you'll get to the right place to enable Windows Sonic spatial audio:
Now, about that test video…
TEST OUT WINDOWS SONIC FOR HEADPHONES WITH THIS VIDEO
One great way to test is with a streaming source that is encoded in 5.1, 7.1 or similar, but if you don't want to hunt for that, try this Vimeo video that offers up a basic sound test for the 5.1 configuration:
I suggest you enable Windows Sonic for Headphones, listen to that video with your eyes closed, then disable it and listen a second time. Can you tell the difference? Me? Not so much. But I have it enabled because I expect that I'll play a game or otherwise bump into an occasional audio source that really does push the limits of surround sound and I'll be more prepared for it!
Do leave a comment letting me know if you find a better audio test source to demonstrate the spatial improvement.
Helpful Tip: I've been writing about Windows for many years and have an extensive Windows 10 & Windows 11 help area. Please check it out to find lots of additional tutorials and guides while you're here. Thanks!