My friends always seem to have accurate feelings associated with their Facebook status updates, but I find the entire feelings/actions area baffling. Is there some easy way to work with them on my computer?
I've been very skeptical about the feelings/actions addition to Facebook status updates since they first showed up, but darned if I don't find myself using them on 25-40% of my own status updates. Apparently I am sporadically "happy", "amused", "snarky" and "disgusted". You're right, though, that the way Facebook has implemented all of its different feelings and actions is clumsy, with lots of pop-up menus and a ton of scrolling.
Unless you know the secret!
Let's have a look more closely at some of the best and most interesting choices. To start, here's a standard view of the individual Facebook page status update before you click to enter your actual update:
A single click in the area "What's on your mind?" and it expands to offer a bunch of choices for additional info:
Now let's click on the "Feeling/Activity" button. A list of different categories of feelings and activities show up, as you would hope:
Lots of different areas to explore, but let's stick with "Feeling". Click on that to bring up yet another menu of choices:
Seems like it's in random order, doesn't it? It might be, but it doesn't really matter because there's a secret, much smarter way to navigate through the options than scrolling.
Instead, look at where the cursor is above, in the box adjacent to the word Feeling. Turns out you can type in the feeling you seek and it'll find a match. Here's what happens when I type in "c" and "r":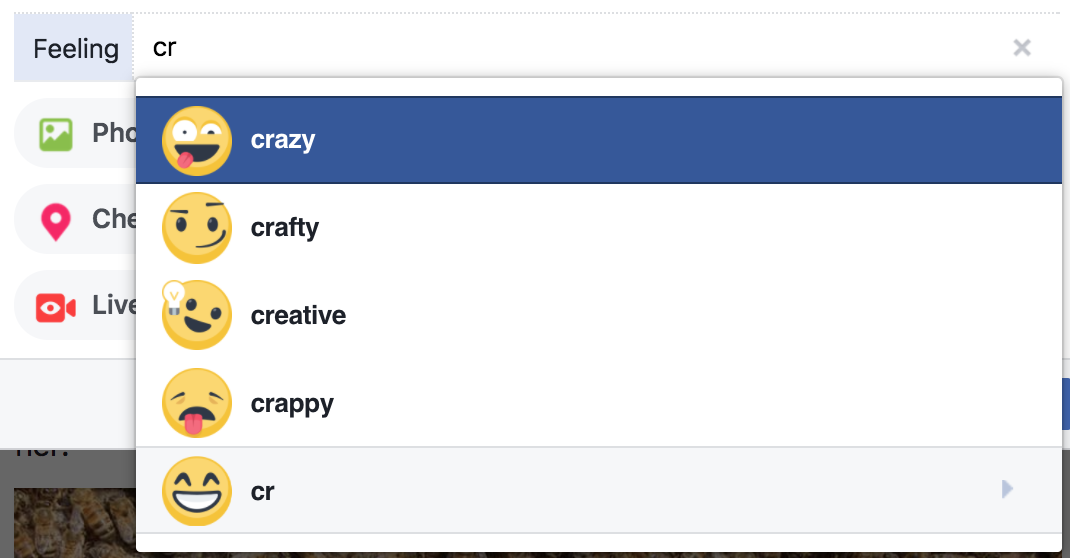 You can even type in your own feeling or emotion word (and pick an appropriate smiley!) if you want, but instead of choosing "crafty" as I was original thinking, watch what happens when I back up and choose the "More…" option off the main menu instead. A whole new set of cool choices: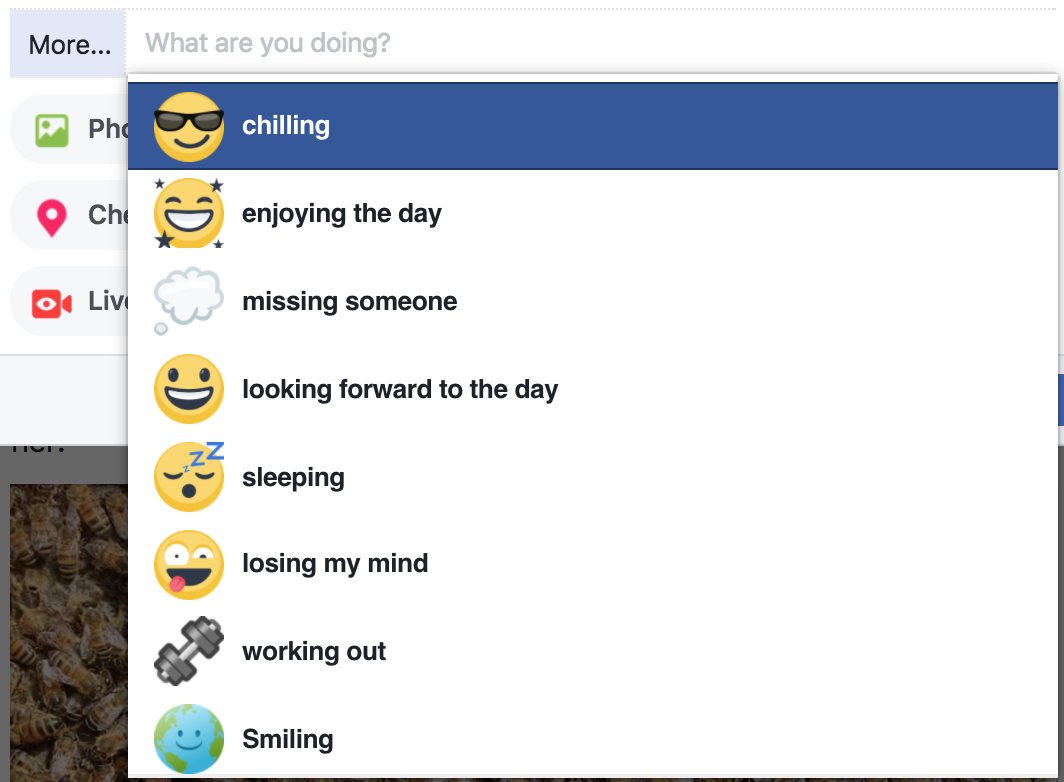 This is a list of "what are you doing?" possibilities. I like "losing my mind", but… for this post, I'm actually going to choose yet another option from the previous menu, instead of "More…"
Choose "Watching" and you can type in the name of a TV show or movie. I'm watching Timeless, so that's what I'll specify. A few additional words to make the status update actually have some words, and here's the result:
Cool, eh? And it's all really easy to work with once you realize you can type to choose things rather than scroll and scroll!
Have fun and make sure you share your wide range of emotions too!
And make us "happy" by following AskDaveTaylor on Facebook and checking out all our other Facebook help here!