I run 1Password on my Mac system and when I get to a new Web site, I'd like to be able to easily get a highly secure password suggestion. I assume 1Password can do that, but how do I actually get to the password suggestion tool in the program?
Passwords. They're rarely pretty, often too simple, but always necessary for our modern era of online technology. Some day I hope it'll be all about biometrics and we can finally dump these sequences of characters and digits, but meanwhile, we gotta deal. If you're still trying to just remember all your own passwords, you've already put yourself at risk: Using the same password on multiple sites is dangerous. Worse, it's probable if you're just remembering your password that it's either a name, dictionary word, or based on one. Got dogs named Luna and Amber? "LunaAmber" is not, in fact, a good password.
With hundreds of accounts across hundreds of Web sites, though, how do you remember everything so you can log in? You don't. You get a password management tool like 1Password, which I've been using for years now. Very helpful to have a secure database custom designed for password and account management, really. One of the least obvious features in the program is the new password tool. Let me show you what I mean…
GENERATE A HIGHLY SECURE PASSWORD WITH 1PASSWORD
1Password is both a plug-in for your Web browsers and a stand-alone program, and it's in the standalone program that you can find the new password tool. I generally get to it by choosing File > New Item > Login in the program: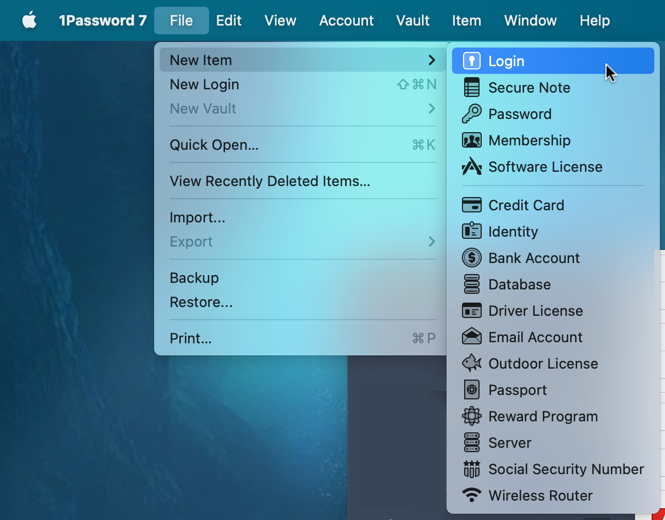 In fact, it's in the File menu that I'd like to see "New Password Tool…" or similar as a standalone option, but that's not the current version of the program, so, choose "Login".
A new Login template appears in the main window, offering you the chance to enter login info and such too:
See that sequence of "•••••••" under password? It's kind of a fake-out because if you click on it, you'll find it's a blank field. So how do you actually generate a random password? It's all about that barely visible gear icon on the password line.
Click on it and a tiny window pops up:
Here's what I really like about this: You can specify how many characters, whether it should include symbols and/or numbers, and it automatically fills it in for the new Login record too. In this instance, the 12-character random password with numbers allowed is "FG2tChBci6Te". Admit it, that's better than your current password!
You're not stuck with these parameters, of course. I can make my password 14 characters long and add symbols, with it instantly suggesting a far more complex password:
Don't like the proposed password? Click on the circular arrow and it'll generate another one with the same criteria:
If you're curious, a 14-character password that can include uppercase, lowercase, numbers and a dozen symbols has 74**14 possible values, or 1.4765361E26. A really, really, really big number! It would be an unguessable password, even if the bad guys have weeks of computer time to spin through millions or billions of possible values.
GENERATE A RANDOM, MEMORABLE PASSWORD OR PIN
But you aren't only able to generate random passwords:
What's a memorable password? One that's a few random words connected by dashes or similar:
Still random, still really incredibly hard to guess or hack, but a bit more memorable. Again, notice all the customization you can do, and don't forget that the circular arrow lets you generate another, and another, and another, until you find one you like.
And then there are PINs. Much easier, an n-digit random number:
Basically, when it comes to passwords, random is the name of the game. You won't err on the side of your phone number, the street address of your childhood home, your best friend's middle name or a favorite word surrounded by asterisks if a program is generating the code for you.
Once you've found a random password you like, simply click to select it and Edit > Copy, then pop over to your Web browser or program and paste it in as the new password for your account. Done. Now if 1Password would just make this a bit easier…
Pro Tip: I've been writing about online security for many years. Please check out my scams and security help area for lots of useful tutorials to help keep you safe online. Thanks!