This is a contributed article written by my friends and pro photographers Brad & Jeanine Crooks.
Have you ever wondered why some "people" pictures grab your attention a little more than others? It's probably because the image is conceptual – it tells a story.
BPSI – these are 4 simple letters to keep in mind while photographing people. These letters are an acronym for Background, People (or Person), Symbol, and Involvement. Keeping this formula in mind will help you to conceptualize your people pictures, making them much more interesting and definitely more saleable. This formula was taught to me years ago by Rohn Engh, author of "Sell and Re-Sell Your Photos"?
Before you start clicking away, think the photo out. Begin with the Person being Involved with a Symbol, such as someone reading a book, riding a bike, fly fishing, etc. Next comes the background. This is usually the least thought-out part. It should be a part of the whole story, the concept you're building. The background should complement or enhance the Person, Symbol and Involvement parts of the photo. The person reading a book could have a background of a cushy chair; a person on a bike could be on a dirt road in the mountains, a bike path, a trail through the woods or even on a neighborhood sidewalk. Each BPSI combination will build a unique concept.
Some simple advice on backgrounds – look at all four corners and everything in between in your viewfinder or LCD monitor. Be just as aware of the background as you are of the person you're photographing. Too many distractions in the background will take your eye away from the subject. Your background should avoid hot spots, busy backgrounds or anything else that will draw your eye away. Remember, you want to complement, not take away from the person.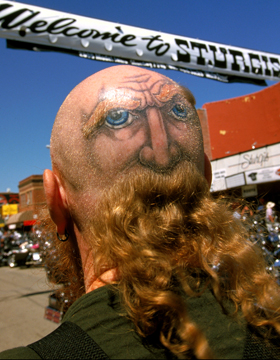 The biggest mistake photographers make when positioning their subject is placing the person dead center in the frame. Once you start paying more attention to the background, you'll automatically incorporate the subject into the total composition. Experiment by moving the person off center, up or down, left or right – whatever composition works with the background you've chosen.
This photo I took at the Sturgis Motorcycle Rally in South Dakota is a good example of BPSI. The man's tattoo is the Symbol. He creatively shaves his head giving the tattoo a little more reality, which is the Involvement part of the formula. The Background is the Sturgis banner hanging over Main Street. This image is one of my most popular. Take a look at some your most popular images and see if this formula applies.
You won't always need a conceptual, storytelling shot. You might need a straight on portrait or a landscape or cityscape with no people in the picture at all. A pretty picture will always be a pretty picture, but when you want to grab the attention of your visitors, editors, or photo buyers, think conceptually – tell a story.
Written by the photographic team of Jeanine and Brad Crooks.