You may be surprised to learn that I don't just write about business and technology here on the Web site, I've also published quite a few books in the last few years. Some of 'em might well be on your shelf right now. Here's a list of my most recent, with handy links to learn more about them and even buy a copy through Amazon.com. Thanks!
Wicked Cool Shell Scripts
Offering useful and entertaining shell scripts for Linux, Unix and Mac OS X systems, Wicked Cool Shell Scripts from NoStarch Press is the shell script programming reference work you've been seeking for years. Eschewing the usual 250 pages of scripting tutorial content, Wicked Cool Shell Scripts instead offers 101 smart shell scripts that help you get more out of your computing environment, whether it's adding users in Mac OS X, analyzing an Apache weblog, or even scraping a few of your favorite Web sites for new information.
Since I enjoy writing them too, the book also includes a bunch of fun games, including design and playability notes. Wicked Cool Shell Scripts is now on its second edition (thanks for the assistance Brandon!) and sales show no sign of slowing down.
Teach Yourself Unix in 24 Hours
In just 24 sessions of one hour or less, readers of my best-selling Teach Yourself Unix in 24 Hours will be up and running with UNIX, the operating system at the heart of the Internet. Using a straightforward, step-by-step approach, each lesson builds on the previous one, allowing you to learn the essentials of UNIX from the ground up. 24 Hours. Really. Now on its fifth best-selling edition. Rather than explicitly focus on one flavor of Unix, this book covers a number of variants, allowing readers to be productive on any system.
This means it's also excellent for Mac users wanting to learn more about the Terminal and command line, and of course is directly applicable to all the Linux users out there too. Like me.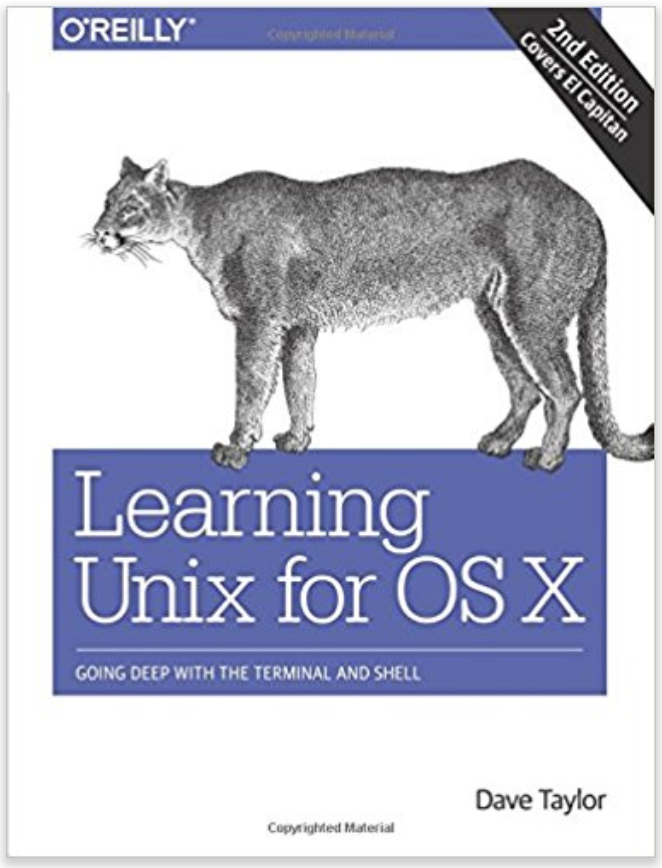 Learning Unix for Mac OS X
The latest edition of Learning Unix for Mac OS X from O'Reilly & Associates is a concise and invaluable introduction to just what you need to know to get started with the Unix inside MacOS X. With MacOS X, you can continue to use your preferred computing platform, while exploring the powerful capabilities of the underlying Unix operating system.
This book will teach you exactly what you need to know about how to use the Terminal application, become quite functional with the command line interface, learn how to use the cool fink utility to get thousands of free open source applications to add to the power and capabilities of your Mac, launch and run the X11 windowing system, and explore the best of the Unix applications. And a whole lot more.
Let Go to Grow
Co-authored with IBM executive Linda Sanford, Let Go To Grow: Escaping the Commodity Trap explores the dangers inherent in the increasing commoditization of many tech and business market segments and how to manage that change. It's partially based on the remarkable story of how IBM reinvented itself in a world of commodity computers and re-emerged as a market leader in the new services industry. This story comes from inside Big Blue too, through anecdotes and experiences that Linda shares throughout the book.
In a nutshell, IBM's success has never been because of the gadgets it sold but about helping people know how to use their technological equipment, devices and gadgets. Moving into the 21st Century, IBM is more and more about about this service economy too, recognizing that laptops, hard drives, RAM and all the other gear have indeed become just commodities bought based on price, not manufacturer or design.
Growing Your Business with Google
The Complete Idiot's Guide to Growing Your Business with Google represents almost twenty years of online business experience, and contains lots of critical information for any entrepreneur. Topics include how to track your competitors online and why you should consider a business blog (and when you shouldn't do one).
Additional topics include how Google works, how to work with the various Google programs (including detailed information on AdSense, AdWords, and related) and lots of discussion of search engine optimization and how to recognize bad SEO consultants who can sink your online business. Business experts from Tom Peters to Guy Kawasaki, Chris Pirillo to Debbie Weil agree, it's a must read for any entrepreneur wanting to do business in the increasingly dominant online world.
Earlier Titles
Other books I've written include Teach Yourself Unix in a Week, Creating Cool Web Sites, Global Software, and The Internet Business Guide. All of these are out of print now as time and technology wait for none of us, but I dare say they're still worth a read if you can find a copy.
I've also contributed to numerous other books, including Internet Secrets, The Internet Unleashed, Yahoo Unplugged, Web Programming Unleashed, The Internet Security Handbook, The Unix Papers, Your Internet Consultant and Unix Unleashed, among others.
Articles and Other Writing
In addition to books, I also write for a variety of different newspapers and magazines including Linux Journal, ComputerWorld and The Boulder Daily Camera. Heck, I even have an author page on Amazon: Dave Taylor on Amazon.com.