My kids have learned how to take screen captures on the Apple iPad [ed note: hold down the top button and push the home button. Poof, you just took a screen capture] which means that I now have tons of them in my Saved Photos album. Not good. Is there a fast and easy way to delete multiple photos or pictures from my iPad?
You're in luck, because apparently the folks at Apple have also had a similar experience because they do let you work with more than one photo at a time, though it's not particularly obvious how to do so when you're viewing an album. The good news, though, is that it also lets you easily collect up 3-4 photographs or pictures and email them to a friend, if you're so inclined.
First step is one that you have already figured out: tap on the "Photos" icon:


Before you get sidetracked with your amazing photographs and the albums and events you've sync'd up from your computer, let's stay focused. Or maybe that's just me. 🙂
In the Albums view, notice that you have "Saved Photos" as an option. Choose it: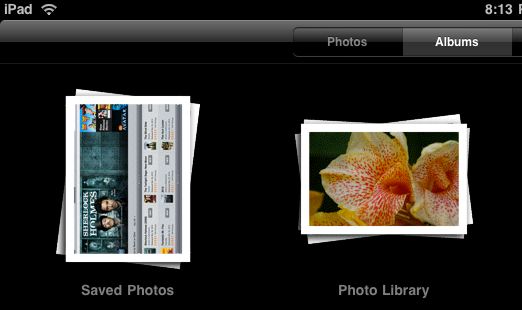 On the top right, there's a small box icon with an arrow bursting out of it:
Tap on that icon and you'll see the top bar change to indicate you can select more than one photo and take a group action with those selected, rather than tap to see a specific photograph:
Tap on a couple of photos that you want to delete. Each has a small checkmark added to its preview:
When you've selected those that you want to delete, simply tap on the "Delete" button on the top left and…
Are you
suuuuurrrrreeee?
If so, tap on "Delete Selected Photos" and they're gone. Unrecoverably gone. Voila!
Looking for iPad help? I know you are, and if you have specific questions about your iPad that we haven't covered, please do submit them into our queue.