I want to clean up my LinkedIn connections list and found your article on how to delete contacts in LinkedIn, but it's out of date, Dave. There's no "Connections" option for me to click on. Can you update it or at least let me know how to proceed?
Ah, sorry for that. It's very difficult keeping up with all the user interface changes on social networking sites like LinkedIn and it's inevitable that articles on this site end up out of date or obsolete. Problem is, with over 3000 articles, it'd be a full-time job — and then some! — to update everything every time a site changed its menu options, navigational controls or design. The very thought makes me anxious!
On the other hand, almost all major sites now have built-in help systems too, so one possibility if you find I have something obsolete is to simply search for the same solution on the site itself. "delete a connection" is a common help search on LinkedIn, for example. Then again, you're here, let's solve the problem!
The fastest and most flexible way to delete a LinkedIn connection is to start by logging in and click on the "Contacts" menu: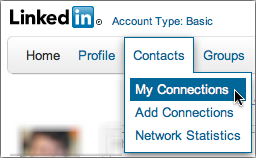 Choose "My Connections" because, well, that's what you want to change, right?
Now it's a bit tricky because there's a very nice display front and center with all your connections in a nice phonebook-like display. That, however, isn't what you want. Instead, look on the top right for "Remove Connections":

Now you again get that slick phonebook (Rolodex?) style directory of your connections, but within this context, these are people you want to delete from your connection list: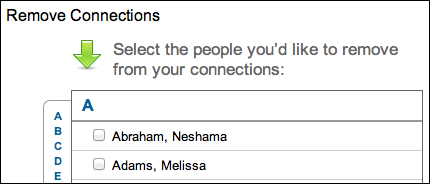 Scroll down and find the person (or persons!) you want to not connect with any more and select them:

In this case, I'm going to delete the connection I have with Avinash Deshpande, so I've selected him. Now on the right you can see the "Remove Connections" button has appeared.
Click on that if you're sure you want to sever the tie and…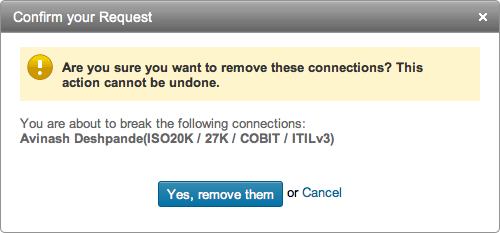 Double sure? Then click on "Yes, remove them" and they'll no longer be listed as one of your connections:
Done deal. I hope this update helps you manage your LinkedIn connections list!