I want to create a custom wallpaper slideshow on my Windows PC that's comprised of photos of my cats. I have hundreds of photos! How can I set that up without buying software?
Cats. It had to be cats. Just kidding, there are an infinite number of different images you can use, from your last vacation in Bora Bora to supercars you'd love to own someday. To make sure we're on the same page with definitions too, wallpaper is what's shown on the background of your PC desktop when you're running programs, working with files, etc. The screen saver, by contrast, is what's shown when your computer is inactive and once you touch the device, it goes away and you're either having to log in again (for security reasons) or you're back in the app you were previously using.
Changing your wallpaper, even cycling through a library of photos, is super easy on Windows 10, which is great, while changing you screensaver is, well, also really easy. Turns out that those are tasks that quite a lot of users want to tackle so they're not too difficult at all.
To demonstrate how to create your custom Win10 wallpaper collection, I'm going to use a folder full of coffee related photos ingeniously named "coffee pics".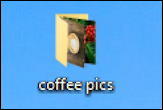 For best results, you want all your photos to be as big as possible. Ideally, the same resolution as your screen. Windows can stretch things to fit but they look fuzzy and lack the crispness of a good photograph.
Folder ready to go? You can name it "all my little pretties" or "cats. lots of cats." as desired 🙂
Jump down to the Cortana / Windows search box and type in 'wallpaper':
Quite a few matches, but "Background image settings" system setting works just fine for our purpose. A click or tap and you'll be at exactly the right place to change things up and make your computer a more cat-friendly device:
First step is to choose "Slideshow" from the Background menu, as shown above. Then you want to choose the album for your slideshow. In my case, the default is a Bing photo slideshow saved in a folder called DesktopBackground. I'll need to change it to the coffee pics folder. A click on "Browse" and I can select that folder:
Choose your folder and you're almost done. It's that easy.
Now a few tweaks. First off, scroll down further in the Settings window so you can ensure the following settings are correct:
Remember, this isn't your screen saver so you don't get the option of dissolving, rotating, or any other fancy montage or overlay. But you can set how frequently you want the image to change (trust me when I say "every 60 seconds" gets annoying after a short while!). I also suggest you enable shuffle and utilize the slideshow wallpaper even when you're on battery power.
Perhaps the most important setting is "Choose a fit" here and if your images are sufficiently high resolution, "Fill" is easily your best bet. But you can try some other settings and utilize the "Preview" button (just below the info shown) to compare how they work.
And that's it. Close the window and you should already see your first wallpaper in use. For my coffee obsession I now have this delightful wallpaper:
Pretty cool, eh? Ahhh makes me want to go grab a cuppa…
Pro Tip: I've been writing about Windows 10 since it first appeared and have hundreds of useful tutorials here on the site. Please check out my extensive Windows help area while you're here!