Ever had a friend show you a book or DVD and say how much you'd love it, just to go home and forget the title? Turns out your Android phone has a lot of cool ways to help you avoid this embarrassing mistake in the future…
While many of us pride ourselves on having great memories, it's common for us to actually forget things, particularly if they are unrelated to what's going on. One common experience in this regard is to be visiting a friend and have them say how much they really liked a particular book. You could write down the name on a piece of paper (hello Post-Its!) but if you have an Android phone in your pocket, there are far better alternatives in this situation.
Not only that but if you want to buy a copy, most of the options I'll share make it incredibly easy to do so, even showing used prices for books to ensure you get the best rate possible for your purchase. Even better, you probably already have all of these apps on your phone. Before going further here's a super trick shortcut too: If you try to take a photo of the ISBN bar code on a book, Camera can automatically match that to the book and show you more information. But let's just get ahead of ourselves!
TAKE A PHOTO OF THE BOOK
Why jot down the book's title and author when you can just take a photo of the cover?
In this instance, it's Candies from Heaven, a book my son has recommended I check out. His copy is signed by the author, but I can live with an unsigned copy. Anyway, taking a photo is easy, but that Camera app has some tricks up its proverbial sleeve…
GOOGLE LENS THROUGH THE CAMERA APP
Along the bottom of the Camera app are a number of different modes and capabilities that are definitely worth trying out and using, from video to slo-mo, portrait to "sphere". Go to the last entry, however, and you'll see something way more useful: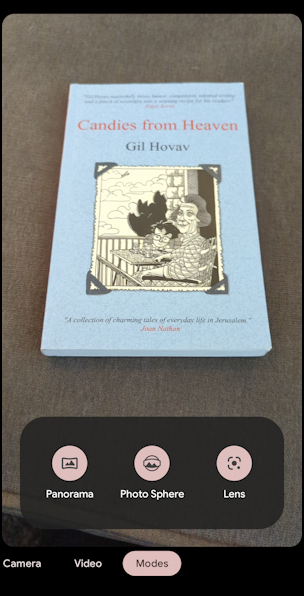 In the "Modes" area tap on "Lens". Now point the camera at the book or other object you want to scan…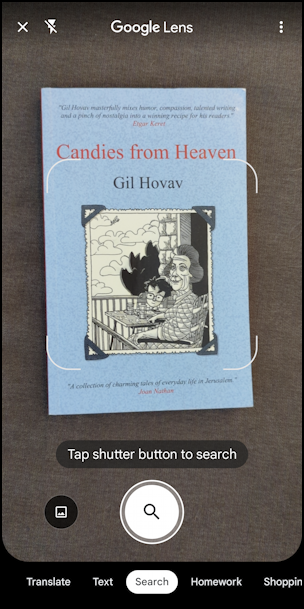 Don't worry about having the entire book cover in the central portion of the screen, just make sure it's all in the preview image and tap on the magnifying lens icon to scan and search.
Google Lens will analyze the image, find all the text, and use that as the basis for a search. You can see that it's correctly found the title, author, and even identified a copy of this book that's for sale through eBay, and another through Thriftbooks.com.
Now you can tap to move the informational screen a bit higher and see more of the matches:
Some of the "Visual matches" aren't so good, however (it's not The Saga of Sammy-Cat, whatever Google search indicates). No worries, because we do have some good matches, and can see the surprising range of prices, from $23 and Barnes & Noble to $9 at Thriftbooks.
Simple, easy, and darn useful. Google Lens is a feature well worth remembering on your Android phone or tablet.
AND DON'T FORGET ABOUT AMAZON
Amazon might have started out as an online bookstore eons ago, but it has expanded to cover just about every product you can buy, from clothes to food, to DVDs, to books. Turns out that the Amazon shopping app also has some nifty hidden features too, including one that's quite similar to Google Lens, but only shows results from Amazon itself…
If you're like most people, you've already seen this screen before from Amazon's app. But instead of typing in what you seek, the photo scanning system we seek is accessed by tapping on the tiny circle with four corners icon that's in the search box. It's near the very top of the app.
Tap on the search by image icon and you'll get to this screen:
Looks like a simplified Google Lens, but it's focused specifically on products so won't offer translations or some of the other slick features of Lens. Notice also that adjacent to the magnifying lens "Search" button is another button that is for scanning bar codes. As I mentioned earlier, that's a smart shortcut if you want to go faster: Scan the ISBN bar code on the back of the book.
This time, however, let's scan the front. Make sure the book cover's on screen and tap on the "Search" button. After just a few moments it brings up a search results page:
The very first match is indeed the same book and you can see that it's $19.99 and gets 4 1/2 stars. You can easily add it to your wishlist or even put it into your shopping cart for later at this point, or, if you go to the book's page on Amazon, perhaps find a used copy for less.
There are other apps that are focused on specific types of products for your Android phone too, including book scanners (some of which can tell you the market value of a used book, a very useful tool for people who go to garage sales, estate sales, and used book stores seeking bargains). Hopefully this helps you out with some slick Android app features just for book lovers.
Power Tip: I've been writing about Android for many years and have an extensive Android help library here. Please check it out while you're visiting. Thanks!