I have a new Amazon Kindle and was trying to connect it to the wifi network at Starbucks without success. How do I connect to a wifi network with a login screen, or am I just out of luck at Starbucks? It's a Kindle Paperwhite Signature Edition, if that makes any difference.
I'm going to start out with the bad news up front; while some people report success logging in to the Starbucks wireless wifi network with their Kindle, others report that they just don't succeed and end up utilizing a different wireless network or using their smartphones as a temporary h0tspot. In my own testing, I was unable to get the login screen to pop up, but it appeared that Starbucks let me onto its wireless network anyway as I was then able to explore new and upcoming books, etc. Then again, your Kindle can also utilize something Amazon calls Whispernet, which might have explained the functionality, but if the end result is that you can browse books and download a new ebook to read, isn't that the goal anyway?
The challenge is that the Kindle only has what Amazon calls an "Experimental" Web browser, so while it kinda works for some simple content, it just isn't as fully featured as the browser on your phone, tablet, or computer. No surprise, it's also a far less capable screen and you would not want to try watching Netflix on your Kindle, for sure! Then again, the browser might be updated just to allow Starbucks and similar wifi login without us getting a notification, so let me step you through what I tried and you can try it yourself too.
ACCESS DEVICE SETTINGS ON THE KINDLE
The first question you might well have is how the heck do I get to settings on a Kindle? You'll want to leave any book that you might be reading and go to your Home screen. On my Kindle, here's how it looks: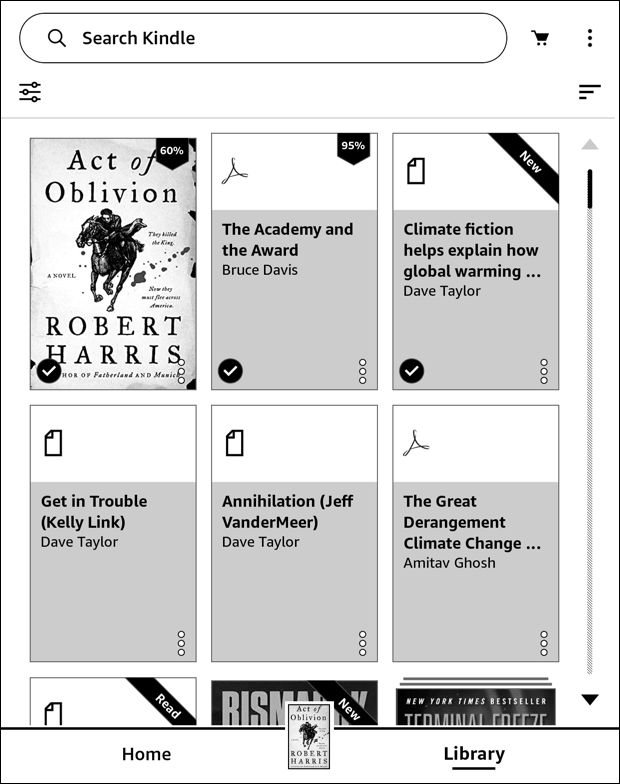 You can see I have rather a complex mix of content and am 60% through the (excellent) novel Act of Oblivion by Robert Harris. To get to the Settings area from here, the key button is the "•••" link (in vertical, not horizontal, orientation) on the top right.
Tap on it and a menu appears after a moment: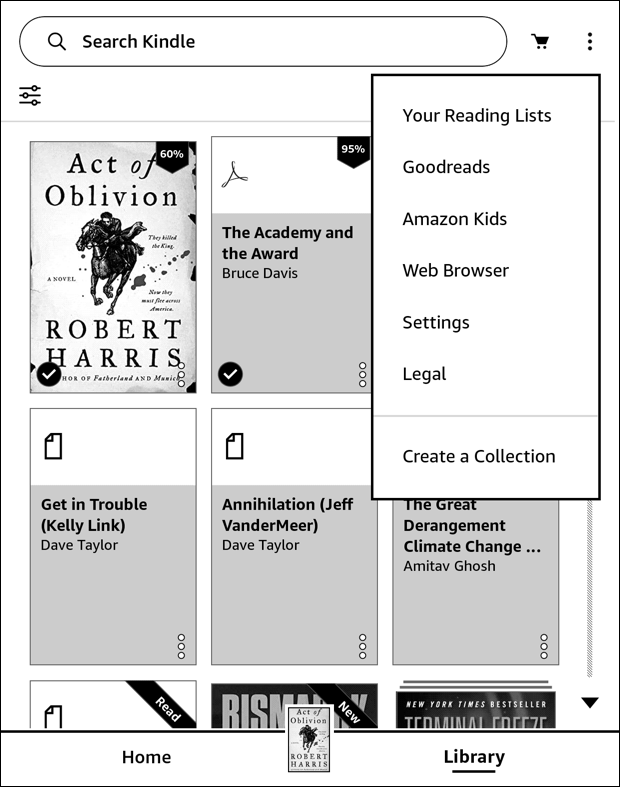 I think many people never realize that this menu even exists, but it's quite important to be able to access key settings beyond the actual reading interface while you're in the middle of an ebook. For our task, tap on "Settings"…
Lots of interesting settings and features you can enable, notably including Parental Controls [which I've written about in the past: How to Manage Parental Controls on an Amazon Kindle] and Accessibility to make it even easier to work with the Kindle. For our task, however, it's a different option we want…
WI-FI & BLUETOOTH SETTINGS ON THE KINDLE
Tap on the "Wi-Fi & Bluetooth" setting and you'll see a variety of different settings in both categories, including the ability to enable Airplane Mode (which you might or might not need when you're on a plane) along with the ability to wipe all saved wi-fi passwords as needed: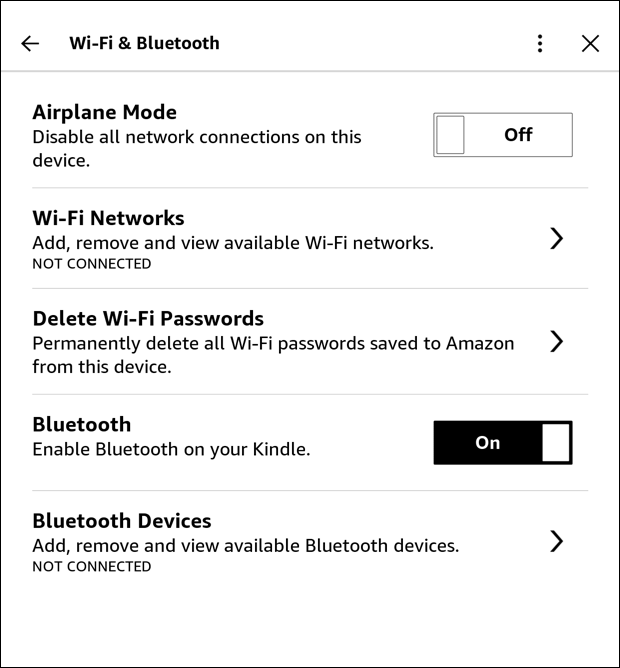 This is all about connecting to the Starbucks Wi-Fi network, though, so tap on "Wi-Fi Networks" to proceed. Here are the networks available at this particular Starbucks where I'm running through this demo: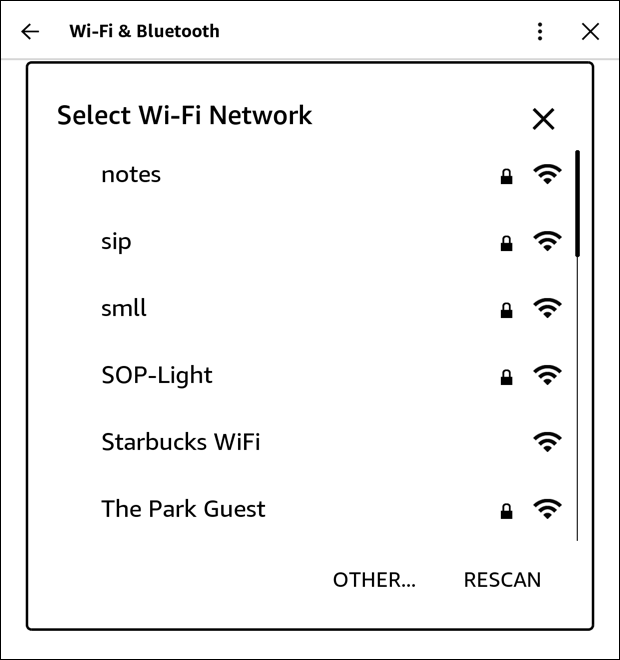 All the other networks are password enabled, so without those passwords, my only choice is Starbucks anyway, so I'll tap on "Starbucks WiFi"…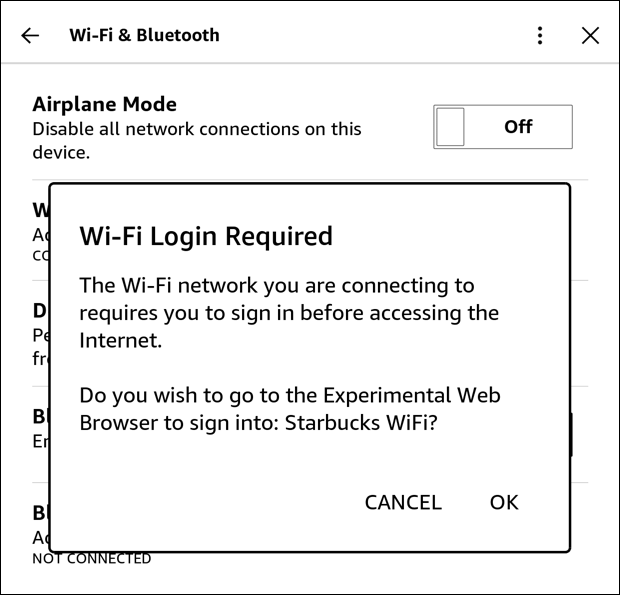 Anyone who's ever logged in to the Internet via Starbucks, you already know that there's a login required, but the problem is when you tap on "OK" from this prompt. Yes, it will move to the Experimental Web Browser, but will it work? Well, it didn't for me…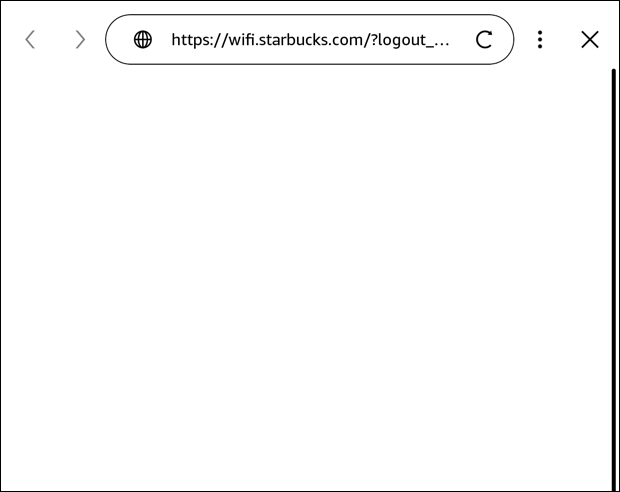 It thinks it's resolved the page and should be showing a few fields to enter so I can log in, but as you can see, the screen itself is actually blank. Which means it's basically impossible to proceed. But the question is… do you need to?
ONLINE AT STARBUCKS WITHOUT LOGGING IN?
What appears to be the case is that even without logging in, the Starbucks network did recognize my Kindle. That would be something that could be added to the Internet gateway code that they use in the stores, of course, but whether it actually is doing what I postulate? Dunno. What I can say is that when I went back to the home screen and randomly picked a new book, The Boys from Biloxi by John Grisham, it promptly loaded up the information about it: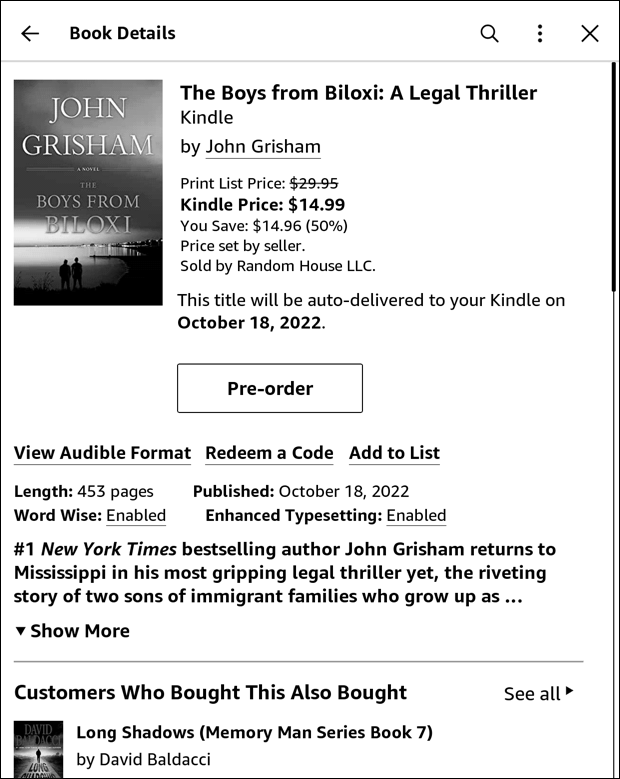 It's hard to say whether it seems reasonable that the Kindle would be able to sidestep the login requirement or whether it's Whispernet that's picking up the slack, so I invite your comments on this article with your own experiences too. And hopefully one day it'll just work and we will be able to log in to Starbucks Wifi and other wireless networks with a similar design. For now, I'm heading back to Act of Oblivion, so I'll hope this was helpful!
Note: Apparently Amazon's been retiring Whispernet due to 3G cellular incompatibilities with older units, so perhaps your Kindle Paperwhite doesn't include the ability to freely utilize the cellular network for when Wifi isn't available. Then again, perhaps that's how I connected. It would be great if Amazon offered a bit more clarity on this situation.
Pro Tip: I've had Kindle devices for many years and have written lots of Amazon Kindle Help tutorials here on my site. Please take a few minutes to check them out!