I have a bunch of friends in MySpace now and its definitely cool but I really want to be able to change which ones are shown each time. Is there a way to change who are shown as my top friends in my MySpace Profile and can I also change the number of friends shown in my profile too? Tx!
I just broke 200 friends on MySpace so I've also been looking at who shows up on that first page and wondering if they are really my "top" friends or not, so I'll go ahead and make some changes and you can play along with your own configuration. Ready?
Log in to your MySpace account and look in your "My Friend Space" box for the link "Change my Top Friends". It looks like this:


Click on that and you'll get a pretty cool window, which I'm going to show in two pieces. First off, you can quickly see how to change how many top friends you show on your Profile page: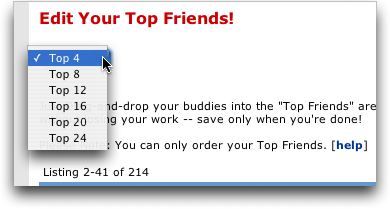 Here's where I realized something important: when I look at my friend list
while logged in as me
I see seven friends shown. But my default is "Top 4". Why? Because I'm not looking at my profile in the same way that someone else would see it. Ah! Now you can understand why you might select "Top 24", for example, but not see all 24 when you log in. It's important, in fact, to check your profile as other people would see it.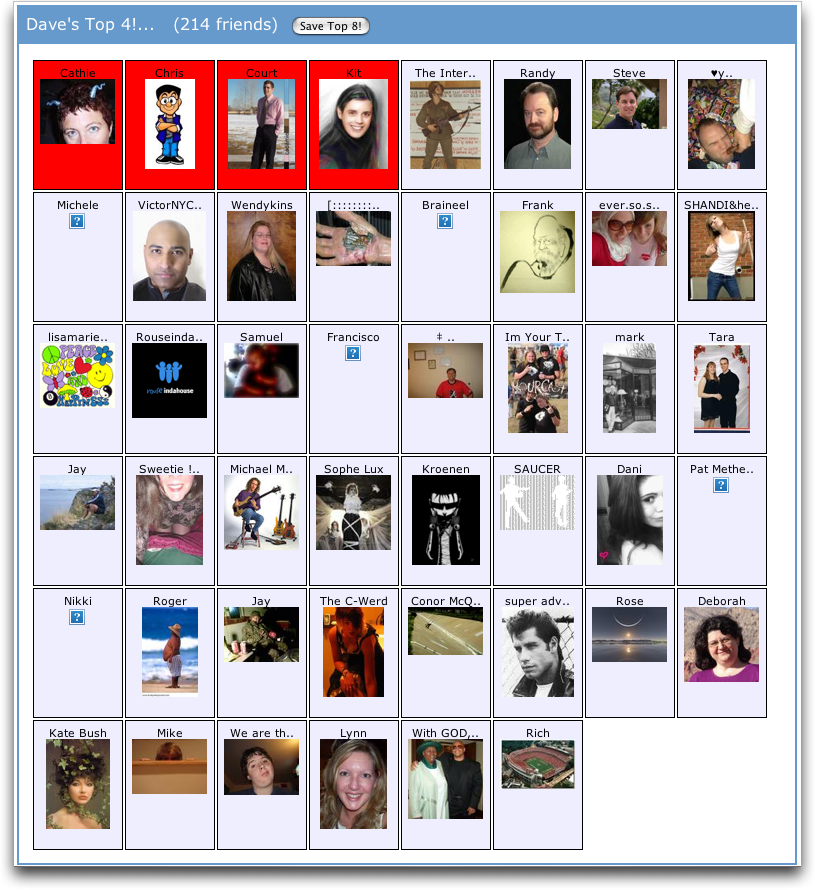 Click for full size image, if you dare!
(I've shrunk that down a bit so you can get the full effect).
Unsurprisingly, not every single picture has filled in. This is a typical MySpace system performance problem and if you're like me, you might just need to wait until late morning on a weekday to find the system able to deliver up everything. Tedious? Yeah, but we already know how phenomenally popular MySpace is, that's why we're there, right?
Anyway, since my default is "Top 4" you can see that I have the first four boxes in bright red. Those are
drag and drop targets
so if you want to move someone else into one of those four boxes, simply move your cursor to the picture of the person you want to promote, then click and
hold down the mouse button
while dragging their picture to one of those red boxes.
Here's a picture mid-drag, if I wanted to promote singer Kate Bush to my top four list: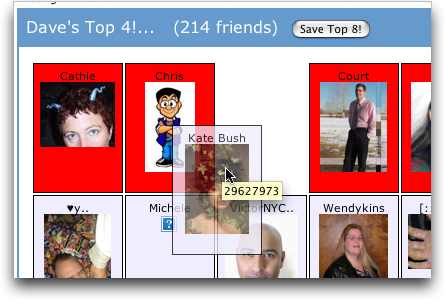 Note how it's kind of like one of those old sliding tile games: as you move the picture representing that person, the other pictures move out of the way and things keep shuffling. It's pretty cool, actually!
With hundreds of friends (who knew I was so popular?!) it turns out that my "Top Friends" edit page cascades onto multiple pages, as yours probably does too. To get to those friends on subsequent pages, click on
Next >
on the top right corner of the window. You'll find that your "top four" (or however many you specified" will travel with you, so you can continue your virtual friend shell game until you get everyone you want featured and push out those other folk who really aren't your top friends.
When you're finally done, click on "Save Top 8" (or whatever number it shows) and you should now have your friends all lined up as you desire.
While you're here, I encourage you to check out all the
MySpace Help
I have here on this blog, and you can also become my friend by checking out my
MySpace profile
too, though I can't promise you'll move right up to the top 8! 🙂