How do you change a GROUP NAME on Facebook? All of the responses I've found online (including yours) are old (2011, 2012) and say go to "Edit Group" in settings – but that seems to no longer exist. I can't find settings or Edit group anywhere – these options aren't there any more?
Actually, it's not that the setting doesn't exist, it's that you have to play whack-a-mole to find it in the latest Facebook user interface. In their zeal to make it easier and easier to use, the Facebook design team keeps making subtle changes that move thing around, take away options, and sometimes retain old choices, but make them much harder to find. Compounding the problem, if you're not an admin for a Facebook group, you won't have access to the settings options like changing the group name.
I suspect that being in the role of being able to approve posts or members can be confusing too: you have some administrative rights on a Facebook group, but not all of them. And then there's the owner versus the creator too, and those are sometimes different people (think of an agency creating a group on behalf of a company, organization or club). It's… complicated!
But let's look at it more closely, starting with a quick peek into the Friends of Ask Dave Taylor group. The top banner for the group looks like this:
Notice I've clicked on the "•••" button on the graphic and a menu has appeared. Let's look at the menu a bit more closely: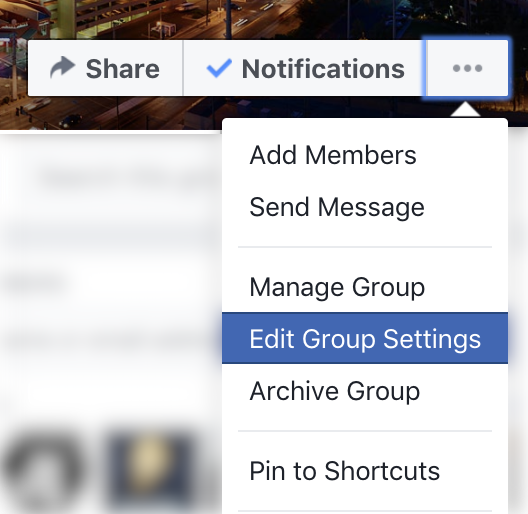 You can add members, send a message, pin to shortcuts, etc, but what we want for this discussion is the highlighted option: Edit Group Settings. If you don't see that, you don't have sufficient permission to change the settings for the group in question.
Assuming you do, however, here's what you'll see:
Here's where I can directly change the name of the group. In fact, I'm going to do just that by appending ".com" to the group name. I'm also going to change the boring default group icon to something else. That's accomplished by clicking on the current icon, which pops up a menu full of fun choices:
While we're here, I can also change the Group Type if desired. That's another pop-up window:
Should I choose Study Group? Or Team? 🙂 Support is tempting, but that's more psychological support groups than tech support.
Another change you can make is to fine-tune the group privacy settings to match the needs of the Facebook group:
I'm a member of a lot of Closed groups, actually, and (shhhh) a couple of Secret ones too. This particular group, Friends of Ask Dave Taylor.com, is appropriately public, however, so that's what I'll leave as the setting.
Finally, scroll to the bottom of the screen and you can change the moderation status of the group if desired and – most importantly – click on "Save" to actually save your changes:

Done? Facebook will confirm that your changes have been saved:
Notice the change in name and group icon above. Now even the banner has an update, though I admit, it's subtle:
See the difference? The addition of ".com" to the name. Done. And now you know!
While we're here, can I invite you to follow AskDaveTaylor on Facebook? And don't miss, we have a ton of Facebook help here too.