I'm wondering if there's any way to use Google Image search or another tool to find images or photographs similar to one that I have on my computer? If not, would that be a hard program to write given a database of image files?
That's an interesting question because at some level it seems like it should be an easy problem, but at another level it can be incredibly complicated. Get into different size images or images that have different exposures or background colors, and it's super complicated.
The good news? In the last few weeks Google's actually introduced just this feature, image match, to Google Image Search.
To demonstrate it, I've downloaded a random photo of a popular celebrity and we'll see how Google does with the analysis and comparison.
The results are pretty cool because not only does Google try to identify the photo, it also lists Web sites that include that exact image so even if it can't figure out what the photo or image is actually about, you can still poke around and figure things out anyway.
But let's have a look. First off, here's the celebrity photo, named "celebrity.jpg" (no clues for Google in the filename!):


To get to this feature, you'll need to go to
images.google.com
and look very closely at the input field:



You can see I've highlighted the little camera icon. Click on it and a window pops up:


Since the image I'm interested in analyzing is on my computer, I'll click on "Upload an image", which produces the following:


Select an image by clicking on "Choose File" and it won't take long to upload:



and… check it out!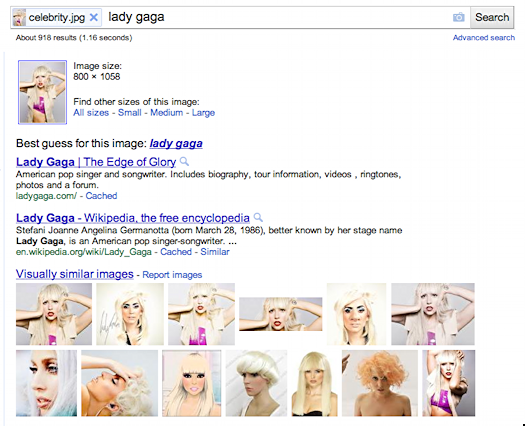 Ah, and now we know who it is: Lady Gaga. Very cool. If you look closely, you'll see that Google has not only tried to guess the image contents (which offers a hint of what's to come with the SEO benefit of contextually relevant images, but I wander) but shows visually similar images and even lets me find other sizes of this image.