I love using Instagram, but sometimes people leave the worst political comments and it drives me crazy! Is there some way to filter or moderate comments that contain specific words or phrases?
Whether it's obscenities, spammy adverts or political screeds, Instagram is no different to any other site where users can submit comments from anywhere on the Internet: It's a mess. Fortunately there is a setting in Instagram that lets you either use a common list of words to filter – mostly obscenities – or specify your own list. The easiest way to get to it is from the Instagram Web interface too, so let's go down that road to see how to set it all up.
The problem, I'll warn you advance, is that users are ingenious about coming up with variations on words which means that in some sense you're entering into a sort of Cold War with them: You set up and modify your filter list and they figure out what you're filtering and tweak it. You know, letter substitutions like h*ll instead of just saying "hell" and such. Filter for a word like "trump" and you'll also find that you're going to catch people from both sides of the aisle.
Then again, this is really assuming you have commenters who really, really want to be able to leave comments. Most people are pretty casual about it and aren't going to even realize anything is going on. Not only that, but since 2017 Instagram has been using some pretty slick AI to filter out the worst troll and offensive comments too, as detailed in this super interesting article on the Instagram blog: Keeping Instagram a Safe Place.
Anyway, back to our task! 🙂
Go to your home page on Instagram via your favorite Web browser. You'll see something like this:
Tip: I invite you to follow me on Instagram if you'd like. I'm @d1taylor and I post quite a lot!
On this page you want to click on the gear icon adjacent to the "Edit Profile" button. That reveals a pop-up menu of options: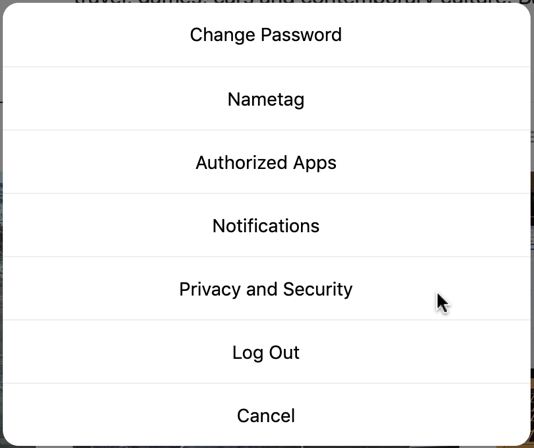 Choose "Privacy and Security" then revel in the many features and settings you can tweak:
If you'd like to only share your posts with friends and family, you might consider switching to a Private Account. Then again, that also means that you don't get quite the global visibility and chance of random folk discovering your images and photos. A trade-off, for sure.
Assuming you don't want to go Private, scroll down just a bit until you see "Comments":

You guessed it, click on "Edit Comment Settings" and it's pretty clear what you can do from this point: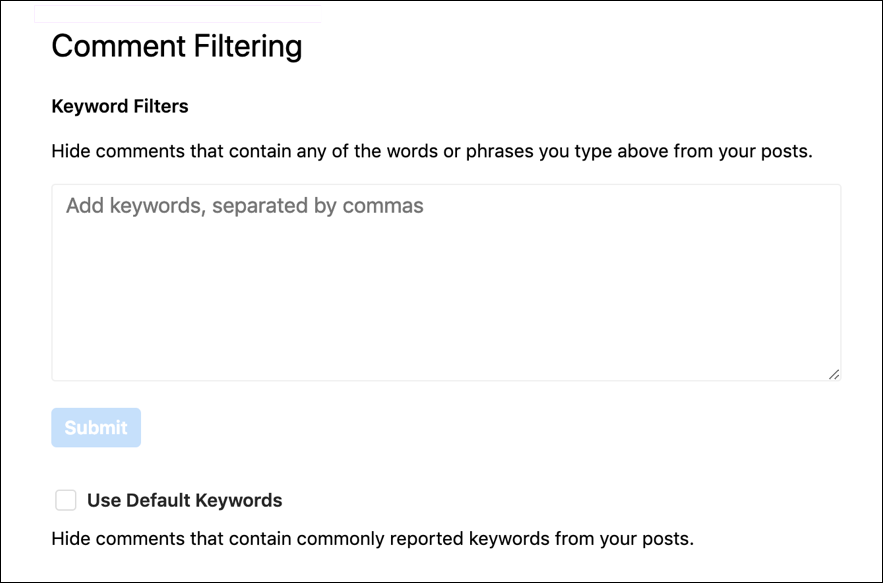 If you're worried about obscenities and the like, simply click on the checkbox adjacent to "Use Default Keywords". Or you can add your own words to the Keyword Filters list. Here's my first stab at political words you might want to filter, though I'm sure you have other, specific, words in mind too:

Whatever your  word list, here's where you enter it. And remember, you can always go and tweak this list any time to add words that slip through with pesky user comments! Specify your list, make your changes, and then click "Submit" to make it a reality. A "saved" notification will show up on the very bottom of the screen for a second or two and you're done.
Now when someone leaves a comment on one of your Instagram postings, the network will automatically hide it when any of your specified key words are matched. Pretty slick, actually!
Pro Tip: I've been writing about Instagram since long before it became a Facebook property. Please check out my Instagram help pages for more tutorials.