Windows 10 seems cool enough, but it seems to be picking a color for my Taskbar and Start Menu that's related to the Desktop picture. Is that even possible? How do I turn this "feature" off?
Apple was the first to have an OS that had the color of its system elements reflect the predominant color of the background. In the Mac world, it's the menu bar that is "translucent" and so ends up reflecting the color of the image below it. In the brave new world of Windows 10, it's Microsoft that's gone one better, having the system automatically analyze the desktop wallpaper, pick the predominant color, and use that for both the newly restored Start Menu and the Taskbar itself.
Don't like this feature? You can still turn the feature off and pick your favorite color as part of the theme!
To start, here's my Start Menu in Win10 when I have a rich, autumn-color background image: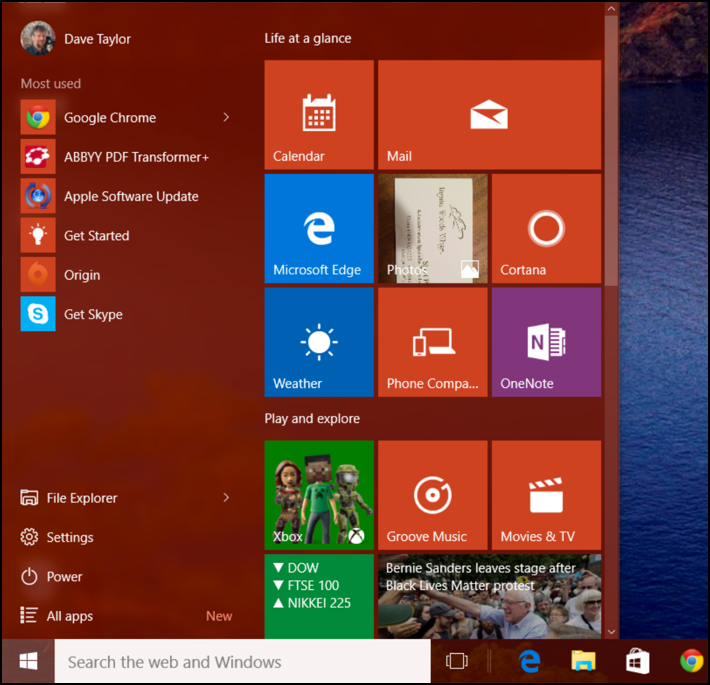 You can see that the menu has a very attractive, warm color that looks good against the small part of the background you can see. I kinda like this feature but can absolutely understand the desire to disable it.
To do that, simply right-click anywhere on the Desktop to bring up the context menu:
Choose "Personalize" as I highlight.
Lots of options, but you'll want to navigate to "Colors" in the Personalization area:
Can you see the option on the bottom here? It says Automatically pick an accent color from my background.
Turn that off by clicking on the slider and your menu and Taskbar will flip to the default color.
But hey, why live with that? Instead, scroll down just a bit to reveal all your options:
Lots of options. You might want to go with the classic green, which you can find by scrolling down even further on this window.
When you do, you'll bump into two other interesting personalization options:

Turns out you can turn off the color entirely and have it just be the default for Microsoft Windows 10. More useful, you can also turn off the translucence (it's not transparent, not sure why they say that!) effect if you're so inclined. Try it, you'll immediately see the difference.
For my part, I like the system picking an accent color from my background, but if you want something different, you can now see exactly how to accomplish that!