Hi Dave. I am looking for two gently used MacBook laptops for my teen daughters. Personal computers would greatly facilitate their studies as they enter their senior year in High School and beyond.
General preferred specifications:
1. 2008 model year or newer
2. 13.3″ screen
3. white, black or aluminum body
Please let me know if you or anyone you know has recently upgraded and might be looking to sell their old computer.
This is a common question that I get and I thought it'd be useful to answer it here on my blog too, to help out more people. It's tricky to buy used gear from someone you don't know (think Craigslist) because it can be damaged, have physical problems, or even be stolen.
Yes, stolen.
Turns out that online classified and online person-to-person sales sites (add eBay to Craigslist) are the best pawnshop ever invented, and there are many listings that even say things like "Six sealed in-box, excess inventory". It might be true, but it's more likely that this is a thief dumping their goods. Caveat emptor.
Fortunately there are other options for a savvy buyer who seeks a good deal on used gear.
One site I really like is the Apple Store, which offers deals on refurbished computers. Sometimes the deals are just okay, but other times you can get 25% or more off a pristine piece of hardware. That's just smart. In this case, The Refurbished Mac Page lists this as its cheapest MacBook offer:



Still too expensive? One good rule of thumb is to pay attention to the page and check it frequently. There are many stories of people grabbing the best deals Apple makes available within hours, so the options shown at 8pm might be quite different from those at 7:30am.
There are also a number of other online Mac stores that have refurbs and customer returns and can be great deals. One I like is
Otherworld Computing
, which has its own
Mac Deals Page
. Right now, the best offer's quite a good one: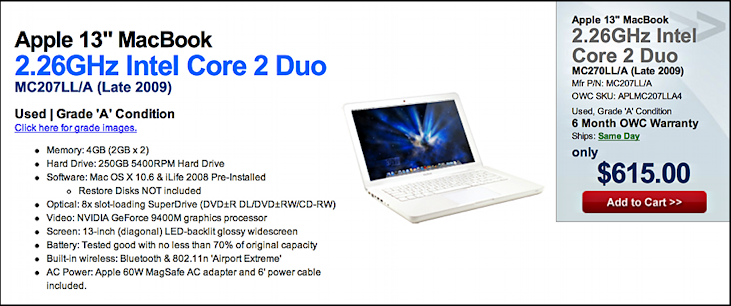 And another site, an Apple authorized reseller:
PowerMax.com
. The site has an extensive
used Mac listing
, including this cherry:



Between these options, you should be able to find two decent used MacBook computers for your high school daughters. Pay close attention to RAM memory and disk space: some of these used deals can be pretty stripped down, which can cause problems later. But with a bit of fiddling, you should be able to find some great deals out there. Good luck!