I like having all of the entries in my Messages app on my iPhone have names and photos to keep track of who's who. It works great, until I get a text notification from a service or Web site. Is there a way to assign those shorter numbers a name and picture?
Since the rise of the smartphone, Caller ID information has been matched with entries in your phone book to ensure that when you got calls or text messages, it'd be displayed with a name and photo. Some phones make a big flashy deal about it but all offer this great service, particularly in an era of junk calls from unknown numbers. For millions of smartphone owners, if they don't have a name displayed, they don't answer the call. Easy enough.
A consequence of that is people who seek to have a name and photo assigned to every number that might communicate with them, whether it's a 6-digit two-factor authentication number from your banking app to a notification from your children's school of a newsletter. Fortunately, it's all quite doable and you can even assign fun pictures or graphics to each line, whether it's a full 10 digit phone number (like 202 555-1212) or a five digit shortcode like 234-11. On the iPhone, it's just a matter of knowing how to travel through the Messages app with the right taps.
I'll demonstrate by setting up a contact for Venmo, an app that I use to pay and receive payment from my kids for little bits and pieces like a cup of coffee or a purchase off eBay. Venmo's a part of PayPal, if you're curious, and works really well as a simple, lightweight payment tool.
My daughter paid me for a cup of coffee earlier today, so a text message notification was sent from Venmo to let me know: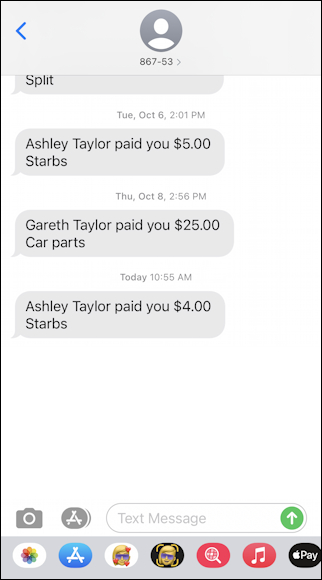 Let's just focus on the top portion of the display, where it shows the originating phone number: 867-53: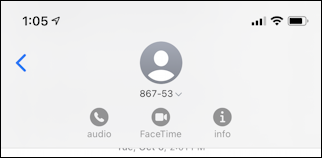 From this point, you can call the person back, initiate a FaceTime call (with a Venmo 'bot? Nah!) or get more information about this sender. Tap on the "i" for Info…
Notice how easy it is to share your location once or ongoing with someone via text message; it's just a tap away. But that's not the goal here, so instead tap on the "i" for Info yet again.
Now we're somewhere useful! From this point if I already had a contact for Venmo, I could add this number, which can be helpful for a bank where you want to have both their 800 number, the local branch office number and their shortcode for text alerts. That would be accomplished with "Add to Existing Contact".
If these notifications are pestering you and you'd rather not see them or get calls from this number, the "Block this Caller" feature can be a lifesaver. Don't hesitate if it's a scam or crazy ex, just block 'em. Done.
In this instance, however, I need to create a new contact for Venmo's notification service, which is accomplished with the "Create New Contact"…
I'll start by typing in the name I want for this particular contact. Remember you can put multiple words into either the first or last name field if that's easier. After all, if you were entering something like "Farmer's Trust Bank", which word exactly is their last name? 🙂
Once you've entered a name the fun begins! Tap on "Add Photo" (even though I don't have a photo of Venmo).
Quite a lot of options. You can grab a memoji, take a photo with your camera, grab a photo from your camera roll, choose from the library of emoji, even draw something freehand if their photo should be a stick figure 🙂 Too much work? The four colored circles with the "V" (the first letter of the name I've assigned) can be chosen by a single tap.
Swipe down and you'll see that there's a mini-library of icons from which you can choose too, if that seems the right choice:
A donut? A dolphin? A top hat? Somehow these seem like they might double as future Monopoly tokens!
I like to tap into the ever-growing library of emoji (side note: I love emoji and am delighted to see the library of tiny images keep growing and growing with each iOS release) which is easily done by tapping on the dark blue smiley face on the light blue circle back at the top of this screen.
Notice the salmon colored circle. I'll change that before I'm done, but here's that emoji library, just as if I were using it to enhance a text message. Most useful: The search feature. I'll search for "money", logically enough for Venmo notifications.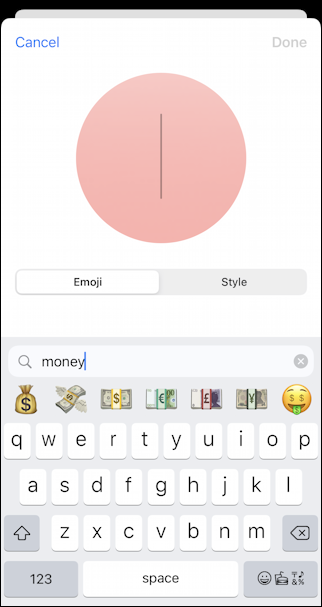 I like the moneybag that's the first emoji. A tap and it's in that salmon colored circle. Then a tap on the "Style" tab and I can change the background color to one I feel is more suited to the task: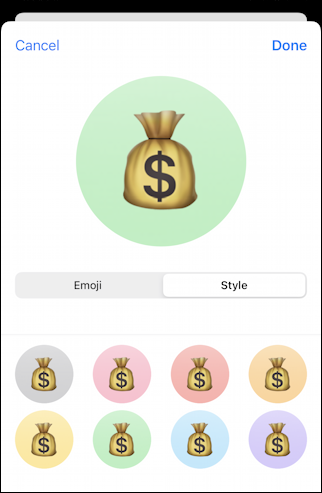 Pretty nice, eh? I'm done now, so a tap on "Done" and the picture is set for the new Venmo contact on my iPhone. This means that the top of that set of notifications isn't a number any more but looks like this:
Much better! You can do this with photos of company logos too, which is what I did for notifications from FedEx, UPS, and even Amazon. Play with it now you know how to set up contacts and profile photos for notification services and you'll have images on every single Messages entry in no time.
Pro Tip: I've been using – and writing about – the Apple iPhone and its iOS operating system since the very first phone. Please check out my extensive iPhone and iOS help area for tons more tutorials! Thanks.