My BFF always has these super cute cat cartoons she posts on Facebook, but they're not photos, they show up above her text, not below it. Are these Facebook stickers? And how can I get some to use myself??
You're right, sounds a lot like your BFF, uh, friend is using some of the zillions of different Facebook stickers available. What's cool is that they're free to add to your account and that there are so many, it can be hard to figure out which to actually add to your Facebook account. Further, cats. Seriously. The Internet and cats. They're absolutely made for each other, and so there are a ridiculous number of different cat Facebook stickers available.
Better, Stickers are designed to be in sets, so a single click gets you 10 or more different choices! You'll never run out of cute kitty cartoons to post for your friends edification and enjoyment. Even when they get sick of 'em! 🙂
Easiest way to show how they work is to demonstrate how to add a set of Facebook Stickers to updates from the Desktop (Web browser based) client. Go to post a status update and you'll see this, as usual:
See the lower left option? "Sticker". Click on it.
Lots of options appear, categorized by type of emotion you want to express. But hey, no cats. So let's add a set of cat stickers!
See the ~ez_ldquo+ez_rdquo~ on the top right of the above menu? Click on it to browse the Facebook Sticker library.
I'm showing a small subset. Start scrolling downward and you'll see that there are literally hundreds of different collections, and no $#@%#% way to actually search them. So you're on your own, scrolling and scrolling. Eventually you might find something like this:
Crazy cute, right? You can see bigger versions of the different cartoon images by clicking on "Preview":
Almost more cute than you can handle, right? But so totally perfect for impressing your BFF that you've got skills with FB Stickers too, however.
Ready to get 'em and add them to your own palette of stickers? Simply click on the green "Free" button and it's installed, with them ready to access at the click of your mouse (or tap of your finger). Check the below, notice there's a new "cat" graphic: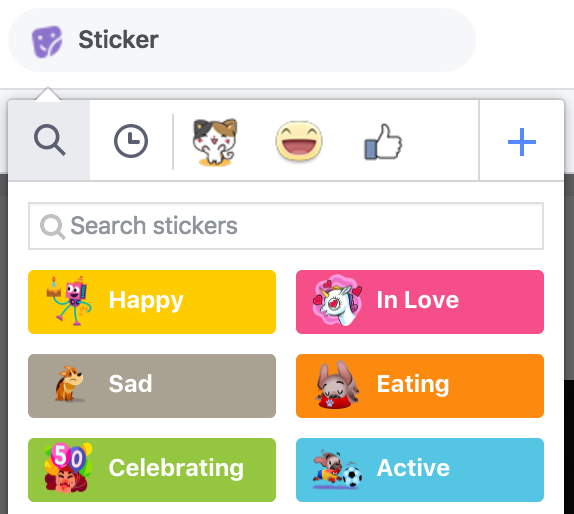 Click on the new cat icon and all those images show up, ready to click:
Let's try it, because I'm sure my followers on Facebook need more cute cat. A click on one and it shows up in the status update window, letting you type in your message below:
Add something pithy, maybe an emoticon or two, click POST and here's what I ended up with:
Now, if I don't lose all my Facebook friends over this, it'll be great!
And while we're talking about Facebook, I invite you to follow AskDaveTaylor and also check out my extensive Facebook help article library on this site too!