I'm a big hockey fan and visit the NHL site multiple times a day. Is there a way to bookmark the page so that it's an actual button on my Win8 Desktop Taskbar?
Your addiction is hockey, mine is soccer. I can relate, though I don't visit the FIFA World Cup site nor the Barclay's Premier League site on a daily basis. Still, I can appreciate an avid fan and with a league like the National Hockey League, there is news coming out every day about players, clubs, trades, and, of course, games when it's the right time of year. I'm going to assume that you're using Microsoft Internet Explorer for this how-to piece too, the latest version, MSIE 11. If not, well, you should be able to figure out how to tweak things for your needs.
Before I start, I want to point out that there are an impressive four different ways you can manage a Web site bookmark in Microsoft Windows 8 / 8.1: as a favorite in the browser, as an icon on the desktop, as a new button on the Taskbar in Desktop view, and as a tile on the Start Screen. Since the lattermost is a bit complicated to explain, I'm going to defer and just address the first three. Stay tuned for a separate piece on how to turn a Web bookmark into a start tile, though!
To begin, open up MSIE11 and navigate to your favorite site — probably nhl.com. On the Desktop, it'll look kinda like this (I'll use FIFA's site for my examples, but you know what I mean, right?):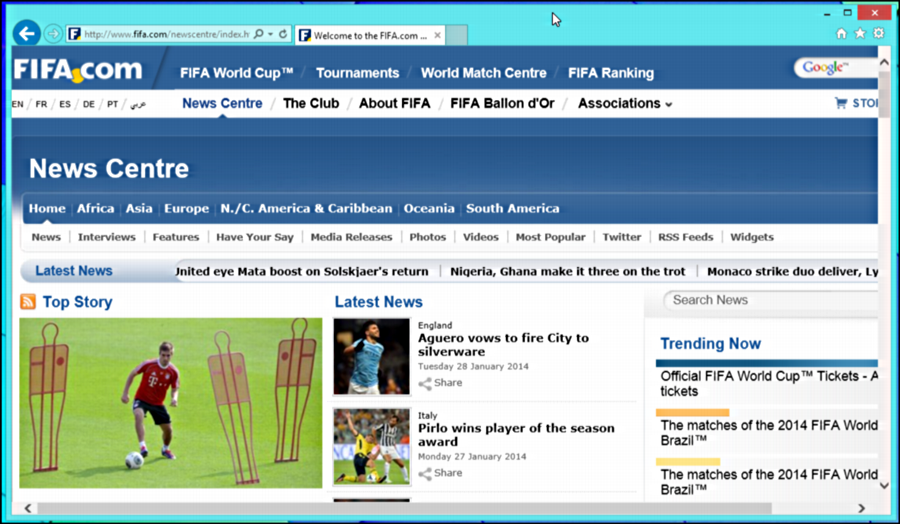 To bookmark a page, you click on the "star" on the top right. That's the easy one.
To create a bookmark that lives on your Desktop, simply drag the site's "favicon" shown in the URL box…

When I drop it on my Desktop, it turns into another little square with a caption. Can you find it here?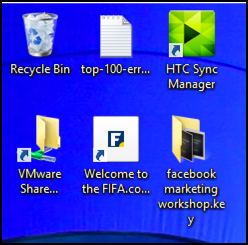 Not super user friendly in its appearance, but certainly functional.
To add that button to your Taskbar, it's the same basic process, but this time instead of dragging the favicon to the Desktop, you'll drag it all the way down onto the Taskbar itself:

Let go of the mouse and…

Hey! There it is on the Taskbar next to the rest of the Windows 8.1 elements.
Since some sites have poor favicons that don't give you much clue about the site (where's the soccer ball, FIFA?) turns out you can simply move your cursor over the bookmark button and it'll remind you what site is bookmarked:

That's quite handy, actually, especially if you move 3-4 or more onto the Taskbar itself (though truth be told, that's not really the best place for a strip of Web site bookmarks. I'd instead just make them all icons on the Desktop itself and arrange them along the bottom of the screen).
Want to get rid of the website taskbar button? Just right-click and you'll see your options: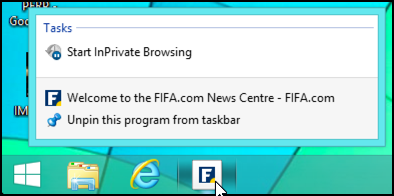 Notice the "Unpin this program from taskbar".
Rather easy, actually. Now, go root for your favorite hockey team!