When my husband sends me a text message, I don't seem to get any notification that it arrived, so I have to constantly check to see if there's anything new. I thought the iPhone was supposed to have notifications for this sort of thing?! How can I fix it, Dave?
Apple's done a really good job with the notification system on iOS devices like the iPhone and iPad, but there are some hiccups and glitches. More importantly, there are also various ways you can inadvertently mute or disable notifications either for all messages or for individual contacts. The result is that it can be a bit problematic when you get messages from an important contact that don't include notifications!
There's also a subtle situation where notifications aren't popped up on an iPhone, from what I can tell: If you have your computer set up to also receive text messages and you have the Messages app open to that person's communications, messages arrive and are then marked as having been seen. The result? No notifications of incoming messages on your phone, as Apple assumes you're busy texting on your Mac system. I'll note that this doesn't seem to be 100% consistent – I believe it's a timing issue – but it definitely seems to be what a scientist would call a confounding factor. 🙂
If you can eliminate the Messages app on your Mac system being the problem, here are the two things to check…
DID YOU MUTE THEIR MESSAGES ON YOUR IPHONE?
On your iPhone, go into Messages and find your husband on the list. It'll look like this: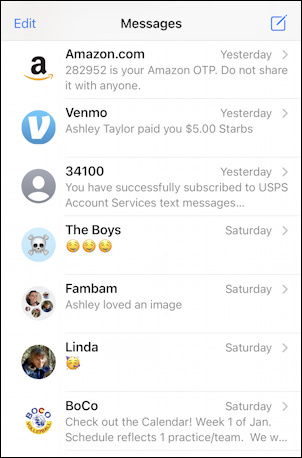 Now tap and hold your finger down for a couple of seconds on that particular entry. After a moment or two you'll see the most recent text messages back and forth, along with a tiny menu. I'll demonstrate on my Venmo text notifications: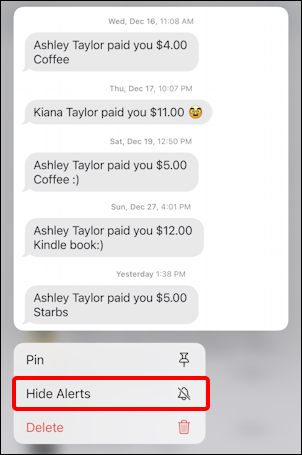 What you want to check is that you haven't inadvertently enabled "Hide Alerts". if it shows that as an option (as above) then you're good, you haven't muted that person.
Tap on "Hide Alerts" for a moment, then tap anywhere on the screen to go back to the regular Messages view to see how iOS 14 indicates that someone's muted: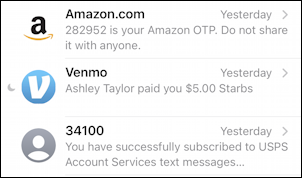 Can you see that tiny crescent moon icon adjacent to the Venmo graphic? That's it. That's all iOS does to show you that particular person has their notifications muted. You can easily imagine how if you accidentally turned that on at some point, you'll never notice it's enabled and they're muted!
To re-enable notifications from this person or source, simple tap and hold again and the menu will have a different second option to indicate this change in status:

It's a bit confusing that they're called Alerts here, but Notifications elsewhere in iOS, but basically if you see "Show Alerts" that means that they are muted. Unmute 'em!
ENABLE MESSAGES NOTIFICATIONS IN IOS14
The other place to check is the overall Notifications settings area for the Messages app on your iPhone. Go into Settings and swipe down to find Notifications, then tap on it…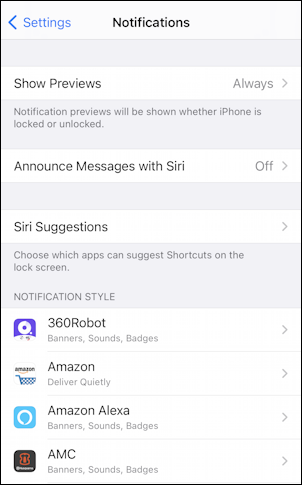 Here's where you can improve your text message privacy by disabling "Show Previews" if you want, but for this task, swipe down in the Notification Style area until you find Messages. It has a green icon: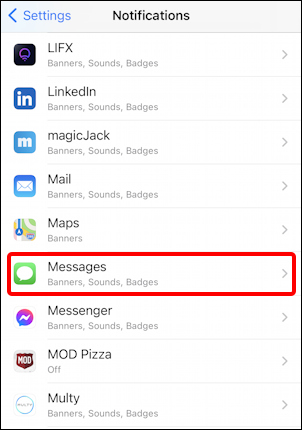 Tap on it and you'll be able to tweak and modify settings as desired – or simply realize it's turned off and re-enable it – as shown: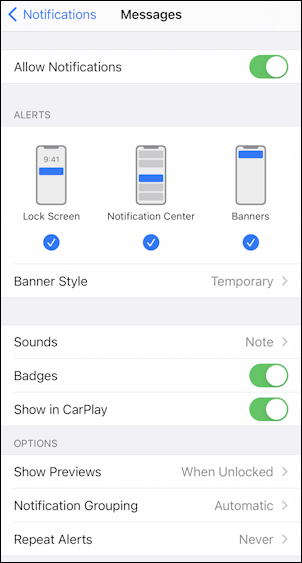 I have mine on for everything and everyone, even having them show up when I'm using CarPlay. You might enable everything here too (and notice you can have message previews only when the phone's unlocked if you want to have additional privacy when it's locked and you aren't with your phone).
Hopefully that'll get everything fixed up with your husband's text messages. Good luck!
Pro Tip: I've been writing about the iPhone and iOS since the very first iPhone was released. Yes, I've owned every major iPhone model! I've also written quite a few iPhone help articles on a wide variety of topics, so please check 'em out while you're visiting. Thanks!