Dave, the Android web site shows that Android 14 was released back on October 4, but I still don't see it as an option on my AT&T Pixel 7. What's up? How do I update to the latest version of Android?
Google's one of the many tech companies that staggers its updates to minimize the hit on its servers and to ostensibly give the developers a chance to address critical bugs that only show up during wide deployment. This means that the official release date is a bit of a misnomer, particularly if you have a non-Pixel phone and a non-Google-Fi cellular service. Usually, the staging just means you have to wait a few extra days, but Android 14 is being rolled out really slowly for some reason. Worse, usually Pixel owners are first to get new updates, but of my three Pixel phones, only those that don't have AT&T service can see the Android 14 update option at this moment.
One solution that I've read is apparently effective is to turn off your Pixel, pop out the SIM Card (assuming you have a physical SIM not an eSIM), then restart it and connect it to your wifi network. With that done, try checking for updates. Still nothing? Then you might just have to check every morning until it appears. Frustrating, but the good news is that the updates to Android 14 seem fairly mild, mostly behind the scenes improvements to code and reliability. For the Google Pixel phones that will update for me, here's how the sequence went…
CHECK FOR ANDROID UPDATES
Just as you would check for system patches and emergency security updates, go into Settings > System and you'll see either that there are no updates or that there's a new update available. Occasionally, it'll be a big one: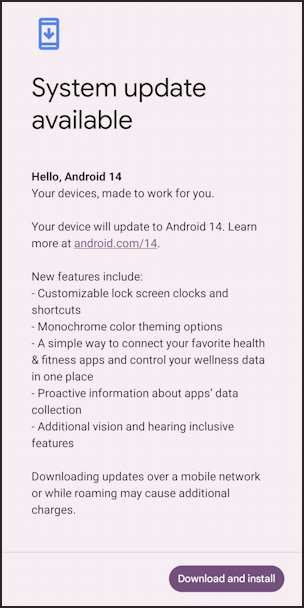 Not seeing that? Tap on the "Check for updates" button and keep your finger crossed. If you are seeing it, great! Tap on "Download and install" when you're going to be in the same place for at least 30 minutes (it needs to stay online for a while during the update process).
It will begin the download process, which can take rather a while: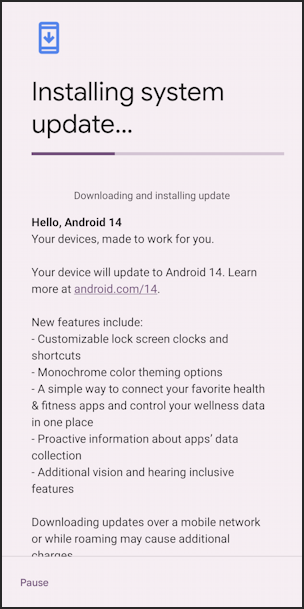 Actually, even being somewhere with a strong wifi connection your phone can still pause during this process…
REASONS NOT TO PROCEED
The first message I get from Android with the desired Android 14 update is:
Ah, right. First thing is you really do not want your phone to die during the update process. In the worst case situation, it can actually "brick" your phone, making it unusable! Solution: Plug it in.
Oops! Another reason for the update to stall: I'm also using the phone at the same time. This is for our protection so that it doesn't suddenly shut down in the middle of an important email or other transaction. Solution: At the bottom of this Installation Paused screen is a "restart" button. Tap on it when you're ready to actually restart your phone.
In fact, it'll look like this:
Notice that my phone is set to automatically restart – and apply the OS update – "after 2:00 AM" so I could just leave it plugged in overnight and wake up to a new version of Android. Handy. But who can wait? Instead, "Restart now".
WELCOME TO ANDROID 14
The process takes a surprisngly long time, mostly updating individual app settings and information. Mine took over 30 minutes in this phase, actually, and I don't have tons of apps on my Pixel phone. Eventually it will complete and you'll see this cheery message: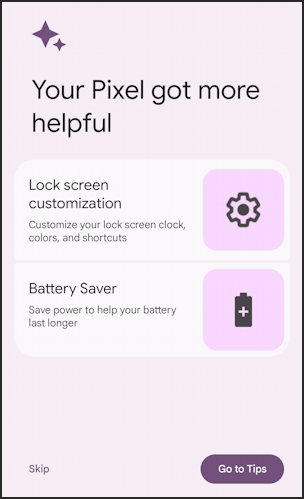 As you can see, if the two biggest features in this update are about lock screen customization and a new battery saver mode, well, it's not really a huge Android update after all. No worries, still very much worth applying, if for nothing else than the inevitable security updates that are included.
Go back to Settings > System and this time you should see that' you're good to go:
If you're still not seeing the Android 14 option weeks and weeks after its official release date, you might pop into your cellular carrier's office and ask them. Some third parties (like Samsung and Xiaomi) also add their own UI layer atop the operating system on their devices, which means they have to update that too, which can add weeks to the release date even after the Android update's already in the proverbial wilds. Good luck!
Tip: There are lots of ways to manage your Android 13 devices and ensure the best possible experience. Learn more by checking out my extensive Android help area while you're here too!