I know there are a zillion smartphone / cellphone applications that find food near you, but what if I only have a laptop and need to find something nearby? For example, what's the best way to find the closest pizza if I don't know my current address?
What, are you hungry? 🙂
There's something that very few people realize about modern computer networks: they offer sufficient information (particularly when you include the wireless networks in your proximity) for mapping systems to do a startlingly good job of identifying your current location, even if you're on a desktop computer or laptop without any sort of GPS hardware.
Using that as a starting point, it's actually pretty easy to answer the question "where's the closest pizza parlor?"
Let's have a look on Google Maps to see what I'm talking about…
Open up a browser page to Google Maps and you'll see a map of your home address or perhaps your most recent search. On that same map will be a bunch of navigational controls:



You've probably only really looked at the ~ez_ldquo+ez_rdquo~ and "-" buttons and the slider to zoom, but what we're going to focus on is the modest little circle above the ~ez_ldquo+ez_rdquo~ button, as highlighted.
Click on it.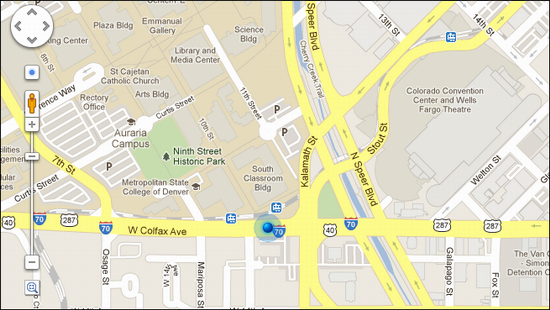 Now it's possible you'll actually be warned by your browser that it's about to share location-identifying information. Usually you only have to say "yes" to that once every few days or so, and I've already done it, which is why I didn't see a warning. Instead, it absolutely nailed my location at a Starbucks across the street from
Denver University
. Without a GPS. Pretty amazing, actually.
Now that you know where you are, simply type "pizza" into the Google Maps search box:



and…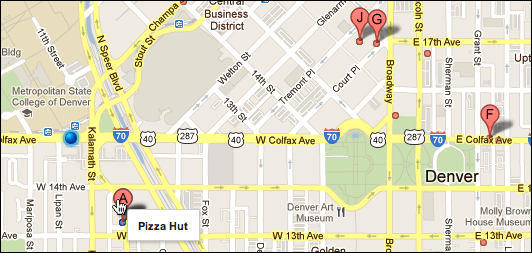 Not only does it show you all the matching places near your current location, but – as you can see above – if you put the cursor over a pin, it'll tell you the name of the place. Like
Pizza Hut
? Click on the marker and it'll tell you more about the place, including reviews: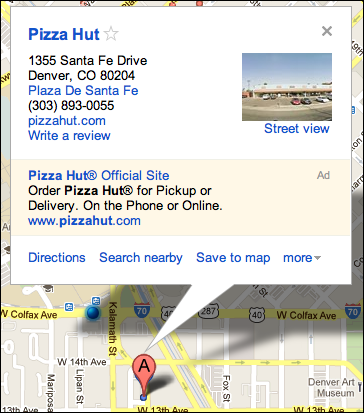 Look on the left side and you'll also see a list of matching locations with the corresponding letter pins too. Easy.
Now, the search for "good New York style pizza", that's different…
In any case, enjoy your slice!