I teach a lot of classes based on slide decks I've created in Keynote. In PowerPoint there were some options for making handouts, but I'm on my own in Apple Keynote. What's your strategy for creating class handouts, ideally in PDF format?
Ah Microsoft PowerPoint. How I enjoyed you for so many years, until Apple introduced the iWorks suite a while back, at which point I switched over to Keynote and haven't looked back even once. Those drop shadows and better transitions were the initial lure, but the smooth integration with everything Mac OS X was what sealed the deal. Sounds like you've gone through a similar journey with your own handouts, which should be good!
I'm happy to share how I produce the handouts for the classes I teach, because it's a bit of fiddling and bouncing around in the print dialog (you'll see why in a moment) to get it just so, but it's not hard. The handouts I produce are always three slides per page, oriented in portrait, not landscape mode, with space for students to take notes. It's not hard to change that, but I am loath to print one-slide-per-page because so often that just leads to a huge amount of wasted paper. Your mileage will undoubtedly vary. 🙂
To start, the obvious way of saving something as a PDF is to, well, File > Export To > PDF:
I prefer more control over what I'm doing and how things are going to layout, however, so instead I suggest that you choose File > Print…
That gets you here:
The first thing I always do is change to "Handout" format:

For this particular format, however, I think that landscape is dumb and that portrait is far easier for students to deal with, so I flip that around by choosing "Page Attributes" from the menu on the Print dialog window:
Simply click on the other choice for Orientation (you'll see it reflected in the preview).
Next up is to pick how many slides you want on each page. By default, it includes three, but that often makes the slides unreadably tiny, so I've found that two per page works really well: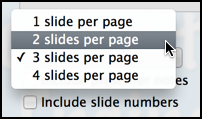 Now the preview's looking very good, exactly as I like!
Next step is the final one: instead of printing it, use the PDF button on the lower left corner of the print dialog to chose "Save as PDF…":
For bonus points, you can add a copyright or other material to the PDF before you finish the process:
That's all there is to it.
Now you have a file like my "intro-seo-handout.pdf" that's ready to put onto a server, email to students or send to the printer as needed!