Our office just upgraded to an HP PageWide Pro and I want to be able to email print jobs from home. I know HP has its eprint service, but how do I set it up?
Hewlett-Packard has done a really good job with its mobile printing solution "eprint", so it's smart of you to know what it offers and set it up for your use. Even better, it's really easy to work with and once you have it configured, set up an email alias and you'll be printing like the big dogs in no time!
Which of course also highlights one of its greatest security limitations too: it's just a secret email address, so if that becomes unsecret, if someone posts it online, if a disgruntled ex-employee decides to get malicious, well, then you might have a really big problem on your hand. So make sure everyone with access treats this particular email address as if it's the home phone number of the CEO. Very, very carefully!
Most likely as your HP PageWide Pro was installed, the IT person (perhaps you!) set up eprint as part of the process. It can flash by pretty quickly, the screen that looks like this: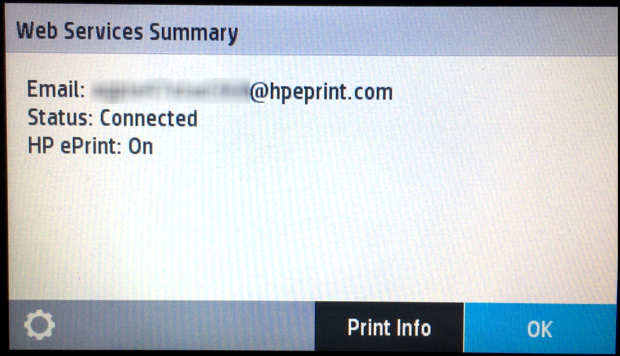 For what I hope are very obvious reasons, I'm not sharing with you the actual email address of my own HP printer. I really just don't want weird, random printouts to show up every night! 🙂
If you neglected to write this email address down or need to see it again, or just need to configure things in the first place, that's easily done on the HP PageWide Pro and other modern HP printers. Go to the control screen and swipe down from the top to bring up the settings. That'll look like this: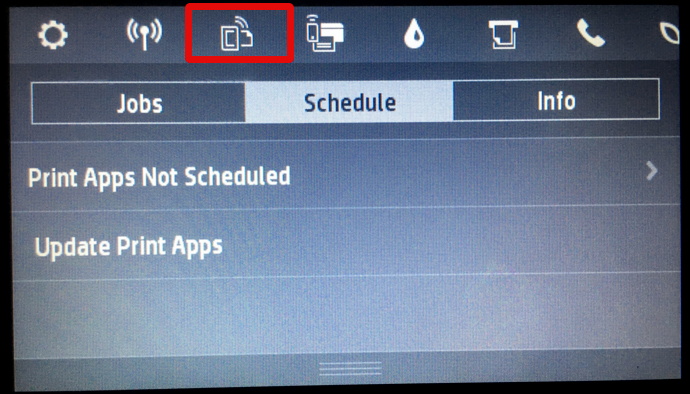 As I have highlighted, you'll want to just tap on the mobile printing icon along the top.
Once you do, the printer will immediately go out onto the Internet and acquire an email address for itself, or confirm the existing email address that's already set up:
Once it's done you will again see the status screen that includes the printer's email address. A handy tip: Take a photo of it with your smartphone.
Now, to print, all you need to do is send the text, document or print job to that specified email address: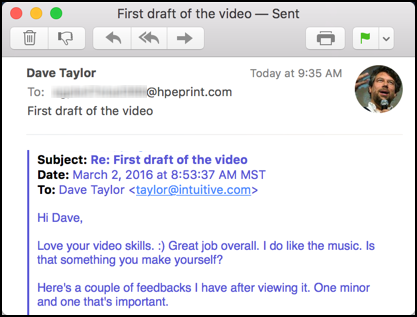 When I sent this test print, I received back a message from the HP Mobile Printing service gateway within a few seconds:
The best part? By the time I'd finished reading the email from HP's mobile printing service, the printout was done and sitting on the PageWide Pro.
It really doesn't get any easier than that. Just remember to keep that email address confidential!