I have a problem with my facebook Timeline and I would appreciate if you could help me, because I have tried everything else and am still stumped. I accidentally hid the date I joined in on my Facebook Timeline and now I can't get it to show up again. It doesn't appear at my Timeline to change it and make it visible. Neither is it on my Activity Log (as hidden activity). What can I do to have join date appear on my Timeline again?
That's an interesting puzzle and it spurred me into poking around on Facebook and finding out that I joined back in Sept of 2006. A long time ago!
It also reveals something interesting, and rather puzzling about how the activity log works, because it's not logical. That is, if you hide something on your Timeline, it seems reasonable for that activity, you're clicking "hide", to be something that's worthy of an entry in your log. But it isn't. In fact, there are some things you do that show up on your activity log and other things you do that don't appear to be worthy of note.
Which means that the really simple solution of popping into your own log and undoing the "hide" isn't an option. So we'll have to dig into the Timeline a bit deeper to find things.
I'll start by showing how I found my own "joined Facebook date" on my Timeline. To do that, I clicked on my name then on the right side clicked on the oldest year shown. A few moments later and it's all populated on screen, including the very first entry you'll have, when you joined Facebook in the first place:


Look a bit more closely at the icons surrounding this entry and you'll see how you can hide this if you're so inclined (in case you haven't already hidden it):

Once I choose to hide this particular entry from my Facebook Timeline by choosing the ingeniously worded "Hide from Timeline" option, confirmation appears:

Cold feet? No worries, click on "Undo" and it'll appear again.
But let's assume that a few days — or weeks – have gone by and now you want to have it reappear. This is basically where you come into the conversation, right? 🙂
Now the challenge is to find it when it's not actually on your Timeline and the "hide" action isn't actually worthy of getting an entry in the activity log.
Turns out, however, that it is in the activity log, but based on the date of the entry, not the date of your "hide". So click on the "Activity Log" button on your own profile:

Now look on the right and click on the oldest year it shows, just as you did to find this earlier if you were playing along from home!
In my case, I joined in
2006
so that's the earliest year on my timeline…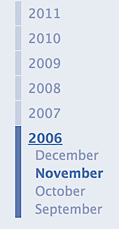 Clicking on that moves me down to activities I was doing on Facebook that year — which isn't much! — and includes an entry for when I joined:

Oddly, this shows that while I marked my join date to be hidden, Facebook appears to have ignored it and still shows it as viewable to public. If it is indeed marked as hidden, it'll still show up here, but with different tiny icons.
Click on the pencil to edit things and you'll see the two choices given:

Choose "Allowed on Timeline" and though it apparently takes a bit to process, it'll reappear on your timeline and you'll be good to go!