I'm so excited to have gotten a new Amazon Kindle Fire HD for my teen son, but now I'm afraid that I've opened up an unexpected doorway to the Internet since it apparently has full Internet access, a Web browser, an app store, and much more. I just wanted a way to keep up with his voracious reading habits. Is there some way to disable wifi access, games, the app store, etc, on the Kindle through the parental controls??
Until the very latest generation of Kindle devices, us parents who didn't want our children to have unfettered, unmonitored and untraceable access to the Internet were out of luck. The only solution was to either not own a Kindle at all – a poor decision given how many zillion books are available – or to unplug your wifi, which still doesn't really address the problem because once they do have access, then that ebook reader turns into a great stealth video game platform with hundreds of popular games.
Amazon was listening, however, because the Kindle Fire HD is of the generation of Kindles that give you quite a bit of control over the device, including hiding all the ebooks and only making games available, for example, if you are busy re-reading your favorite portions of Fifty Shades but want your third grader to be able to play children's games on the device without asking about all those funny words on the screen. 🙂
Since my 12yo son was recently reading a book on my Kindle Fire HD but got sidetracked and grabbed some books (not realizing that a receipt is automatically mailed to the Amazon account holder, even for free games), I'm very aware of the need for rational device controls.
So here's the scoop. I'll show you with parental controls already enabled, but you'll be able to see how to get here even if they aren't enabled.
Start up and everything looks normal, but when I tap and drag the top down to get to the system menu options, an additional informational panel appears: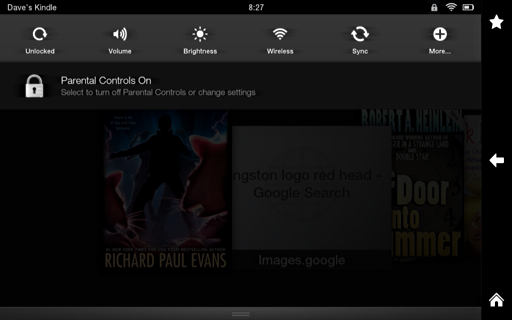 If you haven't yet enabled parental controls, no worries, just tap on the "+" more option and scroll down until you see "Parental Controls" as one of the options.
Since it is enabled, however, I'll tap on the item shown on screen, and it'll prompt me for the password: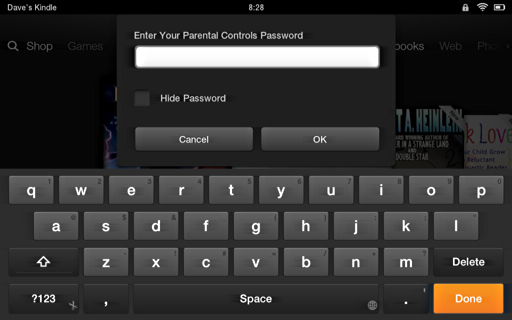 Note here that I have access to the full keyboard, so I can set up a complex password rather than a 3-4 digit numeric PIN. I do, of course, and it's quite complicated, quite unlikely that my kids will ever stumble upon it or guess it. And no, it's not the name of our cat. 🙂
Enter the password properly — as needed — and you'll be able to see the top portion of the parental controls panel: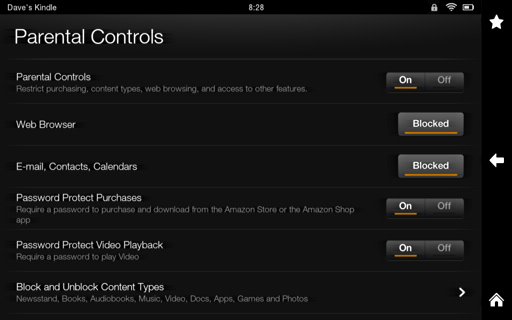 Notice at this point I can block the Web browser (good!), email, contacts and calendars (something that I really wish my iPad could do, actually), protect purchases in the store, video playback (effectively disabling movie viewing as an option) and block specific types of content on the device too.
Pick and choose what you want to block, or, if you want it to be just an ebook reader and nothing else without knowledge of the password, block everything as I have done.
Then scroll down just a bit to see the additional options on this screen: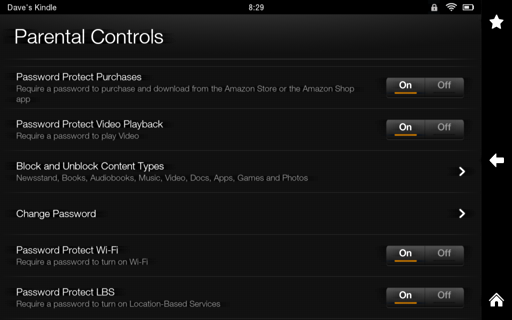 The big one here is "Password Protect Wi-Fi". Enable that and the device is now untethered from the Internet, even away from home at a public hotspot, like a library or local cafe. Also note here that you can change password, something worth doing sporadically juuuusssttt in case your young 'un has managed to guess the password!
Finally, before we're done, tap on "Block and Unblock Content Types" to see how specific you can make the content filters: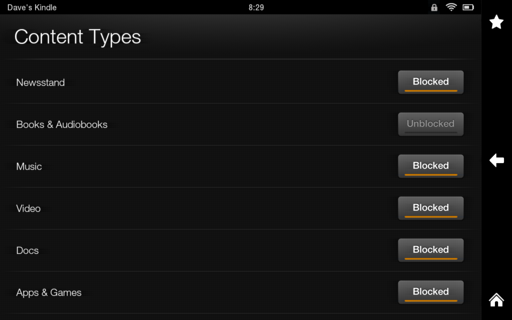 If you're zealous and block everything, there's really nothing that the device can do without a password. Even an ebook that your child's in the middle of reading suddenly becomes off limits without that parental password. Not so helpful. On the other hand, as you can see I've done, blocking music, video, docs and, more importantly, "Apps & Games" means that it's no longer a game playing device and just an ebook reader.
Perfect!
Now go and set things exactly as you desire for your child or children, knowing that as long as you have a complicated password, you'll be safe knowing that they might be reading up a storm, but that's about the extent of their interaction with the device and the Internet at large.
Oh, and if you believe children should have unfettered access to the Internet, that parental controls are censorship or removal of their freedom, then simply avoid setting these things up. But trust me, there are a ton of kids whose parents would be delighted to know about these powerful, well-implemented controls and who simply seek to keep their children safe and healthy in our increasingly complex digital world…