I recently logged into a third party Web site by using my Google account credentials. Convenient, but I'm now wondering what sites and programs actually have access to my Gmail, Google account, etc?
Third party authentication has made it really easy for us to use Google, Twitter, Facebook or similar to log in to other Web sites. Handy to click a button and be all set up on the site. But there's a price in privacy and security that's often ignored. And after a while, there are a lot of third party sites with some level of access to your Facebook, Twitter or Google account and the information therein. Heck, many of them are unknowingly granted permission that would let them post on your behalf without you even knowing about it!
With its management of Google Docs and incorporation of the popular Gmail online email service (with over a billion active users!) Google is probably the most risky of all to have authorized third party software accessing. But how do you figure out what programs and sites you've authorized? Let's have a look!
To start out, log in to your Google account. I'll do so within Gmail since I'm always in Gmail anyway.
Now on the top right is a tiny circular icon or photo. Click on it to get a pop-up window like this:
You want to click on the big "Manage your Google Account" button in the middle of the window. That takes you to a page that has lots of information broken into categories. Click on "Security" on the left side and you'll be shown a collection of information boxes including a darn handy security checkup tool. Here's what I see:
Just a second, I'll sidetrack and make sure that the security issues aren't critical. Okay, back…
Scroll down until you see the information box labeled "Third-party apps with account access":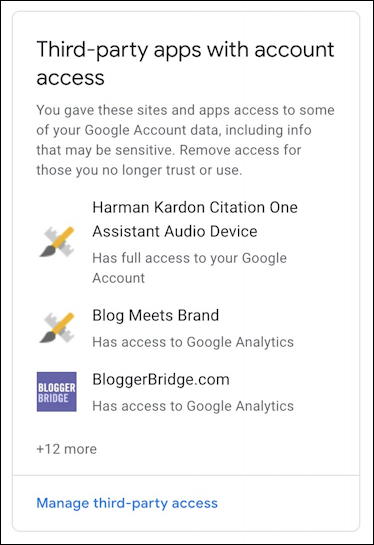 Hopefully when you look at the list you nod your head, thinking "yep, that's okay" to each one. To get the full list and revoke access for any you'd prefer be shut out, click on "Manage third-party access". Now you'll get a more detailed view:
Notice that some have full access (why does the Harman Kardon Citation One speaker need full access?) while others have more limited access to just a single Google service like Google Analytics. If it doesn't need full access, you might want to shut it down and email the company to have them upgrade their configuration.
You can also click on a specific entry to learn more about it and, as needed, revoke the access. I'll do so with BloggerBridge.com:
Actually, I'm good with this site having access to my analytic data through Google Analytics, so I'm not going to change anything. If I did want to revoke access, however, it's a single click of the blue "REMOVE ACCESS" button on the top right. Easy enough.
Now, while you're here, scroll down just a bit further and you'll see which sites are using your Google Account information to log you in to their site too:
If you'd like to pull some of this access, it's the same basic drill: click to expand an individual entry, then click "REMOVE ACCESS" to shut it down. Worst case, next time you use that service it'll prompt you to log in again, so it's not a dire problem if you make a mistake and overzealously shut everything off.
Now, keep an eye on your Google Account (and Facebook and Twitter for that matter) and be judicious in what third party sites, apps and services can access your personal data!
Handy Tip: I've been writing about Google services and privacy for years. Please check out my Google help area for lots of useful tutorials!