I love Pinterest. So fun, so many interesting images and boards to peruse. But I get frustrated when people email and comment on my own pins and refer to me by the wrong pronoun. Has Pinterest caught up with all the other social media sites and added preferred pronoun support yet?
Slowly but surely, just about every social network is adding the ability for users to note their preferred pronouns so that others can refer to them correctly. It's a simple way to expand support for the LGBTQ community that can be ignored by people who don't care and specified by people who do, and who will honor desired and preferred pronouns. Facebook has had support for a long time, Twitter allows you to specify pronouns, as does LinkedIn and even Instagram. But Pinterest? That's been a holdout without a solution for quite a while. Until now. Finally, Pinterest has added preferred pronouns as an optional field for a user profile.
Already set up on Pinterest? No worries, you can go into your Profile settings and choose your preferred pronouns from the list the site offers, whether you're a "she", a "xyr" or a "nem". Let's check it out…
SPECIFY YOUR PREFERRED PRONOUN IN PINTEREST
Start by going to Pinterest. I'll show how to do it with the Web interface, but the mobile app has support in the profile edit area for this setting too. On the Web, the top toolbar looks like this:

You've probably seen this thousands of times. Did you know that there's a "Today" button to get a random selection of the latest pins from your friends and the public at large? Worth a try. For this task, however, click on the "v" adjacent to your circular profile pic. A menu appears: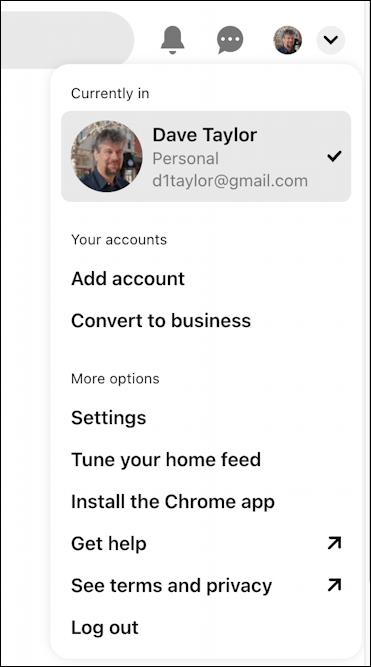 I'm using my @d1taylor account here on Pinterest, though it's not obvious from the above. Click on "Settings" and you will immediately be able to edit some of the basic elements of your profile: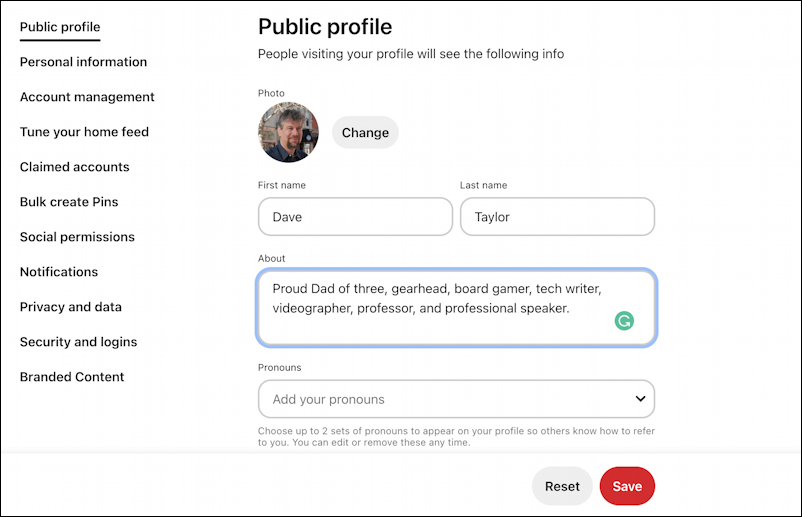 I took advantage of being on this screen to update my bio section just a bit. You might check to ensure yours is also up-to-date if you're so inclined. The more interesting option is just below the About box, however. Click on "Add your pronoun" and a menu of options appears: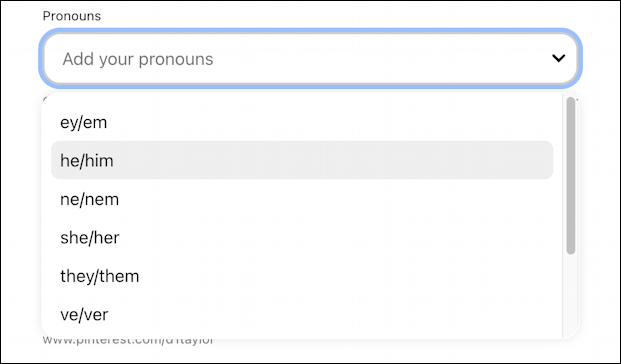 There are a couple of additional options if you don't see your preference, but if none of them match your preferences, well, time to email customer service and hope they add it. Good luck with that.
Otherwise, pick your preferred pronouns – I like "he/him" – and click "Save".
PINTEREST PROFILE WITH PRONOUNTS SPECIFIED
Now when I look at my profile, the preferred pronouns show up, albeit somewhat subtly: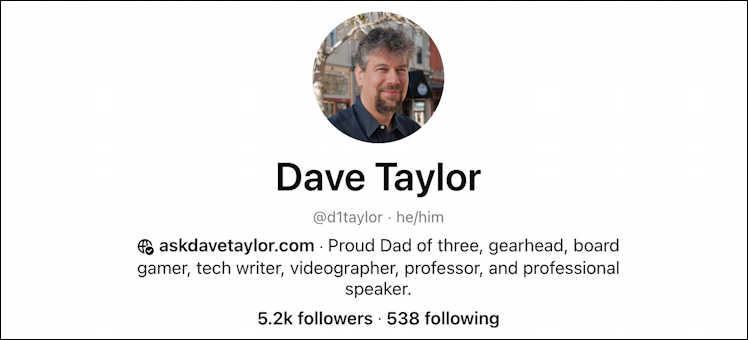 See it? Just after my actual account name – @d1taylor – without any additional label to explain what it means. That's okay, the people that want to know will get it, and everyone else will ignore it. And now you know how to add preferred pronouns to your Pinterest profile!
Pro Tip: I've been writing about Pinterest for many years. Please check out my extensive Pinterest help area and don't forget to follow me on Pinterest too! I'm d1taylor on the service!