Dave, I just got a letter from the Social Security office saying that my social security number account has been closed due to identity theft. I rely on my social security to pay the bills and eat! How can I get in touch with the agency and find out what's going on?
Received an email message that said that your Social Security Number (SSN) has been cancelled due to identity theft or fraud? Rest easy, it's fraudulent. Scammers know that having something like this happen causes people to get anxious and fearful, so that's what they seek to instill: If you're scared, you're not thinking logically and will believe the scam and do what they want you to do. In this instance, it's call a phone number where they can try to sell you an identity theft protection service (which, of course, is bogus). Sometimes it involves installing "anti-identity theft" software, which then allows them free access to your computer and all of your personal and financial records.
Whether it's ostensibly the Office of Social Security, your bank, your local utility company, or anyone else, the best approach is to stop panicking and take a deep breath. Then it's time to play detective and see if there are any clues that suggest it's not legit. Still unsure? Use Google search to find the help number for the organization or agency (don't trust the one in the email, letter, or document!) and give them a call. The Social Security Administration – SSA.GOV – even has a page with a number inviting you to contact them via phone: www.ssa.gov/agency/contact/phone.html
ANALYZING A TYPICAL SOCIAL SECURITY SCAM
I received a similar email message in my spam folder that we can review because if it did just show up in my inbox, I might give it a second look: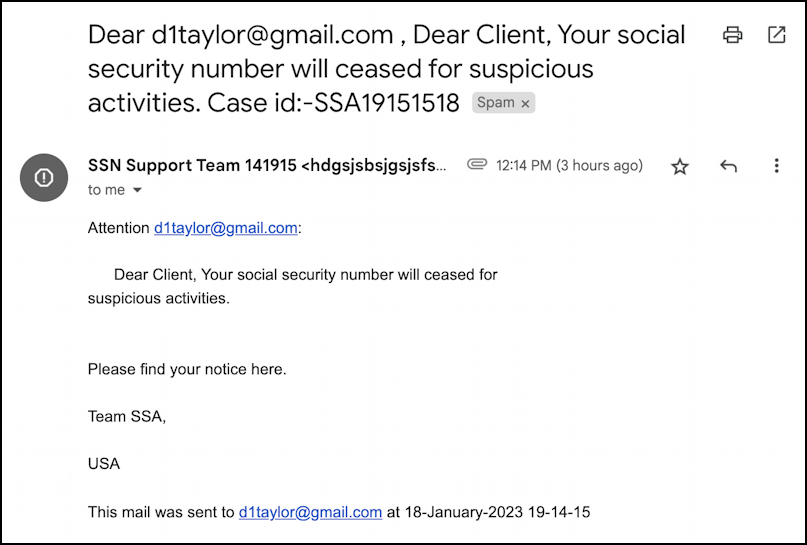 At first glance, maybe it's legit. But there's a lot that's suspicious, not the least of which is that it not only isn't my Social Security Number, it's not even enough digits: The "Case ID" is 191 515 18. It also doesn't list my full legal name and address.
But look more closely at the sender. In Gmail you can view this by clicking on the tiny downward facing triangle by "to me". It reveals this: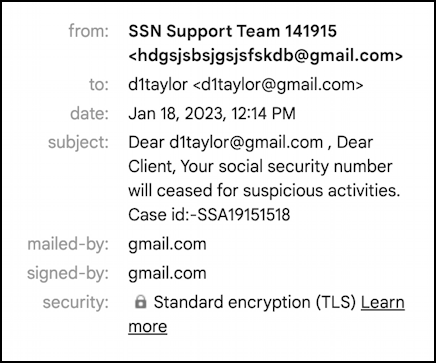 The message is sent from hdgsjsbsjgsjsfskdb@gmail.com ? That should be plenty enough to convince you that it's a scam and delete it. If you ever did get an email from the Social Security Administration, wouldn't it at least be from @ssa.gov ?
But email addresses can be faked too, as many spam messages demonstrate, so a scam could ostensibly still have a reasonable sender address. Let's dig further.
THE ATTACHMENT
Scroll down further and there's a PDF document that's included with the message. If it were a .EXE or other executable, I'd be quite skeptical and not open it, but PDF documents are reasonably safe. Here's what I see: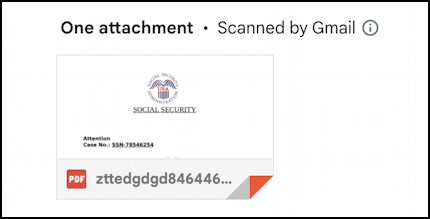 The preview looks legit with its Social Security graphic, but oh, that filename! It's not enough that it has what's clearly a random email address, but the PDF is called "zttedgdgd846446…"?
Open it up and here's the "notification" from the Social Security Administration: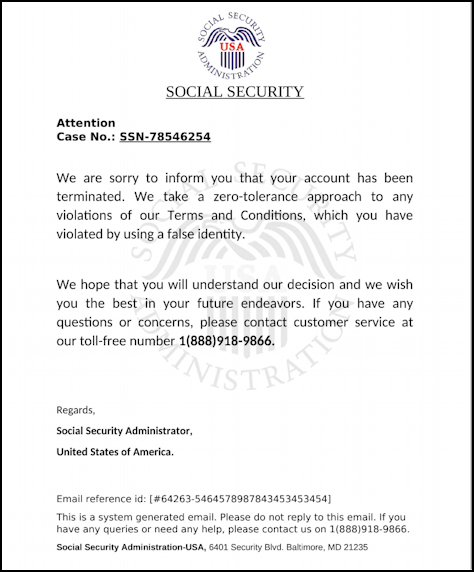 Even at first glance it's bogus, even if it looks pretty enough. The "Case" offers a social security number that isn't even the right number of digits: An SSN is xxx-xx-xxxx, or 9 digits. The "Case No" shows an SSN of 785-46-254. Where's the missing digit? More importantly, of course, it's not my SSN number nor is it likely to be yours.
But even if it is the correct number where's your name? Address? The name of the SSA agent who researched this case and is who you should contact if you want to complain? It's all missing because, of course, it's all specious.
GOOGLE THAT PHONE NUMBER!
A quick Google search for that phone number — 888-918-9866 — reveals something rather surprising too, certainly not the Social Security Administration:
Whatever's going on with this phone number, it's clearly not the United States government. Conclusion: You are safe to delete this message and breath a sigh of relief. Just another scam.
Pro Tip: I have quite a few tutorials and articles on computer basics and security. Please check out my computer basics help library and my spam, scams, and security article repository while you're visiting. Thanks!