Dave, i'm getting tired of listening to other people's playlists on Spotify and want to create some of my own. How do I go about creating a great playlist on Spotify?
It turns out that not only does Spotify have a mind-boggling number of audio tracks, but the user interface is actually pretty darn slick and easy too. How many tracks? Over 50 million, according to most sources, and the average subscriber listens to 25 hours of content each month. I definitely listen to a lot more than that, personally, since it's usually the background music to my day.
You can also listen to albums and artists, along with automatically created channels and genre channels in addition to both Spotify created and user created playlists. Nonetheless, being able to pick and chose the best tracks from your favorite artists in a genre or by theme is a huge boon and something every Spotify user should try at least once. It's the 21st-century version of the mixtape, except it can have up to 10,000 tracks (which would be one darn big cassette tape if you remember OG mixtapes)
ADDING THE FIRST TRACK TO YOUR SPOTIFY PLAYLIST
I'll be using the Mac Spotify app for this demo but the interface is surprisingly similar across platforms, so you'll find that if you prefer Spotify mobile, you'll still be able to follow along. Dig around, search for musicians, even sneak into other people's playlists and find a track you want to add. I'm going to be making a disco playlist (yea 70s!) so here's where I start:
I'm looking at tracks from "Disco Hits of the '70s, '80s & '90s" and I think we can start with Boogie Nights by Heatwave. Notice some of these tracks have mind-boggling play counts too, notably Ring My Bell which has over 15 million plays!
Move the cursor over one of the track entries and a "•••" button magically appears. Click on it and you'll reveal a menu. From that menu choose "Add to playlist" and a submenu appears, as shown: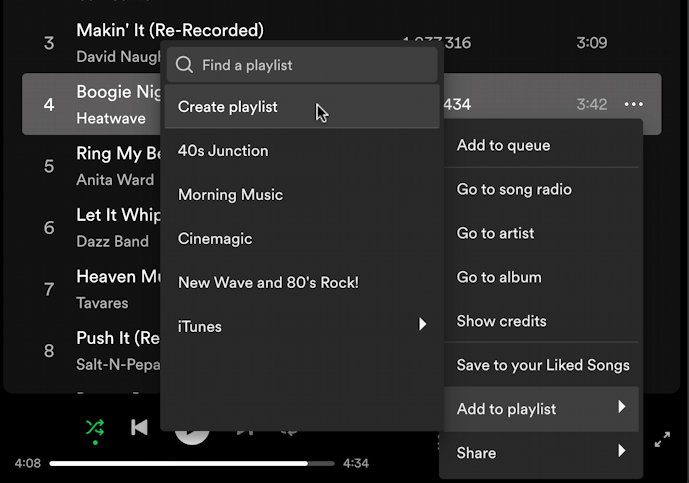 You can see that my existing playlists are "40s Junction", "Morning Music", "Cinemagic", and "New Wave and 80's Rock!", along with some playlists from my iTunes library on my Mac system. I don't want to add this track to an existing playlist, however, I want to create a new one. My choice: "Create playlist".
I've just created a new playlist!
HOW TO ADD A SECOND TRACK TO YOUR PLAYLIST
Now it gets a bit confusing because it didn't prompt for a playlist name, so it takes that name from the first track added. When I go to add a second track, here's what it shows as my list of playlists on the submenu:
You can see it's called "Boogie Nights (Re-Recorded)". We'll fix that in a moment, but I also want to point out that when you add a track, you'll also see a confirmation appear briefly on screen too:
You can now do this loop of find great tracks, add to playlist for as long as you desire. 10,000 tracks is a lot!
RENAMING AND CUSTOMING SPOTIFY PLAYLISTS
At some point, however, you'll want to rename the playlist you've just created. That's easily done by going to Home in the Spotify app, then finding it on the list of your playlists. On the Mac, it's on the left side:
Notice it shows total number of tracks – 3 songs – and total playing time – 11 min, 59 sec – just below the name. The image is also lifted from the very first track that was used to create the playlist in the first place. Time to update it!
To rename the playlist and update the image, simply click on the title shown. A new window will pop up: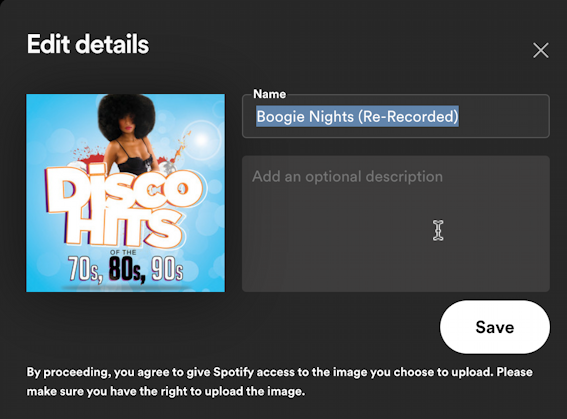 You can type in a new name, and if you want it to be findable by other Spotify users, try adding genre names and specific musician and album names in the description. Or just give it a good name so you can find it!
Notice that with my cursor over the image, it pops up the opportunity to "Choose photo". I'll do that with a great image of a disco ball that I found online. Choose it and Spotify will resize things to fit. Click on "Save" to update the playlist.
Now it's looking pretty darn good!
I can go back and keep adding tracks as desired, or I can let Spotify find similar tracks to add…
HOW TO ENHANCE A SPOTIFY PLAYLIST
Spotify has a lot of information about music, styles, genres, tempo, and more, information that it can use to add new tracks and even cycle through added tracks so that new music occasionally pops up even in an otherwise static playlist. They call it "Enhance". If I click on the "Enhance" button, the playlist suddenly goes from 3 tracks to 30: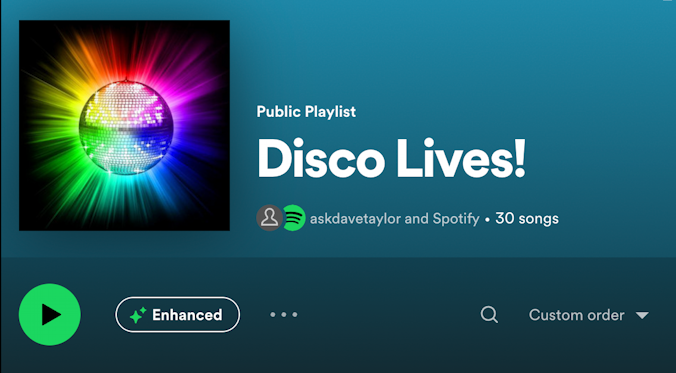 Notice that it's gone from being "my" playlist to being one created by me and Spotify. But 3 tracks to 30 tracks!
Playlists are automatically shared across all your Spotify apps and devices too, so I can immediately access Disco Lives! from my Android phone too:
Notice that while it shows both authors, it still lists only 11 minutes of music, which is a potential bug! Anyway, the important thing is that now you know how to create, add, and edit playlists. Want to remove a track? I've got a tutorial for that: How to Remove Tracks from a Spotify Playlist.
Pro Tip: I've been writing about computer and tech basics for eons. Please check out my Computer & Technology Basics help library for lots and lots of additional tutorials while you're visiting. Thanks.