I noticed that a few of my colleagues have cool personalized URLs for Zoom that they use when sending out meeting invitations. I want one too. How do I set up a personal link in Zoom for organizations?
Zoom meeting links are not something you want to type in, but nowadays most everything is going to include a clickable link. From calendar reminders to email invitations to links sent via text message or FB Messenger, if it's a URL, it's a clickable URL. Still, I completely understand the appeal of having a short and memorable URL link to share with colleagues so you can meet them in Zoom for a quick meeting, Q&A, training session, or similar.
While free public Zoom accounts don't offer this feature, members of institutions that pay for an organizational license do get what Zoom calls a "personal link", which can indeed be customized as long as no-one else is already using the word or phrase. Probably don't want to be using "ceo" or similar if you're not at the top of the org chart (undoubtedly someone in HR will tell you it violates some policy or other) but otherwise it seems pretty wide open!
The trick to setting this up is that it's not a preference or setting in the Zoom app on your computer, it's a setting on the central online Zoom Web server, so you have to log in to access it. Let's have a look…
ZOOM ADVANCED ACCOUNT SETTINGS
Fire up Zoom on your computer, click on "Settings" and you'll end up with a window like this: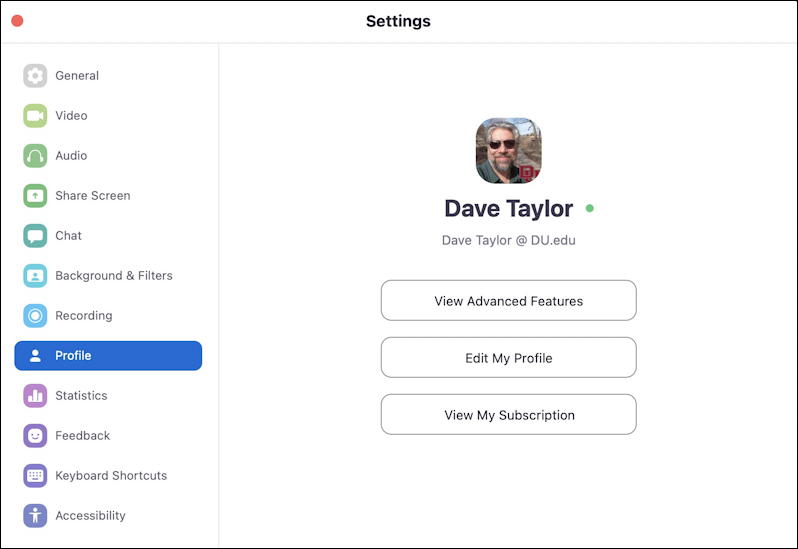 Note: I'm using my DU.edu account for this demo as my personal Zoom account doesn't offer "personal link" as an option. As I said earlier, organizations and institutions can have this, but individuals with free accounts do not have this feature enabled.
The easiest way to get to the right place on the Web is to click on "Edit My Profile" from this window. Click and you'll have the Web browser open and probably need to log in again, using the same credentials you use for the Zoom program itself…

Notice all the links on the left side. Some may seem redundant with what you have in the Zoom app itself, but these are your institutional account settings and are worth a quick review to ensure everything is set up as desired. In particular, since at DU we use the recording feature a lot, I like to check that to ensure the default settings are as I need.
The Personal Link information is just a bit further down on the Profile area, so scroll down until you see…
SETTING YOUR ZOOM PERSONAL LINK URL NAME
… the following section: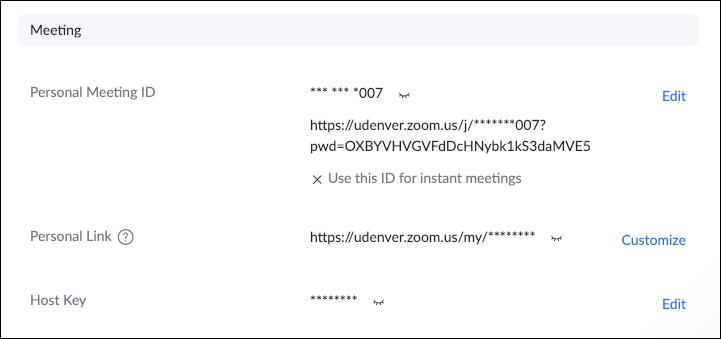 You can see that Zoom does a nice job of masking a lot of this information, even though it's a bit odd since it's your info and you just logged in to change your own profile settings. Any of them can easily be viewed by clicking on the tiny "closed eyelash" icon adjacent. Try it! Then you can click on the open eye to mask it again.
But what we want to set is "Personal Link", so click on "Customize".

Notice the requirements of the shortened URL: It must be 5-40 characters and it must start with a letter and can contain only letters, numbers, and periods. I'll try "drdavetaylor" (alas, it doesn't support capitalization here, though you can fix that in the link you subsequently share, so "DrDaveTaylor" would work fine in practice).
A click on "Save Changes" and I now have a new personal link. In this instance, it's https://udenver.zoom.us/my/DrDaveTaylor as shown. Your organization will have a different subdomain with zoom.us, of course, but otherwise that's the basics.
ZOOM PERSONAL LINK CONFLICTS WITH GLOBAL LINK
What if you choose a link that is already taken by someone else, you'll see the error "is already taken by a user from your account. Choose another Personal Link Name and try again.". But what if you pick a unique name that is a duplicate of a global Zoom shortcut? Here's what happens: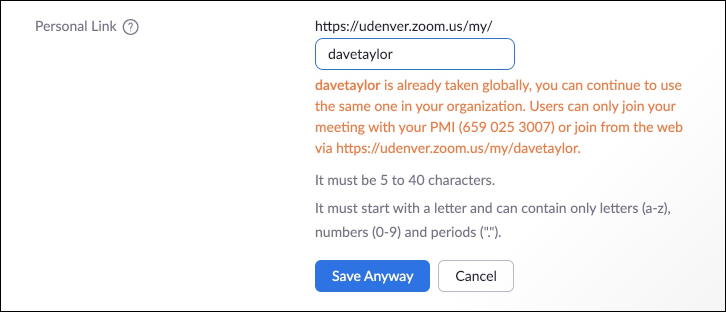 It says that the specified personal link "is already taken globally" but the constraint is that they won't just be able to type in your meeting shortcut to join, they'll need to use the full organizational Zoom personal link URL. You can do that and probably never have an issue; click on "Save Anyway" or hunt around for a word or phrase or variant that's not already registered.
Like this:

That's it. A click on "Save Changes" and you're ready to share that with your colleagues and be one of the cool kids in the office. Or, um, at home, but virtually in the office. You know what I mean!

Got it? Go forth and Zoom!
Pro Tip: I've been writing about how to get things done online forever. Please check out my extensive Zoom help area while you're here! I promise it'll help make you more productive with this useful tool.