My Mom has a bad habit of buying ebooks on her Android tablet and forgetting to read them, so she can spend $50 or more in a single month and complain she has nothing to read. Is there a way I can set a budget or spending limit on her Google Play account to slow this process down?
The good news is that yes, you can indeed set a spending budget on a Google Play account. The bad news? It's so innocuously implemented that it might not be worth your while to do so and is unlikely to actually help with your mother's penchant to buy and then forget to download and read ebooks. I prefer how Apple implements play time quotas on managed accounts, where when you hit the limit, you cannot proceed without a parent's approval (I know, not quite the same thing as a spending budget) but Google just seems very tenuous about this entire concept.
Still, perhaps it will work, so let's have a lookat how to set a spending budget limit on a Google Play account (which, by the way, works across all systems with the same Google account) and you and your mom can figure out if it'll work or whether you need something else to help the situation.
FIND YOUR SPENDING BUDGET IN GOOGLE PLAY
To start out you'll need to be logged in to her account on an Android device or Chromebook. If she shares your account, well, that's easy enough; you're already logged in. I'm going to show just about everything on an Android phone, but the process is the same in the Google Play Store app regardless of platform. Here's the home screen, still showing the remnants of World Cup mania with its "special event":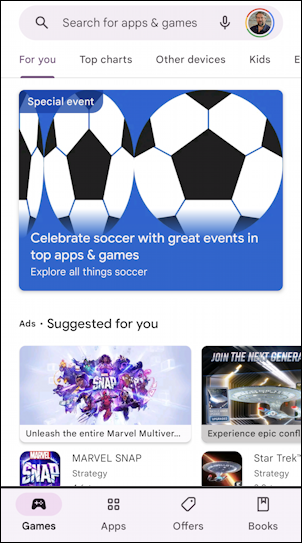 To proceed, tap on the profile picture in the top right of the screen. It brings up a menu of options:
For this task, tap on "Payments & subscriptions", which also offers a good chance to check on what subscriptions, if any, your Mom's signed up for and cancel them as necessary.
At this point there are only a couple of options:
Choose "Budget & history" to move forward and you'll be able to see what she's purchased and how much it all cost:
Y'know, showing your Mom how to get to this point and see the "Total you've spent" this month might be enough for her to be able to check and manage her own spending a bit. As you can see, I've exercised restraint and spent $0 so far in December, and that back in October, I downloaded three free classic novels.
SET A GOGLE PLAY STORE SPENDING BUDGET
At this point it's easy to set a spending budget limit: Tap on "Set budget", which brings up this screen:
The small print says "Choose an amount for your monthly budget. It won't stop any purchases, but we'll let you know when you get close to that amount. Your monthly budget history is tracked in your Google Account, but it's automatically removed after 1 year." Why is it automatically removed after a year? That's another good question.
I'm going to set mine to $1 and tap on "Save" to, well, save it. Now my Budget & history shows the new budget limit:
And that's it. Not much effort involved, but is it useful? Let's have a look…
EXCEEDING YOUR BUDGET IN THE GOOGLE PLAY STORE
I'm going to hop back to the main area of the Google Play Store and grab a copy of the audiobook edition of Stephen King's new novel Fairy Tale. Here's what that page looks like in the Store:
If I tap on "Audiobook $25.95" to purchase and download the audiobook edition of the novel, that budget warning appears:
It's really so subtle that I imagine most people don't even notice it show up. Why doesn't the Google Play Store have a separate dialog pop up where you have to consciously choose to exceed your budget or similar? Without that, it's all too easy to ignore, making it ineffective for all but the most attentive shoppers.
Worth noting is that it shows up on my Chromebook that's logged in to the same account too, even if I'm just poised to buy a comic book to read online:
So that's the scoop. You now know how to set a budget in the Google Play Store, but, you also now know that it's probably going to prove entirely ineffective because of how Google chose to barely implement it at all. Instead, perhaps you might want to turn your Mom on to Libby or a similar free ebook program from your local public library. With hundreds of thousands of great books, novels, and non-fiction works – and audio books! – it's a great alternative and who doesn't like free as a pricetag?
Pro Tip: I've been writing about Android and Chromebook systems forever! Please check out my extensive Android help area and Chromebook help area for over a thousand useful tutorials and guides! Thanks.