Hi Dave! When I send photos to my son in Messages he sends back hearts, thumbs up and other emoji that somehow end up "hooked" onto the photo I sent. How can I do the same for photos he sends me?
Great question, because it's a really fun area to learn about on your iPhone and Mac system. Let's step back and talk for a bit about text messages. Originally on the iPhone text messages were sent in a program called "iMessage". The MacOS X program to instant message and work with SMS text messages both is called "Messages". Apple even offered up a way to use iCloud to tie your phone iMessage account to your Mac Messages account. The long and short of it is that when properly configured [see here if you need help] text messages to your phone can also show up in Messages on your Mac, and vice versa.
The only hiccup is that there are some things you can do on an iPhone that are impossible on a regular Mac. For example, on my iPhone X there's a difference between a "tap" and a "force tap" and on a non-iPhone X, there's a difference between a short tap and a long hold-your-finger-on-the-screen tap. How do you duplicate that with a mouse click? The answer on the Mac is the context menu and something called "tapback".
Let's have a closer look. Here's a photo that my friend Chris sent me of his new dog. Let's say I want to tag the photo with a heart, but I'm on my Mac, so how's it done?
Though Apple has for eons been touting the benefit of the one button mouse (and trackpad) turns out that it's really a two-button mouse with the second button hidden. It's hidden underneath the "Control" key. Push and hold the "Control" button and while you're holding it down, click on the image you want to tapback. A menu shows up!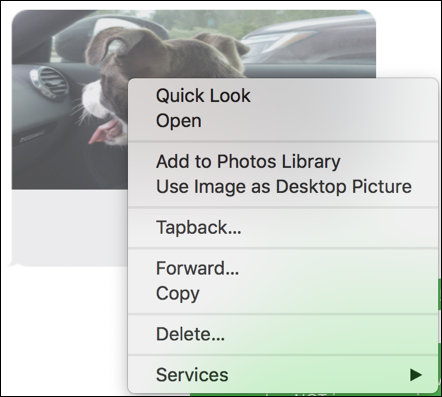 Ah, look at all those options! Most obviously you can simply choose "Tapback…" and get to this:
You can see the options: a heart, thumbs up, thumbs down, ha-ha, exclamation marks and a question mark. To send the heart that I want to send – and you have to admit, that's one cute puppy! – simply click on the heart and it's sent. Easy.
But let's look at some of the other options here too, while we're exploring Messages on the MacOS X system.
Want to send this photo to someone else? Choose "Forward…" and you can easily send the photo to anyone else within your Messages universe:
One more example: Choose "Open" and Messages will launch the program associated with JPEG files – in my case GraphicConverter – and instantly you're looking at the photo, ready to edit or whatever else your program allows you to do:
And that should get you up and running with Messages and able to interact with your son as if you were on a fancy iPhone even though you're actually on an Apple iMac!
Pro Tip: While you're here, definitely check out our extensive Mac help and iPhone help areas!