I am curious if it's possible to schedule tweets on Twitter to post at a specific time and date? Also, I heard that they're adding the ability for you to limit who can @-reply to limit harassment and bots. How can I use that feature too?
There are a lot of ways you can post a tweet to Twitter once you have an account set up. You can share an image from Instagram or Facebook, of course, but there are a lot of third-party Twitter programs too. To get the latest and greatest features, however, you'll want to use Twitter directly, and to get the very latest you'll want to use the Web interface where they can change it twenty times in a single day if that's what's needed. Not to worry about usability too, because the Web based Twitter interface at twitter.com is one of the best in the biz, clean, simple and elegant.
As you highlight, Twitter has also been experimenting with a wide variety of different features to improve the overall user experience on the popular social network. Flagging fake news, identifying likely 'bot accounts and really trying to tackle the bullying / harassment problems are just the beginning of what's in the works at the social network. One of the more interesting new features is the ability to limit who can @-reply (that is, who will show up in your notifications as the original tweet author; people can clearly copy, paste, and comment all they want).
I've actually been using the scheduler built into Tweetdeck.com for quite a while, but with the addition of scheduling capabilities in Twitter.com, it's really a great, robust design. Let's have a look! First off, on twitter.com, here's what I see when I'm poised to enter a new tweet:
There are a couple of things to note here! First, obviously, the "Everyone can reply" link. That's how you can limit who can reply to your tweet. The graphic icons along the bottom are updated too. Left to right, it's "add a photo or video", "choose an animated GIF", "create a poll", "add a smiley from the catalog" and "schedule this tweet".
I'll type in some info in preparation for creating a full and interesting tweet:
To add a graphic I've already saved from a Google Image Search, I click on the leftmost of the icons and select the file from my Desktop…
Now let's have a quick look at that "Everyone can reply" link here in the tweet editor. A click reveals the three choices it offers: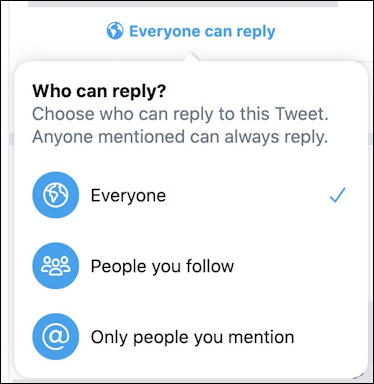 Three smart options, actually. I really like the "People you follow" option because if someone's harassing you or being a jerk, you can simply unfollow them, then they won't be able to reply to your tweets in the future. Quickly and easily done, as they say.
Still, for my Dagwood sandwich (Dagwood's from the comic strip Blondie which started up way back in 1930, if you're curious) tweet, I think we can leave it wide open for responses, so I'll leave it set to "Everyone".
Next up is to schedule it for the correct time of day. That's done by clicking on the tiny calendar icon along the bottom. Here's what pops up:
I'm writing this on June 5 so you can see that by default Twitter bumps your post forward five days. Not sure how they landed on that as the schedule default, but it's okay, you can quickly and easily change things to be even 30 minutes in the future. Or, in my case, a few hours ahead. Change the date, however, and you'll probably see this error: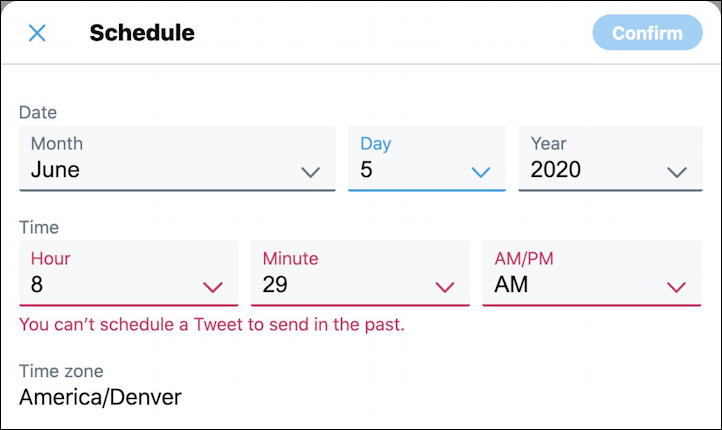 Sadly, no time machine. Just a deferred publish. Which I quickly set: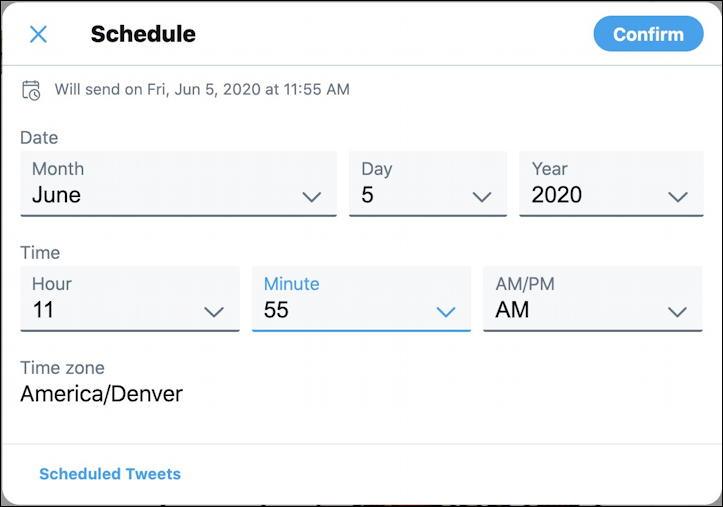 To schedule this tweet I will click on "Confirm" on the top right, but before we go further, notice the "Scheduled Tweets" link on the lower left. That's how you get to your scheduled tweets if you want to reschedule then or delete them. Just FYI.
A click on "Confirm" and I'm here:
Notice the confirmation on the top: "Will send on Fri, Jun 5, 2020 at 11:55 AM". Perfect. A click on "Schedule" on the lower right and it vanishes! There's a tiny confirmation window that pops up near the bottom of the screen for a few seconds:

And that's how it works. You can create rich, complex tweets, limit who can reply to them and schedule them for minutes, hours, days or even weeks in the future. All surprisingly easy!
Pro Tip: I've been writing about Twitter since the early days of the platform. You can find me on Twitter as @DaveTaylor where I post a LOT of fun and interesting content and you can find lots more Twitter help here on the site too. Thanks!