If you follow my Twitter stream (I'm @DaveTaylor on Twitter) you already know that I'm a bit of a fanatic about the FIFA World Cup and this year it's the first time I can actually bring the World Cup with me thanks to my Apple iPhone. It's every four years and the iPhone was introduced in 2007, so I think I had a Motorola RAZR during the last Cup (e.g., a phone that was dead useless in terms of helping me enjoy the matches).
The World Cup is the single most popular sporting event in the world, but oddly is unpopular here in the United States. That's the subject of a different article, however. Suffice to say, I find it odd that only one or two of my friends even watch matches, let alone pay attention to the entire Cup.
Fortunately, there's lots of commercial interest in the World Cup with useful apps from both ESPN [iTunes link] and Fox Soccer Channel [iTunes link]. What I really wanted was to watch the matches live on my iPhone — now my iPhone 4 — and that's where MobiTV comes in…
Let me take out the suspense: MobiTV works really well as a streaming TV service on the iPhone, and its performance is surprisingly good on the AT&T 3G network, even making me rethink how well AT&T manages its data network. It's small, but that's a limitation of the device, not the service.


The price is quite reasonable too: It's $9.99/month (in-app purchase) and since I have watched updates and highlights of at least a dozen matches already, well worth the price. After the one month subscription the World Cup will have wrapped up so I won't have any reason to renew, but that's a nice feature of these sort fo informal service models: After the World Cup I'll also delete the World Cup apps off my iPhone too.
What you really want to see, though, are some screen shots, right? Here ya go: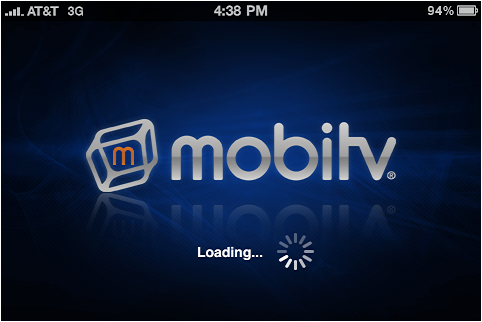 The opening screen looks cool enough, then the app loads its channel list…
… and I'm clearly not the only person who has subscribed to watch the FIFA 2010 World Cup, as you can see from the promoted programming channel front and center: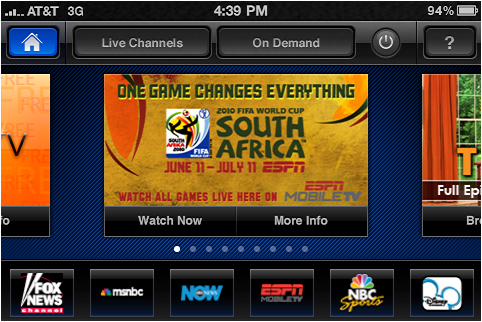 I tap on it since that's what I want to watch and after a few seconds see this: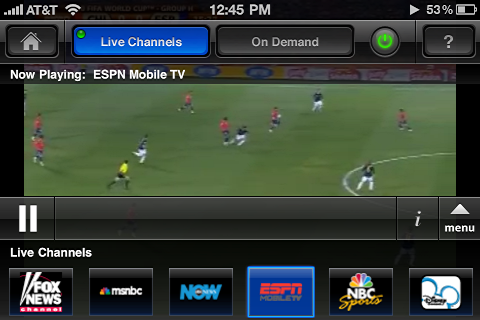 Don't panic: tap on the actual programming (or match, in this case) and everything else moves out of the way so you have a full-screen view: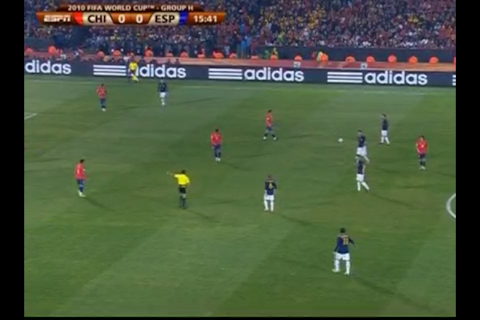 Yes, I have sat and watched this tiny TV for long periods of time (even as I worry a bit about the increased bandwidth usage that streaming TV must be imposing).
Let's poke around a bit too: tap on the screen and it brings up the edge menus. Tap on the little "menu" button on the lower right and it shows you a full view of the programming options: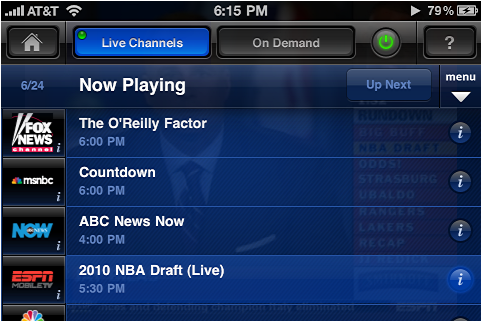 Nice on-screen programming guide and there are a fair number of live streams available at any time, including some children's programming. Instead, I'll tap on "On Demand" on the top: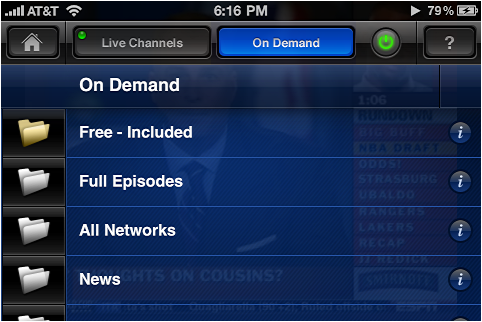 Tap on "Free – Included" and you'll see that there's a small but useful library of content from major content providers you can view at any time: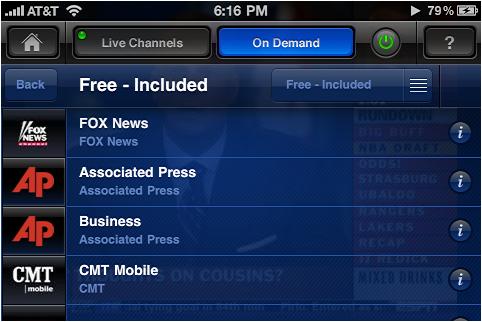 As I said earlier, I have no plans on retaining my MobiTV subscription once the World Cup is over, but for now, I'm delighted to have a streaming video source for matches that I can carry in my pocket. It's well worth the $9.99 for me and is a beautiful example of where things are heading with smartphones. Seeing the streaming TV demo on an advertisement is one thing, but actually having it in your hand? Very cool.
Highly recommended app.
MobiTV for the Apple iPhone
. Free download, $9.99/mo in-app subscription fees for programming.