Technology has changed dramatically in the last decade, but perhaps nowhere more than with cellular phone technology. From being a device for dialing numbers cellphones have evolved to where they're a portable entertainment and media device, with music players, Web access, and even the ability to play videos and television content.
Some companies are pushing this set of capabilities further, and I was intriguied when Cellfire sent me a Sony-Ericsson phone with its coupon system pre-installed. I tested it out and was surprised by what I found…
Some cellphones have geolocation built into them — through a GPS system — but most, alas, do not, even though they are clearly reporting their location to the cellular network every few minutes anyway. It makes running Google Maps Mobile a bit of a drag, for example, because I really want a "show me where I am" feature but they just can't do it.
With Cellfire, the first problem I encountered is that I had to enter my zipcode into the application to have it know where I was located. Not a huge problem, but still, it'd be nice to have it too know where I'm located when I'm running the app.
Once you've downloaded the Cellfire application or, as I did, just happen to have it pre-installed on your phone, you need just go to "Applications" to find it: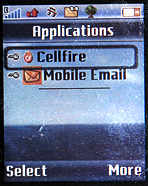 Launch the Java application and it first asks for your zipcode, then connects to the Internet to download the latest batch of coupons. Once that's done, you'll see a list of the latest coupons that are relevant to shops in your area:
To test the phone, I decided to use one of the
Hollywood Video
coupons: one free rental: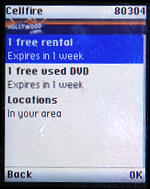 Rather to my surprise, the offers really do expire and vanish, as you can see here: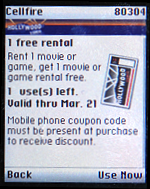 I went into the local Hollywood Video and, to be candid, I expected to have the clerk be completely clueless and have no idea what Cellfire was. I was wrong. In fact, as I walked in to the store and showed him my phone, the clerk said "oh, yeah, that's cellfire? Cool. I have that!"
Turns out he used Cellfire quite a bit before he joined Hollywood Video, because the coupons are easy and valuable. As an employee, however, it was less useful, and indeed, the problem he pointed out is the greatest problem I have with Cellfire too: too few coupon options.
Look at the earlier screen shot and you'll see the problem – there's only one local merchant participating in the program here in Colorado. The other three are generic services that I wouldn't access via cellphone anyway. Instead, what if there were coupons for Borders, Dairy Queen, Taco Bell and McDonald's? According to Cellfire, retailers include Bath & Body Works, Carlson Travel, Condé Nast, Hollywood Video, North Beach Pizza, Red Rock Coffee and T.G.I.Friday's. Not too useful when only one of them even has an outlet in Colorado.
When I went to use the coupon with my DVD rental here's what was shown in the screen:
That's all there was to it. My receipt for the rentals correctly showed "RENT 1 GET 1 FREE" .
Ultimately I can see that there is a market for coupons on mobile phones, but this is a classic example of the old "chicken and egg" problem in marketing. I'd be more enthused about the application if there were more coupons, but there aren't going to be more coupons if there aren't more people using the Cellfire application. Round and round.
If you'd like to try using Cellfire – it's free – log on to their site (
cellfire.com
) with your own mobile phone and download the application. Or, send a text message to
22888
from your Cingular phone or if you're on Verizon, choose Get It Now –> News and Info –> Shopping –> More –> Cellfire.
And do come back and let us know hat you thought of the experience!